☆☆☆☆☆☆☆☆☆☆☆☆☆☆☆
Hello hello and welcome to the absolute very end of 2015! This year has absolutely flown by, I can't believe its almost 2016 already. Last year, I did an enormous post of all of the books that I was looking forward to in 2015, and though it was a lot of books, I decided to do the same thing this year. With even MORE books!!!! (like, probably 70)... WOW! the full list is under the cut, I hope this provides a pretty comprehensive look at a lot of mostly YA (but with some adult and MG) books that are coming out in the new year.
☆☆☆☆☆☆☆☆☆☆☆☆☆☆☆☆☆☆☆☆
Starting off with Continuations of Series!
(Second, Third, Fourth, etc. books in a particular series, be aware that there may be spoilers!)
starting with books that don't have a release date yet:
1. Untitled Firebird novel: #3 by Claudia Gray
We have no word yet on anything about this book, except that Claudia Gray said on twitter that it will be coming out in November!
2. Gemina: Illuminae #2 by Amie Kaufman and Jay Kristoff
We only just recently got the title for this one, and I'm assuming it will come out in November!
in order of release date:
3. Endure (Defy #3) by Sara B Larson
release date: January 5
The remarkable third novel in Sara B. Larson's bestselling Defy series!
At last, Alexa and King Damian are engaged to be married. But their lives are far from safe. The kingdom of Antion is under siege, and Rylan is a prisoner of the enemy. Even worse, Alexa remains at the mercy of the evil Dansiian Rafe, who controls her mind and can force Alexa to kill or harm Damian at any moment. Despite this, Alexa is determined to rescue Rylan, which soon leads her far from Damian and deep into enemy territory.
When she arrives, what awaits her is deadlier than anything she could have ever imagined: an army of black sorcerers, and a horrifying plot to destroy the world as Alexa knows it. Will she be able to gather the strength to free herself, protect the love of her life, and save the land? Will there ever be true peace?
Acclaimed author Sara B. Larson has woven a stunning, romantic, and evocative finale to the Defy trilogy, that is sure to leave readers breathless until the very last page.
4. Stars Above (Lunar Chronicles #.5, .6, 1.3, 3.1, 3.6) by Marissa Meyer
release date: February 2
The enchantment continues....
The universe of the Lunar Chronicles holds stories—and secrets—that are wondrous, vicious, and romantic. How did Cinder first arrive in New Beijing? How did the brooding soldier Wolf transform from young man to killer? When did Princess Winter and the palace guard Jacin realize their destinies?
With nine stories—five of which have never before been published—and an exclusive never-before-seen excerpt from Marissa Meyer's upcoming novel, Heartless, about the Queen of Hearts from Alice in Wonderland, Stars Above is essential for fans of the bestselling and beloved Lunar Chronicles.
--
The Little Android: A retelling of Hans Christian Andersen's "The Little Mermaid," set in the world of The Lunar Chronicles. Glitches: In this prequel to Cinder, we see the results of the plague play out, and the emotional toll it takes on Cinder. Something that may, or may not, be a glitch…. The Queen's Army: In this prequel to Scarlet, we're introduced to the army Queen Levana is building, and one soldier in particular who will do anything to keep from becoming the monster they want him to be. Carswell's Guide to Being Lucky: Thirteen-year-old Carswell Thorne has big plans involving a Rampion spaceship and a no-return trip out of Los Angeles. The Keeper: A prequel to the Lunar Chronicles, showing a young Scarlet and how Princess Selene came into the care of Michelle Benoit.
After Sunshine Passes By: In this prequel to Cress, we see how a nine-year-old Cress ended up alone on a satellite, spying on Earth for Luna. The Princess and the Guard: In this prequel to Winter, we see a game called The PrincessThe Mechanic: In this prequel to Cinder, we see Kai and Cinder's first meeting from Kai's perspective.Something Old, Something New: In this epilogue to Winter, friends gather for the wedding of the century...
5. Glass Sword (Red Queen #2) by Victoria Aveyard
release date: February 9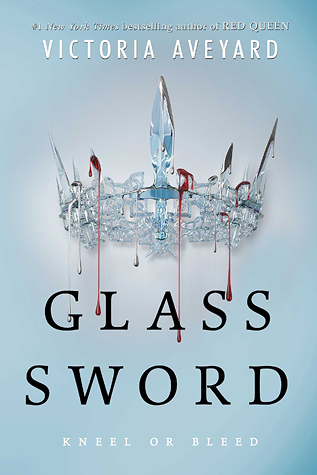 Mare Barrow's blood is red—the color of common folk—but her Silver ability, the power to control lightning, has turned her into a weapon that the royal court tries to control.
The crown calls her an impossibility, a fake, but as she makes her escape from Maven, the prince—the friend—who betrayed her, Mare uncovers something startling: she is not the only one of her kind.Pursued by Maven, now a vindictive king, Mare sets out to find and recruit other Red-and-Silver fighters to join in the struggle against her oppressors. But Mare finds herself on a deadly path, at risk of becoming exactly the kind of monster she is trying to defeat.
Will she shatter under the weight of the lives that are the cost of rebellion? Or have treachery and betrayal hardened her forever?
6. A Gathering of Shadows (A Darker Shade of Magic #2) by V.E. Schwab
release date: February 23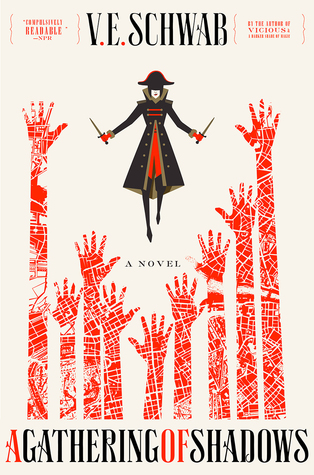 Four months have passed since the shadow stone fell into Kell's possession. Four months since his path crossed with Delilah Bard. Four months since Rhy was wounded and the Dane twins fell, and the stone was cast with Holland's dying body through the rift, and into Black London.
In many ways, things have almost returned to normal, though Rhy is more sober, and Kell is now plagued by his guilt. Restless, and having given up smuggling, Kell is visited by dreams of ominous magical events, waking only to think of Lila, who disappeared from the docks like she always meant to do. As Red London finalizes preparations for the Element Games—an extravagant international competition of magic, meant to entertain and keep healthy the ties between neighboring countries—a certain pirate ship draws closer, carrying old friends back into port.
But while Red London is caught up in the pageantry and thrills of the Games, another London is coming back to life, and those who were thought to be forever gone have returned. After all, a shadow that was gone in the night reappears in the morning, and so it seems Black London has risen again—meaning that another London must fall.
7. Map of Fates (The Conspiracy of Us #2) by Maggie Hall
release date: March 8
Two weeks. 

That's how long it took for Avery West's ordinary life to change forever: In two weeks, she discovered she was heiress to a powerful secret society known as the Circle, learned her mother was taken hostage by the Circle's enemies, and fell for a boy she's not allowed to love, just as she found out another was her unwelcome destiny. 

Now, Avery crosses oceans in private jets to hunt for clues that will uncover the truth about the Circle, setting her mom and herself free before it's too late. By her side are both the boys: Jack—steady, loyal, and determined to help her even at the expense of his own duty—and Stellan, whose connection to Avery grows stronger by the day despite her best intentions, making her question what she believes at every turn.

But at the end of a desperate hunt from the islands of Greece to the red carpet at Cannes comes a discovery that not only changes everything, but could bring the whole world to its knees. And now Avery is forced to face the truth: in the world of the Circle, no one is what they seem.
8. The Winner's Kiss (The Winner's Trilogy #3) by Marie Rutkoski
release date:
March 29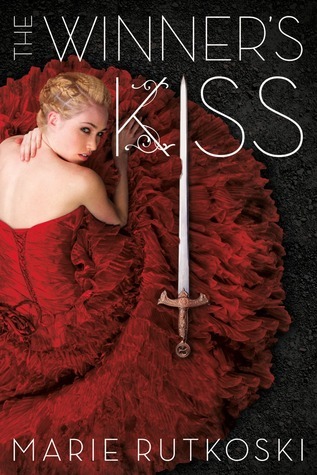 War has begun. Arin is in the thick of it, with the East as his ally and the empire as his enemy. He's finally managed to dismiss the memory of Kestrel, even if he can't quite forget her. Kestrel turned into someone he could no longer recognize: someone who cared more for the empire than for the lives of innocent people—and certainly more than she cared for him. At least, that's what he thinks.
But far north lies a work camp where Kestrel is a prisoner. Can she manage to escape before she loses herself? As the war intensifies, both Kestrel and Arin discover unexpected roles in battle, terrible secrets, and a fragile hope. The world is changing. The East is pitted against the West, and Kestrel and Arin are caught between. In a game like this, can anybody really win?
9. A Court of Mist and Fury (A Court of Thorns and Roses #2) by Sarah J Maas
release date: May 3
Feyre survived Amarantha's clutches to return to the Spring Court--but at a steep cost. Though she now has the powers of the High Fae, her heart remains human, and it can't forget the terrible deeds she performed to save Tamlin's people. Nor has Feyre forgotten her bargain with Rhysand, High Lord of the feared Night Court. As Feyre navigates its dark web of politics, passion, and dazzling power, a greater evil looms--and she might be key to stopping it. But only if she can harness her harrowing gifts, heal her fractured soul, and decide how she wishes to shape her future--and the future of a world cleaved in two.
With more than a million copies sold of her beloved Throne of Glass series, Sarah J. Maas's masterful storytelling brings this second book in her seductive and action-packed series to new heights.
10. The Crown (The Selection #5) by Keira Cass
release date: May 3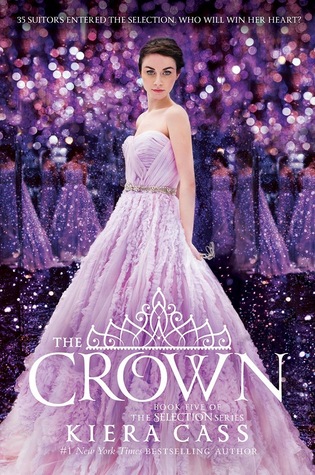 Kiera Cass's bestselling Selection series has enchanted readers from the very first page. Now the end of the journey is here, in a wonderfully romantic series finale that will sweep you off your feet.
Twenty years have passed since the events of The One, and America and Maxon's daughter is the first princess to hold a Selection of her own. Princess Eadlyn didn't think she would find a real partner among the Selection's thirty-five suitors, let alone true love. But sometimes the heart has a way of surprising you...and now Eadlyn must make a choice that feels more difficult—and more important—than she ever expected.
The Selection series has sold more than 3 million copies and captured the hearts of fans around the world. This swoonworthy final installment is the happily ever after they've all been waiting for.
11. The Rose and the Dagger (The Wrath and the Dawn #2) by Renée Ahdieh
release date: May 3
I am surrounded on all sides by a desert. A guest, in a prison of sand and sun. My family is here. And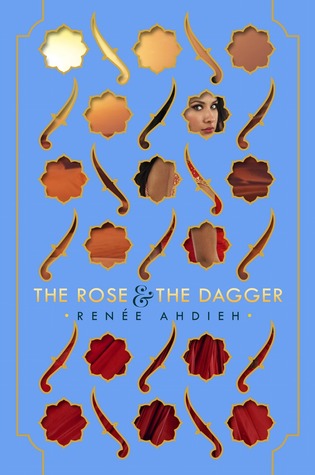 I do not know whom I can trust.
In a land on the brink of war, Shahrzad has been torn from the love of her husband Khalid, the Caliph of Khorasan. She once believed him a monster, but his secrets revealed a man tormented by guilt and a powerful curse—one that might keep them apart forever. Reunited with her family, who have taken refuge with enemies of Khalid, and Tariq, her childhood sweetheart, she should be happy. But Tariq now commands forces set on destroying Khalid's empire. Shahrzad is almost a prisoner caught between loyalties to people she loves. But she refuses to be a pawn and devises a plan.
While her father, Jahandar, continues to play with magical forces he doesn't yet understand, Shahrzad tries to uncover powers that may lie dormant within her. With the help of a tattered old carpet and a tempestuous but sage young man, Shahrzad will attempt to break the curse and reunite with her one true love.
12. The Last Star (The Fifth Wave #3) by Rick Yancey
release date: May 24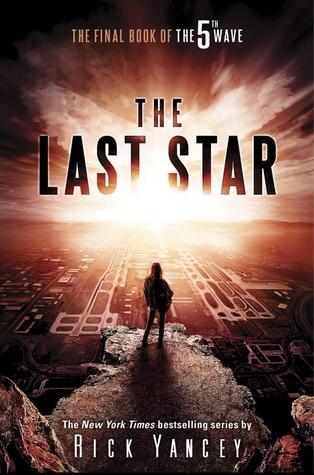 We're here, then we're gone, and that was true before they came. That's always been true. The Others didn't invent death; they just perfected it. Gave death a face to put back in our face, because they knew that was the only way to crush us. It won't end on any continent or ocean, no mountain or plain, jungle or desert. It will end where it began, where it had been from the beginning, on the battlefield of the last beating human heart.

Master storyteller Rick Yancey invokes triumph, loss, and unrelenting action as the fate of the planet is decided in the conclusion to this epic series.
13. Shiny Broken Pieces (Tiny Pretty Things #2) by Sonya Charaipotra and Dhonielle Clayton
release date: July 12
June, Bette, and Gigi have given their all to dance at Manhattan's most elite ballet school. Now they
are competing one final time for a spot at the prestigious American Ballet Company. With the stakes higher than ever, these girls have everything to lose…and no one is playing nice.
June is starting to finally see herself as a prima ballerina. However, getting what she wants might cost her everything—including the only boy she's ever loved. Legacy dancer Bette is determined to clear her name after she was suspended and accused of hurting her rival, Gigi. Even if she returns, though, will she ever regain the spotlight she craves? And Gigi is not going to let Bette—or the other dancers who bullied her—go unpunished. But as revenge consumes her, Gigi may be the one who pays the price. After years of grueling auditions, torn ribbons, and broken hearts, it all comes down to this last dance. Who will make the cut? And who will lose her dream forever?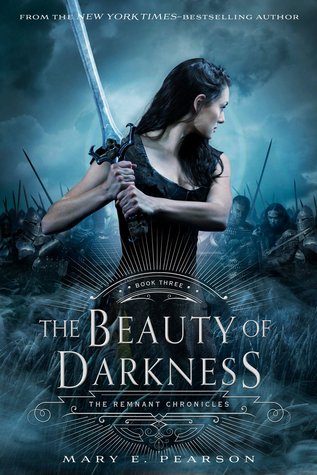 14. The Beauty of Darkness (The Remnant Chronicles #3) by Mary E Pearson
release date: August 2
Lia and Rafe have escaped Venda and the path before them is winding and dangerous - what will happen now? This third and final book in The Remnant Chronicles is not to be missed.

Bestselling author Mary E. Pearson's combination of intrigue, suspense, romance and action make this a riveting page turner for teens.
15. A Torch Against the Night (An Ember in the Ashes #2) by Sabaa Tahir
release date: August 30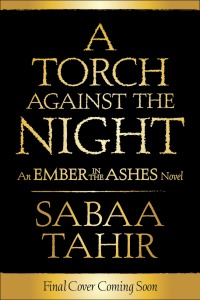 A Torch Against the Night takes readers into the heart of the Empire as Laia and Elias fight their way north to liberate Laia's brother from the horrors of Kauf Prison. Hunted by Empire soldiers, manipulated by the Commandant, and haunted by their pasts, Laia and Elias must outfox their enemies and confront the treacherousness of their own hearts.

In the city of Serra, Helene Aquilla finds herself bound to the will of the Empire's twisted new leader, Marcus. When her loyalty is questioned, Helene finds herself taking on a mission to prove herself—a mission that might destroy her, instead.
16. Untitled (Throne of Glass #5) by Sarah J Maas
release date: September 6
The long path to the throne has only just begun for Aelin Galathynius. Loyalties have been broken and bought, friends have been lost and gained, and those who possess magic find themselves at odds with those don't.

As the kingdoms of Erilea fracture around her, enemies must become allies if Aelin is to keep those she loves from falling to the dark forces poised to claim her world. With war looming on all horizons, the only chance for salvation lies in a desperate quest that may mark the end of everything Aelin holds dear.

Aelin's journey from assassin to queen has entranced millions across the globe, and this fifth installment will leave fans breathless. Will Aelin succeed in keeping her world from splintering, or will it all come crashing down?
17. Crooked Kingdom (Six of Crows #2) by Leigh Bardugo
release date: September 22
Following SIX OF CROWS, this is the second book in a new fantasy epic from the NEW YORK TIMES bestselling author of SHADOW AND BONE, SIEGE AND STORM and RUIN AND RISING, Leigh Bardugo.
SIX OF CROWS took Leigh's fans back into the world they know and love, and now she continues the adventure in the dangerous and fascinating underworld of Ketterdam city.
As gripping, sweeping and memorable as The Grisha Trilogy, this is perfect for fans of Laini Taylor, Kristin Cashore and Game of Thrones.
18. The Hammer of Thor (Magnus Chase and the Gods of Asgard #2) by
Rick Riordan
release date: October 4
Next, we'll move into new series that will begin in 2016:
19. Three Dark Crowns (Untitled #1) by Kendare Blake no release date
Three Dark Crowns tells the story of triplet sisters on a remote island ruled by powerful magic and ancient family lineages. Separated at birth, one of the sisters will grow up to be queen, but in order to ascend to the throne she must hone her magic for a dark purpose: assassinating her other two sisters before they kill her first. Book one is scheduled for release in fall 2016
20. Bright Smoke, Cold Fire (Untitled #1) by Rosamund Hodge
no release date
This new series, pitched as "Romeo and Juliet meets Sabriel," re-imagines Shakespeare's story of feuding families and doomed lovers in a city threatened by necromancers and protected by "the Juliet," a girl born in every generation with powerful magic.
21. Passenger (Passenger #1) by Alexandra Bracken
release date: January 5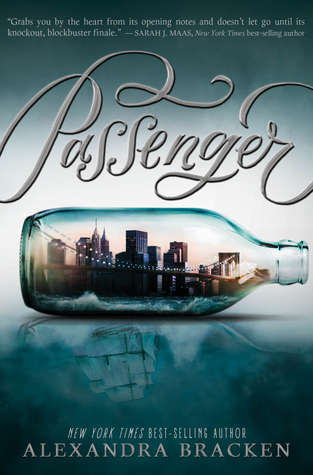 passage, n.
i. A brief section of music composed of a series of notes and flourishes.
ii. A journey by water; a voyage.
iii. The transition from one place to another, across space and time.
In one devastating night, violin prodigy Etta Spencer loses everything she knows and loves. Thrust into an unfamiliar world by a stranger with a dangerous agenda, Etta is certain of only one thing: she has traveled not just miles but years from home. And she's inherited a legacy she knows nothing about from a family whose existence she's never heard of. Until now.
Nicholas Carter is content with his life at sea, free from the Ironwoods—a powerful family in the colonies—and the servitude he's known at their hands. But with the arrival of an unusual passenger on his ship comes the insistent pull of the past that he can't escape and the family that won't let him go so easily. Now the Ironwoods are searching for a stolen object of untold value, one they believe only Etta, Nicholas' passenger, can find. In order to protect her, he must ensure she brings it back to them— whether she wants to or not.
Together, Etta and Nicholas embark on a perilous journey across centuries and continents, piecing together clues left behind by the traveler who will do anything to keep the object out of the Ironwoods' grasp. But as they get closer to the truth of their search, and the deadly game the Ironwoods are play­ing, treacherous forces threaten to sep­arate Etta not only from Nicholas but from her path home . . . forever
22. Truthwitch (The Witchlands #1) by Susan Dennard
release date: January 5
On a continent ruled by three empires, some are born with a "witchery", a magical skill that sets them
In the Witchlands, there are almost as many types of magic as there are ways to get in trouble—as two desperate young women know all too well.
Safiya is a Truthwitch, able to discern truth from lie. It's a powerful magic that many would kill to have on their side, especially amongst the nobility to which Safi was born. So Safi must keep her gift hidden, lest she be used as a pawn in the struggle between empires.
Iseult, a Threadwitch, can see the invisible ties that bind and entangle the lives around her—but she cannot see the bonds that touch her own heart. Her unlikely friendship with Safi has taken her from life as an outcast into one of reckless adventure, where she is a cool, wary balance to Safi's hotheaded impulsiveness.
Safi and Iseult just want to be free to live their own lives, but war is coming to the Witchlands. With the help of the cunning Prince Merik (a Windwitch and ship's captain) and the hindrance of a Bloodwitch bent on revenge, the friends must fight emperors, princes, and mercenaries alike, who will stop at nothing to get their hands on a Truthwitch.
23. Sword and Verse (Sword and Verse #1) by Kathy MacMillan
release date: January 19
Raisa was just a child when she was sold to work as a slave in the kingdom of Qilara. Despite her
Keeping her secret is hard enough, but the romance that's been growing between her and Prince Mati isn't helping matters. Then Raisa is approached by the Resistance—an underground army of slave rebels—to help liberate Arnath slaves. She wants to free her people, but that would mean aiding a war against Mati. As Raisa struggles with what to do, she discovers a secret that the Qilarites have been hiding for centuries—one that, if uncovered, could bring the kingdom to its knees.
24. Assassin's Heart (Assassin's Heart #1) by Sarah Ahiers
release date: February 2
In the kingdom of Lovero, nine rival Families of assassins lawfully kill people for a price. As a highly
Racked with guilt and shattered over Val's probable betrayal, Lea sets out to even the score, with her heart set on retaliation and only one thought clear in her mind: make the Da Vias pay.
With shades of The Godfather and Romeo and Juliet, this richly imagined fantasy from debut author Sarah Ahiers is a story of love, lies, and the ultimate vengeance.
25. Starflight (Starflight #1) by Melissa Landers
release date: February 2
Life in the outer realm is a lawless, dirty, hard existence, and Solara Brooks is hungry for it. Just out
When a twist of fate lands them instead on the Banshee, a vessel of dubious repute, Doran learns he's been framed on Earth for conspiracy. As he pursues a set of mysterious coordinates rumored to hold the key to clearing his name, he and Solara must get past their enmity to work together and evade those out for their arrest. Life on the Banshee may be tumultuous, but as Solara and Doran are forced to question everything they once believed about their world--and each other--the ship becomes home, and the eccentric crew family. But what Solara and Doran discover on the mysterious Planet X has the power to not only alter their lives, but the existence of everyone in the universe...
26. These Vicious Masks (These Vicious Masks #1) by Tarun Shanker and Kelly Zekas
release date: February 9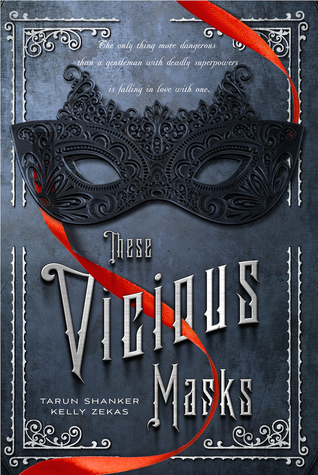 Jane Austen meets X-­Men in this gripping and adventure-­filled paranormal romance set in Victorian London.
England, 1882. Evelyn is bored with society and its expectations. So when her beloved sister, Rose, mysteriously vanishes, she ignores her parents and travels to London to find her, accompanied by the dashing Mr. Kent. But they're not the only ones looking for Rose. The reclusive, young gentleman Sebastian Braddock is also searching for her, claiming that both sisters have special healing powers. Evelyn is convinced that Sebastian must be mad, until she discovers that his strange tales of extraordinary people are true—and that her sister is in graver danger than she feared.
27. Reign of Shadows (Reign of Shadows #1) by Sophie Jordan
release date:
February 9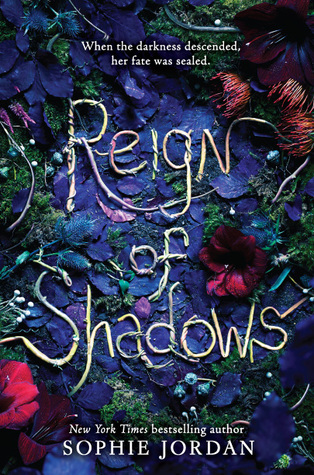 Seventeen years ago, an eclipse cloaked the kingdom of Relhok in perpetual darkness. In the chaos, an evil chancellor murdered the king and queen and seized their throne. Luna, Relhok's lost princess, has been hiding in a tower ever since. Luna's survival depends on the world believing she is dead.
But that doesn't stop Luna from wanting more. When she meets Fowler, a mysterious archer braving the woods outside her tower, Luna is drawn to him despite the risk. When the tower is attacked, Luna and Fowler escape together. But this world of darkness is more treacherous than Luna ever realized.
With every threat stacked against them, Luna and Fowler find solace in each other. But with secrets still unspoken between them, falling in love might be their most dangerous journey yet.
With lush writing and a star–crossed romance, Reign of Shadows is Sophie Jordan at her best.
28. The Shadow Queen (Ravenspire #1) by C.J. Redwine
release date: February 16
Lorelai Diederich, crown princess and fugitive at large, has one mission: kill the wicked queen who
In the neighboring kingdom of Eldr, when Prince Kol's father and older brother are killed by an invading army of magic-wielding ogres, the second-born prince is suddenly given the responsibility of saving his kingdom. To do that, Kol needs magic—and the only way to get it is to make a deal with the queen of Ravenspire, promise to become her personal huntsman…and bring her Lorelai's heart.
But Lorelai is nothing like Kol expected—beautiful, fierce, and unstoppable—and despite dark magic, Lorelai is drawn in by the passionate and troubled king. Fighting to stay one step ahead of the dragon huntsman—who she likes far more than she should—Lorelai does everything in her power to ruin the wicked queen. But Irina isn't going down without a fight, and her final move may cost the princess the one thing she still has left to lose.
29. The Girl From Everywhere (The Firl From Everywhere #1) Heidi Heilig
release date: February 16
Heidi Heilig's debut teen fantasy sweeps from modern-day New York City to nineteenth-century
The Girl from Everywhere
, the first of two books, will dazzle readers of Sabaa Tahir, Rae Carson, and Rachel Hartman.
Nix's life began in Honolulu in 1868. Since then she has traveled to mythic Scandinavia, a land from the tales of One Thousand and One Nights, modern-day New York City, and many more places both real and imagined. As long as he has a map, Nix's father can sail his ship, The Temptation, to any place, any time. But now he's uncovered the one map he's always sought—1868 Honolulu, before Nix's mother died in childbirth. Nix's life—her entire existence—is at stake. No one knows what will happen if her father changes the past. It could erase Nix's future, her dreams, her adventures . . . her connection with the charming Persian thief, Kash, who's been part of their crew for two years. If Nix helps her father reunite with the love of his life, it will cost her her own.
In
The Girl from Everywhere
, Heidi Heilig blends fantasy, history, and a modern sensibilit
y with witty, fast-paced dialogue, breathless adventure, and enchanting romance.
30. A Study in Charlotte (Charlotte Holmes #1) by Brittany Cavallaro
release date: March 1
The last thing sixteen-year-old Jamie Watson–writer and great-great-grandson of the John
Then a Sherringford student dies under suspicious circumstances ripped straight from the most terrifying of the Holmes stories, and Jamie and Charlotte become the prime suspects. Convinced they're being framed, they must race against the police to conduct their own investigation. As danger mounts, it becomes clear that nowhere is safe and the only people they can trust are each other.
Equal parts tender, thrilling, and hilarious, A Study in Charlotte is the first in a trilogy brimming with wit and edge-of-the-seat suspense.
31. Into the Dim (Into the Dim #1) by Janet B Taylor
release date: March 1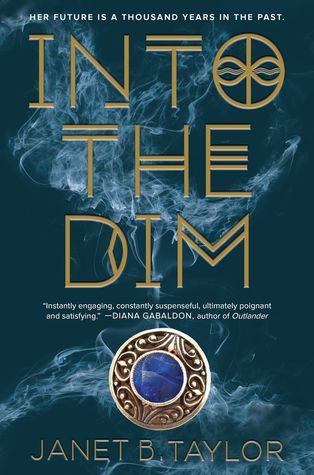 When fragile, sixteen-year-old Hope Walton loses her mom to an earthquake overseas, her secluded world crumbles. Agreeing to spend the summer in Scotland, Hope discovers that her mother was more than a brilliant academic, but also a member of a secret society of time travelers. Trapped in the twelfth century in the age of Eleanor of Aquitaine, Hope has seventy-two hours to rescue her mother and get back to their own time. Along the way, her path collides with that of a mysterious boy who could be vital to her mission . . . or the key to Hope's undoing. Addictive, romantic, and rich with historical detail, Into the Dim is an Outlander for teens.
32. Lady Midnight (The Dark Artifices #1) by Cassandra Clare
release date: March 8
Los Angeles. It's been five years since the events of the Mortal Instruments when Nephilim stood
Raised in the Los Angeles Institute with the Blackthorn family, Emma is paired as a parabatai with her best friend, Julian Blackthorn. A series of murders in the city catch her attention — they seem to have the same characteristics as the deaths of her parents. Could the murderer be the same person? And her attention isn't the only one caught: someone has been murdering Downworlders as well. The Fair Folk make a deal with the Institute: if the Blackthorns and Emma will investigate the killings, they'll return Mark Blackthorn to his home. The catch: they have only two weeks to find the killers. Otherwise it's open war between faeries and Nephilim.
The Shadowhunters of the Institute must race against time to catch the killers, even as they begin to suspect the involvement of those closest to them. At the same time, Emma is falling in love with the one person in the world she's absolutely forbidden by Shadowhunter Law to love. Set against the glittering backdrop of present-day Los Angeles, Emma must learn to trust her head and her heart as she investigates a demonic plot that stretches from the warlock-run nightclubs of the Sunset Strip to the enchanted sea that pounds the beaches of Santa Monica.
33. The Glittering Court (The Glittering Court #1) by Richelle Mead
release date: April 5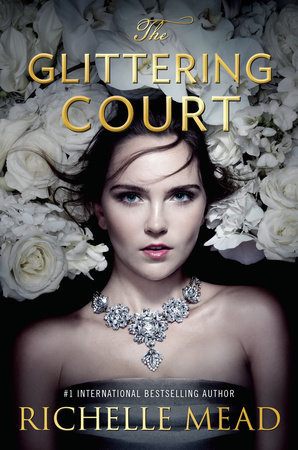 Big and sweeping, spanning the refined palaces of Osfrid to the gold dust and untamed forests of Adoria, The Glittering Court tells the story of Adelaide, an Osfridian countess who poses as her servant to escape an arranged marriage and start a new life in Adoria, the New World. But to do that, she must join the Glittering Court.
Both a school and a business venture, the Glittering Court is designed to transform impoverished girls into upper-class ladies capable of arranging powerful and wealthy marriages in the New World. Adelaide naturally excels in her training and even makes a few friends: the fiery former laundress Tamsin and the beautiful Sirminican refugee Mira. She manages to keep her true identity hidden from all but one: the intriguing Cedric Thorn, son of the wealthy proprietor of the Glittering Court.
When Adelaide discovers that Cedric is hiding a dangerous secret of his own, together, they hatch a scheme to make the best of Adelaide's deception. Complications soon arise—first, as they cross the treacherous seas from Osfrid to Adoria, and later, when Adelaide catches the attention of a powerful governor.
But no complication will prove quite as daunting as the potent attraction simmering between Adelaide and Cedric. An attraction that, if acted on, would scandalize the Glittering Court and make them both outcasts in wild, vastly uncharted lands. . .
34. The Hidden Oracle (The Trials of Apollo #1) by Rick Riordan
release date: May 3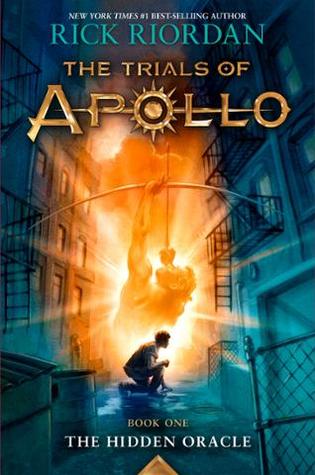 How do you punish an immortal?
By making him human.

After angering his father Zeus, the god Apollo is cast down from Olympus. Weak and disorientated, he lands in New York City as a regular teenage boy. Now, without his godly powers, the four-thousand-year-old deity must learn to survive in the modern world until he can somehow find a way to regain Zeus's favour.
But Apollo has many enemies - gods, monsters and mortals who would love to see the former Olympian permanently destroyed. Apollo needs help, and he can think of only one place to go . . . an enclave of modern demigods known as Camp Half-Blood.
35. Ruined (Untitled #1) by Amy Tintera
release date: May 3
Emelina Flores has nothing. Her home in Ruina has been ravaged by war. She lacks the powers of her
But because Em has nothing, she has nothing to lose. Driven by a blind desire for revenge, Em sets off on a dangerous journey to the enemy kingdom of Lera. Somewhere within Lera's borders, Em hopes to find Olivia. But in order to find her, Em must infiltrate the royal family.
In a brilliant, elaborate plan of deception and murder, Em marries Prince Casimir, next in line to take Lera's throne. If anyone in Lera discovers Em is not Casimir's true betrothed, Em will be executed on the spot. But it's the only way to salvage Em's kingdom and what is left of her family.
Em is determined to succeed, but the closer she gets to the prince, the more she questions her mission. Em's rage-filled heart begins to soften. But with her life—and her family—on the line, love could be Em's deadliest mistake.
36. The Crown's Game (The Crown's Game #1) by Evelyn Skye
release date: May 17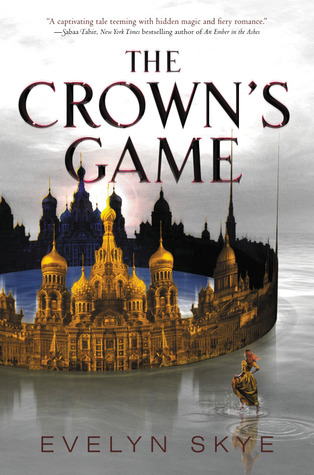 Vika Andreyeva can summon the snow and turn ash into gold. Nikolai Karimov can see through walls and conjure bridges out of thin air. They are enchanters—the only two in Russia—and with the Ottoman Empire and the Kazakhs threatening, the Tsar needs a powerful enchanter by his side.
And so he initiates the Crown's Game, an ancient duel of magical skill—the greatest test an enchanter will ever know. The victor becomes the Imperial Enchanter and the Tsar's most respected adviser. The defeated is sentenced to death.
Raised on tiny Ovchinin Island her whole life, Vika is eager for the chance to show off her talent in the grand capital of Saint Petersburg. But can she kill another enchanter—even when his magic calls to her like nothing else ever has?
For Nikolai, an orphan, the Crown's Game is the chance of a lifetime. But his deadly opponent is a force to be reckoned with—beautiful, whip smart, imaginative—and he can't stop thinking about her.
And when Pasha, Nikolai's best friend and heir to the throne, also starts to fall for the mysterious enchantress, Nikolai must defeat the girl they both love . . . or be killed himself.
As long-buried secrets emerge, threatening the future of the empire, it becomes dangerously clear . . . the Crown's Game is not one to lose.
37. This Savage Song (Monsters of Verity #1) by Victoria Schwab
release date: June 7
The city of Verity has been overrun with monsters, born from the worst of human evil. In North
As one of only three Sunai in existence, August Flynn has always wanted to play a bigger role in the war between the north and the south. When the chance arises to keep an eye on Kate Harker, daughter of the leader of North Verity, August jumps on it.
When Kate discovers August's secret, the pair find themselves running for their lives and battling monsters from both sides of the wall. As the city dissolves into chaos, it's up to them to foster a peace between monsters and humans.
A unique, fast-paced adventure that looks at the monsters we face every day—including the monster within.
38. And I Darken (The Conqueror's Saga #1) by Kiersten White
release date: June 28
NO ONE EXPECTS A PRINCESS TO BE BRUTAL. And Lada Dragwlya likes it that way. Ever
Lada despises the Ottomans and bides her time, planning her vengeance for the day when she can return to Wallachia and claim her birthright. Radu longs only for a place where he feels safe. And when they meet Mehmed, the defiant and lonely son of the sultan, who's expected to rule a nation, Radu feels that he's made a true friend—and Lada wonders if she's finally found someone worthy of her passion.
But Mehmed is heir to the very empire that Lada has sworn to fight against—and that Radu now considers home. Together, Lada, Radu, and Mehmed form a toxic triangle that strains the bonds of love and loyalty to the breaking point.
39. Nevernight (The Nevernight Chronicles #1) by Jay Kristoff
release date: August 9
In a land where three suns almost never set, a fledgling killer joins a school of assassins, seeking
Daughter of an executed traitor, Mia Corvere is barely able to escape her father's failed rebellion with her life. Alone and friendless, she hides in a city built from the bones of a dead god, hunted by the Senate and her father's former comrades. But her gift for speaking with the shadows leads her to the door of a retired killer, and a future she never imagined.
Now, a sixteen year old Mia is apprenticed to the deadliest flock of assassins in the entire Republic — the Red Church. Treachery and trials await her with the Church's halls, and to fail is to die. But if she survives to initiation, Mia will be inducted among the chosen of the Lady of Blessed Murder, and one step closer to the only thing she desires.
Revenge.
40. Strange the Dreamer (Strange the Dreamer #1) by Laini Taylor
release date: September 27
Strange the Dreamer is the story of:

the aftermath of a war between gods and men.
a mysterious city stripped of its name.
a mythic hero with blood on his hands.
a young librarian with a singular dream.
a girl every bit as perilous as she is imperiled.
alchemy and blood candy, nightmares and godspawn, moths and monsters, friendship and treachery, love and carnage.

Welcome to Weep.
41. Ever the Hunted (Clash of Kingdoms #1) by Erin Summerill
release date: December 27
Seventeen year-old Britta Flannery is at ease only in the woods with her dagger and bow. She spends
However, it's not so simple.
The alleged killer is none other than Cohen McKay, her father's former apprentice. The only friend she's ever known. The boy she once loved who broke her heart. She must go on a dangerous quest in a world of warring kingdoms, mad kings, and dark magic to find the real killer. But Britta wields more power than she knows. And soon she will learn what has always made her different will make her a daunting and dangerous force.
The last category of releases are contemporary, sci/fi and fantasy standalones, or at least books that are not marked as part of a series at this point.
42. The Sun, the Moon, and the Truth by Kasie West
no release date
In The Sun, the Moon, and the Truth, a post from a fake celebrity social media account sets a single-minded swimmer on a hunt to find out the person's true identity
43. This is Where it Ends by Marieke Nijkamp
release date: January 5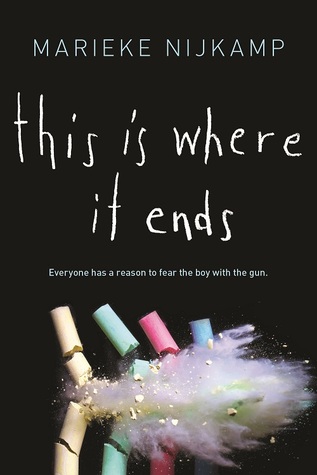 10:00 a.m.
The principal of Opportunity, Alabama's high school finishes her speech, welcoming the entire student body to a new semester and encouraging them to excel and achieve.
10:02 a.m.
The students get up to leave the auditorium for their next class.
10:03
The auditorium doors won't open.
10:05
Someone starts shooting.
Told over the span of 54 harrowing minutes from four different perspectives, terror reigns as one student's calculated revenge turns into the ultimate game of survival.
44. The Heir and the Spare by Emily Albright
release date: January 18
Family can be complicated. Especially when skeletons from the past pop up unexpectedly. For American Evie Gray, finding out her deceased mother had a secret identity, and not one of the caped crusader variety, was quite the surprise. Evie's mom had a secret life before she was even born, one that involved tiaras.
In this modern day fairytale, Evie is on a path to figure out who her mom really was, while discovering for herself what the future will hold. Charged with her late mother's letters, Evie embarks on a quest into her past. The first item on the list is to attend Oxford, her mom's alma mater. There, Evie stumbles upon a real life prince charming, Edmund Stuart the second Prince of England, who is all too happy to be the counterpart to her damsel in distress.
Evie can't resist her growing attraction to Edmund as they spend more time together trying to unravel the clues her mother left behind. But, when doubts arise as to whether or not Edmund could ever be with an untitled American, what really ends up unraveling is Evie's heart. When Evie uncovers all the facts about her mom's former life, she realizes her mom's past can open doors she never dreamed possible, doors that can help her be with Edmund. But, with everything now unveiled, Evie starts to crack under the pressure of new family responsibilities and the realization that her perfect prince may want her for all the wrong reasons.
45. Shade Me by Jennifer Brown
release date: January 19
Nikki Kill does not see the world like everyone else. In her eyes, happiness is pink, sadness is a mixture of brown and green, and lies are gray. Thanks to a rare phenomenon called synesthesia, Nikki's senses overlap, in a way that both comforts and overwhelms her.
Always an outsider, just one 'D' shy of flunking out, Nikki's life is on the fast track to nowhere until the night a mysterious call lights her phone up bright orange—the color of emergencies. It's the local hospital. They need Nikki to identify a Jane Doe who is barely hanging on to life after a horrible attack.
The victim is Peyton Hollis, a popular girl from Nikki's school who Nikki hardly knows. One thing is clear: Someone wants Peyton dead. But why? And why was Nikki's cell the only number in Peyton's phone?
As she tries to decipher the strange kaleidoscope of clues, Nikki finds herself thrust into the dark, glittering world of the ultra-rich Hollis family, and drawn towards Peyton's handsome, never-do-well older brother Dru. While Nikki's colors seem to help her unravel the puzzle, what she can't see is that she may be falling into a trap. The only truth she can be sure of is that death is a deep, pulsing crimson.
Shade Me is award-winning author Jennifer Brown's first book in a thrilling suspense series about Nikki Kill.
46. The Love That Split the World by Emily Henry
release date January 26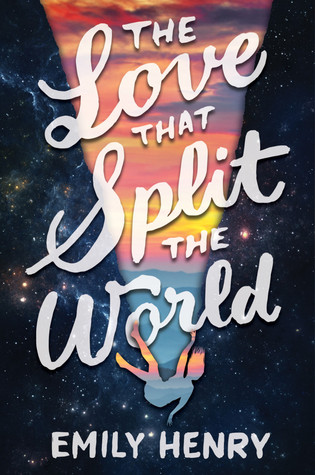 Natalie Cleary must risk her future and leap blindly into a vast unknown for the chance to build a new world with the boy she loves.
Natalie's last summer in her small Kentucky hometown is off to a magical start... until she starts seeing the "wrong things." They're just momentary glimpses at first—her front door is red instead of its usual green, there's a pre-school where the garden store should be. But then her whole town disappears for hours, fading away into rolling hills and grazing buffalo, and Nat knows something isn't right.
That's when she gets a visit from the kind but mysterious apparition she calls "Grandmother," who tells her: "You have three months to save him." The next night, under the stadium lights of the high school football field, she meets a beautiful boy named Beau, and it's as if time just stops and nothing exists. Nothing, except Natalie and Beau.
Emily Henry's stunning debut novel is Friday Night Lights meets The Time Traveler's Wife, and perfectly captures those bittersweet months after high school, when we dream not only of the future, but of all the roads and paths we've left untaken.
47. The Year We Fell Apart by Emily Martin
release date: January 26
In the tradition of Sarah Dessen, this powerful debut novel is a compelling portrait of a young girl coping with her mother's cancer as she figures out how to learn from—and fix—her past.
Few things come as naturally to Harper as epic mistakes. In the past year she was kicked off the swim team, earned a reputation as Carson High's easiest hook-up, and officially became the black sheep of
Now, after two semesters of silence, Declan is home from boarding school for the summer. Everything about him is different—he's taller, stronger…more handsome. Harper has changed, too, especially in the wake of her mom's cancer diagnosis.
While Declan wants nothing to do with Harper, he's still Declan, her Declan, and the only person she wants to talk to about what's really going on. But he's also the one person she's lost the right to seek comfort from. As their mutual friends and shared histories draw them together again, Harper and Declan must decide which parts of their past are still salvageable, and which parts they'll have to let go of once and for all.
In this honest and affecting tale of friendship and first love, Emily Martin brings to vivid life the trials and struggles of high school and the ability to learn from past mistakes over the course of one steamy North Carolina summer.
48. Blackhearts by Nicole Castroman
release date: February 9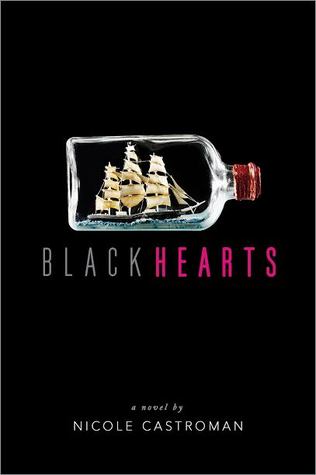 Blackbeard the pirate was known for striking fear in the hearts of the bravest of sailors. But once he was just a young man who dreamed of leaving his rigid life behind to chase adventure in faraway lands. Nothing could stop him—until he met the one girl who would change everything.
Edward "Teach" Drummond, son of one of Bristol's richest merchants, has just returned from a year-long journey on the high seas to find his life in shambles. Betrothed to a girl he doesn't love and sick of the high society he was born into, Teach dreams only of returning to the vast ocean he'd begun to call home. There's just one problem: convincing his father to let him leave and never come back.
Following her parents' deaths, Anne Barrett is left penniless and soon to be homeless. Though she's barely worked a day in her life, Anne is forced to take a job as a maid in the home of Master Drummond. Lonely days stretch into weeks, and Anne longs for escape. How will she ever realize her dream of sailing to Curaçao—where her mother was born—when she's stuck in England?
From the moment Teach and Anne meet, they set the world ablaze. Drawn to each other, they're trapped by society and their own circumstances. Faced with an impossible choice, they must decide to chase their dreams and go, or follow their hearts and stay.
49. The Word for Yes by Claire Needell
release date: February 16
After their parents' divorce, Jan, Erika, and Melanie have to get used to the new world order: a father who's moved to another continent and a mother who throws herself into moving on. Jan, off at her first semester of college, has plenty to worry about, including an outspoken roommate who's kind of
Then, at a party full of blurred lines and blurred memories, everything changes. Starting that night, where there should be words, there is only angry, scared silence.
And in the aftermath, Jan, Erika, and Melanie will have to work hard to reconnect and help one another heal.
At once touching and raw, Claire Needell's first novel is an honest look at the love and conflicts among sisters and friends, and how these relationships can hold us together—and tear us apart.
50. Beautiful Broken Things by Sara Barnard
release date: February 11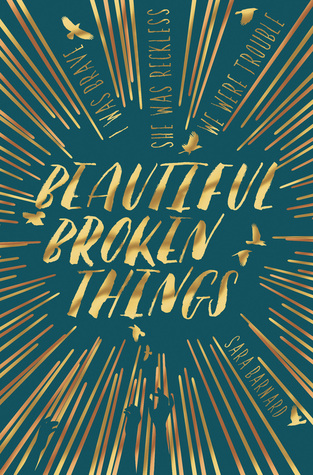 I was brave
She was reckless
We were trouble
Best friends Caddy and Rosie are inseparable. Their differences have brought them closer, but as she turns sixteen Caddy begins to wish she could be a bit more like Rosie – confident, funny and interesting. Then Suzanne comes into their lives: beautiful, damaged, exciting and mysterious, and things get a whole lot more complicated. As Suzanne's past is revealed and her present begins to unravel, Caddy begins to see how much fun a little trouble can be. But the course of both friendship and recovery is rougher than either girl realises, and Caddy is about to learn that downward spirals have a momentum of their own.
51. The Forbidden Wish by Jessica Khoury
release date: February 23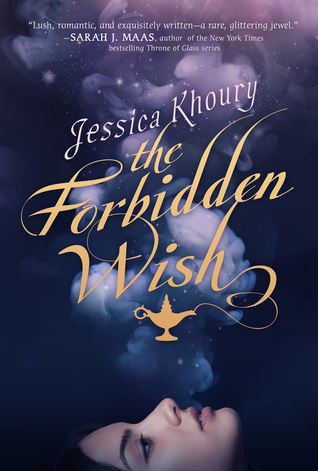 She is the most powerful Jinni of all. He is a boy from the streets. Their love will shake the world...
When Aladdin discovers Zahra's jinni lamp, Zahra is thrust back into a world she hasn't seen in hundreds of years -- a world where magic is forbidden and Zahra's very existence is illegal. She must disguise herself to stay alive, using ancient shape-shifting magic, until her new master has selected his three wishes.
But when the King of the Jinn offers Zahra a chance to be free of her lamp forever, she seizes the opportunity—only to discover she is falling in love with Aladdin. When saving herself means betraying him, Zahra must decide once and for all: is winning her freedom worth losing her heart?
As time unravels and her enemies close in, Zahra finds herself suspended between danger and desire in this dazzling retelling of Aladdin from acclaimed author Jessica Khoury.
52. The Forbidden Orchid by Sharon Biggs Waller
release date: March 8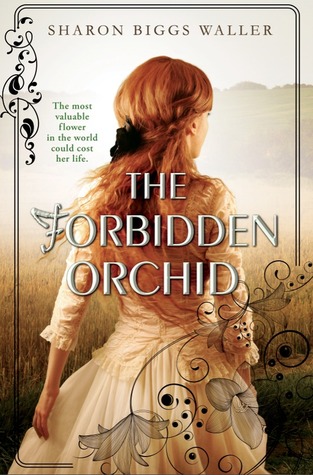 Staid, responsible Elodie Buchanan is the eldest of ten sisters living in a small English market town in 1861. The girls' father is a plant hunter, usually off adventuring through the jungles of China.
Then disaster strikes: Mr. Buchanan fails to collect an extremely rare and valuable orchid, meaning that he will be thrown into debtors' prison and the girls will be sent to the orphanage or the poorhouse. Elodie's father has one last chance to return to China, find the orchid, and save the family—and this time, thanks to an unforeseen twist of fate, Elodie is going with him. Elodie has never before left her village, but what starts as fear turns to wonder as she adapts to seafaring life aboard the tea clipper The Osprey, and later to the new sights, dangers, and romance of China.
But even if she can find the orchid, how can she find herself now that staid, responsible Elodie has seen how much the world has to offer?
53. Wink Poppy Midnight by April Genevieve Tucholke
release date: March 22
The intrigue of The Virgin Suicides and the "supernatural or not" question of The Unbecoming of Mara Dyer coalesce in this young adult mystery, where nothing is quite as it seems, no one is quite who you think, and everything can change on a dime.
Every story needs a hero.
Every story needs a villain.
Every story needs a secret.
Wink is the odd, mysterious neighbor girl, wild red hair and freckles. Poppy is the blond bully and the beautiful, manipulative high school queen bee. Midnight is the sweet, uncertain boy caught between them. Wink. Poppy. Midnight. Two girls. One boy. Three voices that burst onto the page in short, sharp, bewitching chapters, and spiral swiftly and inexorably toward something terrible or tricky or tremendous.
What really happened?
Someone knows.
Someone is lying.
54. When We Collided by Emery Lord
release date: April 5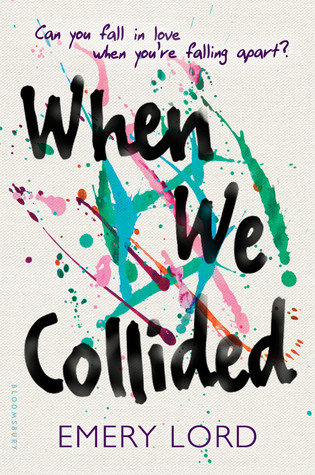 Meet Vivi and Jonah: A girl and a boy whose love has the power save or destroy them.
Vivi and Jonah couldn't be more different. Vivi craves anything joyful or beautiful that life can offer. Jonah has been burdened by responsibility for his family ever since his father died. As summer begins, Jonah resigns himself to another season of getting by. Then Vivi arrives, and suddenly life seems brighter and better. Jonah is the perfect project for Vivi, and things finally feel right for Jonah. Their love is the answer to everything. But soon Vivi's zest for life falters, as her adventurousness becomes true danger-seeking. Jonah tries to keep her safe, but there's something important Vivi hasn't told him.
Perfect for fans of E. Lockhart and Jandy Nelson, When We Collided is a powerful story of two teens whose love is put to the test by forces beyond their control.
55. Once Was a Time by Leila Sales
release date: April 5
In the war-ravaged England of 1940, Charlotte Bromley is sure of only one thing: Kitty McLaughlin is her best friend in the whole world. But when Charlotte's scientist father makes an astonishing discovery that the Germans will covet for themselves, Charlotte is faced with an impossible choice between danger and safety. Should she remain with her friend or journey to another time and place? Her split-second decision has huge consequences, and when she finds herself alone in the world, unsure of Kitty's fate, she knows that somehow, some way, she must find her way back to her friend. Written in the spirit of classic time-travel tales, this book is an imaginative and heartfelt tribute to the unbreakable ties of friendship.
56. A Fierce and Subtle Poison by Samantha Mabry
release date: April 12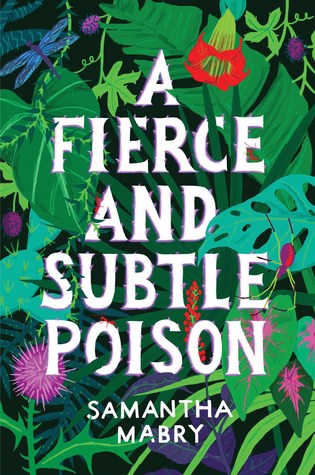 In this stunning debut, legends collide with reality when a boy is swept into the magical, dangerous world of a girl filled with poison.
Everyone knows the legends about the cursed girl--Isabel, the one the senoras whisper about. They say she has green skin and grass for hair, and she feeds on the poisonous plants that fill her family's Caribbean island garden. Some say she can grant wishes; some say her touch can kill.
Seventeen-year-old Lucas lives on the mainland most of the year but spends summers with his hotel-developer father in Puerto Rico. He's grown up hearing stories about the cursed girl, and he wants to believe in Isabel and her magic. When letters from Isabel begin mysteriously appearing in his room the same day his new girlfriend disappears, Lucas turns to Isabel for answers--and finds himself lured into her strange and enchanted world. But time is running out for the girl filled with poison, and the more entangled Lucas becomes with Isabel, the less certain he is of escaping with his own life.
57. Love & Gelato by Jenna Evans Welch
release date: April 12
A summer in Italy turns into a road trip across Tuscany in this sweeping debut novel filled with romance, mystery, and adventure.
Lina is spending the summer in Tuscany, but she isn't in the mood for Italy's famous sunshine and fairy-tale landscape. She's only there because it was her mother's dying wish that she get to know her father. But what kind of father isn't around for sixteen years? All Lina wants to do is get back home.
But then Lina is given a journal that her mom had kept when she lived in Italy. Suddenly Lina's uncovering a magical world of secret romances, art, and hidden bakeries. A world that inspires Lina, along with the ever-so-charming Ren, to follow in her mother's footsteps and unearth a secret that has been kept from Lina for far too long. It's a secret that will change everything she knew about her mother, her father—and ever herself.
People come to Italy for love and gelato, someone tells her, but sometimes they discover much more.
58. Dreamology by Lucy Keating
release date: April 12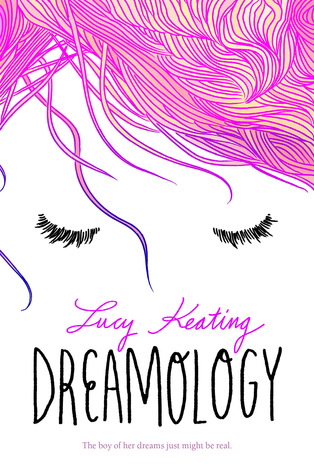 For as long as Alice can remember, she has dreamed of Max. Together they have traveled the world and fallen deliriously, hopelessly in love. Max is the boy of her dreams—and only her dreams. Because he doesn't exist.
But when Alice walks into class on her first day at a new school, there he is. It turns out, though, that Real Max is nothing like Dream Max, and getting to know each other in reality isn't as perfect as Alice always hoped.
When their dreams start to bleed dangerously into their waking hours, the pair realize that they might have to put an end to a lifetime of dreaming about each other. But when you fall in love in your dreams, can reality ever be enough?
Whimsical, romantic and utterly original, Lucy Keating's debut novel will win readers' hearts.
59. The Land of 10,000 Madonnas by Kate Hattemer
release date: April 19
Five teens backpack through Europe to fulfill the mysterious dying wish of their friend in this heartwarming novel from the author of The Vigilante Poets of Selwyn Academy.
Jesse lives with his history professor dad in a house covered with postcards of images of the Madonna from all over the world. They're gotten used to this life: two motherless dudes living among thousands of Madonnas. But Jesse has a heart condition that will ultimately cut his life tragically short. Before he dies, he arranges a mysterious trip to Europe for his three cousins, his best friend, and his girlfriend to take after he passes away. It's a trip that will forever change the lives of these young teens and one that will help them come to terms with Jesse's death.
With vivid writing, poignant themes, and abundant doses of humor throughout, Kate Hattemer's second novel is a satisfying journey about looking for someone else's answers only to find yourself.
60. Love, Lies & Spies by Cindy Anstey
release date: April 19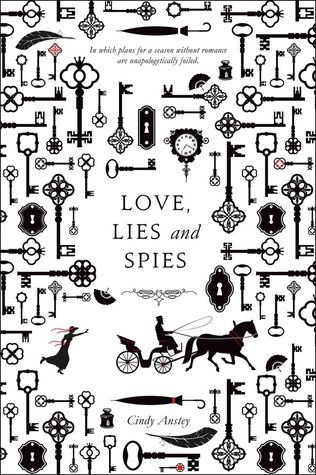 Juliana Telford is not your average nineteenth-century young lady. She's much more interested in researching ladybugs than marriage, fashionable dresses, or dances. So when her father sends her to London for a season, she's determined not to form any attachments. Instead, she plans to secretly publish their research.
Spencer Northam is not the average young gentleman of leisure he appears. He is actually a spy for the War Office, and is more focused on acing his first mission than meeting eligible ladies. Fortunately, Juliana feels the same, and they agree to pretend to fall for each other. Spencer can finally focus, until he is tasked with observing Juliana's traveling companions . . . and Juliana herself.
61. Scarlett Epstein Hates it Here by Anna Breslau
release date: April 19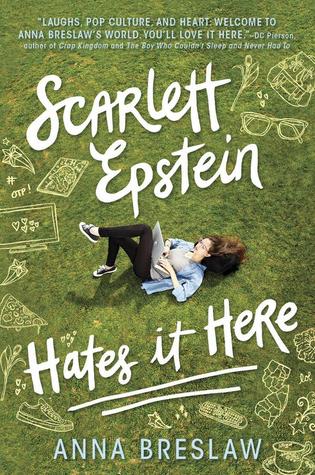 Meet Scarlett Epstein, BNF (Big Name Fan) in her online community of fanfiction writers, world-class nobody at Melville High. Her best (read: only) IRL friends are Avery, a painfully shy and annoyingly attractive bookworm, and Ruth, her pot-smoking, possibly insane seventy-three-year-old neighbor.
When Scarlett's beloved TV show is canceled and her longtime crush, Gideon, is sucked out of her orbit and into the dark and distant world of Populars, Scarlett turns to the fanfic message boards for comfort. This time, though, her subjects aren't the swoon-worthy stars of her fave series—they're the real-life kids from her high school. Scarlett never considers what might happen if they were to find out what she truly thinks about them...until a dramatic series of events exposes a very different reality than Scarlett's stories, forever transforming her approach to relationships—both online and off.
62. The Last Boy and Girl in the World by Siobhan Vivian
release date: April 26
From the critically acclaimed author of The List comes a stunning new novel about a girl who must
What if your town was sliding underwater and everyone was ordered to pack up and leave? How would you and your friends spend your last days together?
While the adults plan for the future, box up their possessions, and find new places to live, Keeley Hewitt and her friends decide to go out with a bang. There are parties in abandoned houses. Canoe races down Main Street. The goal is to make the most of every minute they still have together.
And for Keeley, that means taking one last shot at the boy she's loved forever.
There's a weird sort of bravery that comes from knowing there's nothing left to lose. You might do things you normally wouldn't. Or say things you shouldn't. The reward almost always outweighs the risk. Almost.
It's the end of Aberdeen, but the beginning of Keeley's first love story. It just might not turn out the way she thought. Because it's not always clear what's worth fighting for and what you should let become a memory.
63. The Star-Touched Queen by Roshani Chokshi
release date: May 3
Cursed with a horoscope that promises a marriage of Death and Destruction, sixteen-year-old Maya has only earned the scorn and fear of her father's kingdom. Content to follow more scholarly pursuits,
But Akaran has its own secrets - thousands of locked doors, gardens of glass, and a tree that bears memories instead of fruit. Beneath Akaran's magic, Maya begins to suspect her life is in danger. When she ignores Amar's plea for patience, her discoveries put more than new love at risk - it threatens the balance of all realms, human and Otherworldly.
Now, Maya must confront a secret that spans reincarnated lives and fight her way through the dangerous underbelly of the Otherworld if she wants to protect the people she loves.
THE STAR-TOUCHED QUEEN is a lush, beautifully written and vividly imagined fantasy inspired by Indian mythology.
64. The Unexpected Everything by Morgan Matson
release date: May 3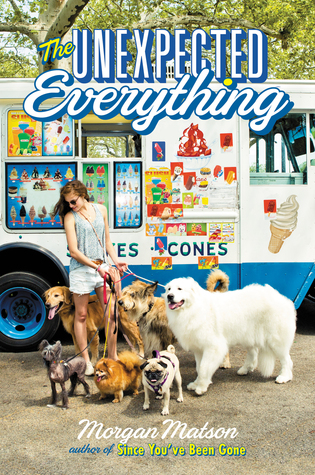 Andie had it all planned out.
When you are a politician's daughter who's pretty much raised yourself, you learn everything can be planned or spun, or both. Especially your future.
Important internship? Check.
Amazing friends? Check.
Guys? Check (as long as we're talking no more than three weeks)
But that was before the scandal. Before having to be in the same house with her dad. Before walking an insane number of dogs. That was before Clark and those few months that might change her whole life.
Because here's the thing - if everything's planned out, you can never find the unexpected.
And where's the fun in that?
65. Girl Against the Universe by Paula Stokes
release date: May 17
Maguire is bad luck.
No matter how many charms she buys off the internet or good luck rituals she performs each
It's safest for Maguire to hide out in her room, where she can cause less damage and avoid meeting new people who she could hurt. But then she meets Jordy, an aspiring tennis star. Jordy is confident, talented, and lucky, and he's convinced he can help Maguire break her unlucky streak. Maguire knows that the best thing she can do for Jordy is to stay away. But it turns out staying away is harder than she thought.
From author Paula Stokes comes a funny and poignant novel about accepting the past, embracing the future, and learning to make your own luck.
66. Some Kind of Happiness by Claire Legrand
release date: May 17
THINGS FINLEY HART DOESN'T WANT TO TALK ABOUT
• Her parents, who are having problems. (But they pretend like they're not.)
• Being sent to her grandparents' house for the summer.
• Never having met said grandparents.
• Her blue days—when life feels overwhelming, and it's hard to keep her head up. (This happens a lot.)
Finley's only retreat is the Everwood, a forest kingdom that exists in the pages of her notebook. Until she discovers the endless woods behind her grandparents' house and realizes the Everwood is real--and holds more mysteries than she'd ever imagined, including a family of pirates that she isn't allowed to talk to, trees covered in ash, and a strange old wizard living in a house made of bones.
With the help of her cousins, Finley sets out on a mission to save the dying Everwood and uncover its secrets. But as the mysteries pile up and the frightening sadness inside her grows, Finley realizes that if she wants to save the Everwood, she'll first have to save herself.
Reality and fantasy collide in this powerful, heartfelt novel about family, depression, and the power of imagination.
67. Devil and the Bluebird by Jennifer Mason-Black
release date: May 17
"Devil-at-the-crossroads" folklore finds its way to YA via this moody, magical tale
Blue Riley has wrestled with her own demons ever since the loss of her mother to cancer. But when she encounters a beautiful devil at her town crossroads, it's her runaway sister's soul she fights to save. The devil steals Blue's voice—inherited from her musically gifted mother—in exchange for a single shot at finding Cass.
Armed with her mother's guitar, a knapsack of cherished mementos, and a pair of magical boots, Blue journeys west in search of her sister. When the devil changes the terms of their deal, Blue must reevaluate her understanding of good and evil and open herself to finding family in unexpected places.
In Devil and the Bluebird, Jennifer Mason-Black delivers a heart-wrenching depiction of loss and hope.
68. Wanderlost by Jen Malone
release date: May 31
Seventeen-year-old Aubree has always idolized her adventurous older sister, even while utterly
There's no way she can do what Elizabeth is asking. Impersonate her recent-college-grad sis all summer, just so Elizabeth can score the recommendation she needs to land her dream position? Nope, nope, not gonna happen.
ESPECIALLY when Elizabeth's summer job is leading a bus tour.
A bus tour across Europe.
A senior citizens' bus tour across Europe.
And that's even before Bree finds out that the tour owner's super-cute son (who is decidedly NOT elderly) will be a last-minute addition.
Bree would have to be crazy. Or would she?
69. The Museum of Heartbreak by Meg Leder
release date: June 7
In this ode to all the things we gain and lose and gain again, seventeen-year-old Penelope Marx
Welcome to the Museum of Heartbreak.
Well, actually, to Penelope Marx's personal museum. The one she creates after coming face to face with the devastating, lonely-making butt-kicking phenomenon known as heartbreak.
Heartbreak comes in all forms: There's Keats, the charmingly handsome new guy who couldn't be more perfect for her. There's possibly the worst person in the world, Cherisse, whose mission in life is to make Penelope miserable. There's Penelope's increasingly distant best friend Audrey. And then there's Penelope's other best friend, the equal-parts-infuriating-and-yet-somehow-amazing Eph, who has been all kinds of confusing lately.
But sometimes the biggest heartbreak of all is learning to let go of that wondrous time before you ever knew things could be broken.
70. The Loose Ends List by Carrie Firestone
release date: June 7
A refreshing, funny, and moving debut novel about first loves, last wishes, and letting go.
Seventeen-year-old Maddie O'Neill Levine lives a charmed life, and is primed to spend the perfect
Soon, Maddie is on the trip of a lifetime with her over-the-top family. As they travel the globe, Maddie bonds with other passengers and falls for Enzo, who is processing his own grief. But despite the laughter, headiness of first love, and excitement of glamorous destinations, Maddie knows she is on the brink of losing Gram. She struggles to find the strength to say good-bye in a whirlwind summer shaped by love, loss, and the power of forgiveness.
71. Summer Days & Summer Nights edited by Stephanie Perkins
release date: June 14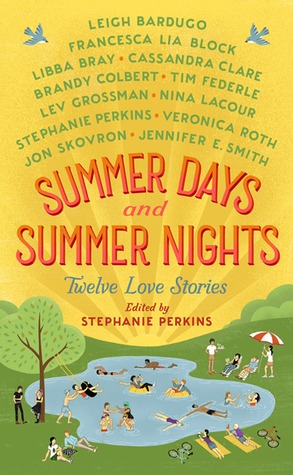 Maybe it's the long, lazy days, or maybe it's the heat making everyone a little bit crazy. Whatever the reason, summer is the perfect time for love to bloom. Summer Days & Summer Nights: Twelve Love Stories, written by twelve bestselling young adult writers and edited by the international bestselling author Stephanie Perkins, will have you dreaming of sunset strolls by the lake. So set out your beach chair and grab your sunglasses. You have twelve reasons this summer to soak up the sun and fall in love.
Featuring stories by Leigh Bardugo, Francesca Lia Block, Libba Bray, Cassandra Clare, Brandy Colbert, Tim Federle, Lev Grossman, Nina LaCour, Stephanie Perkins, Veronica Roth, Jon Skovron, and Jennifer E. Smith.
72. Enter Title Here by Rahul Kanakia
release date: August 2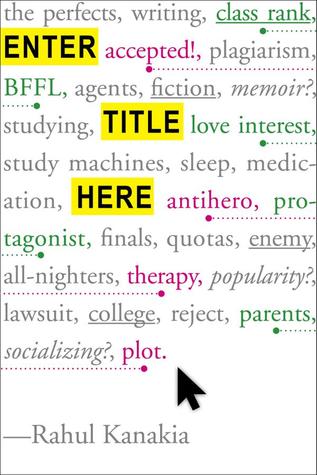 I'm your protagonist—Reshma Kapoor—and if you have the free time to read this book, then you're probably nothing like me.
Reshma is a college counselor's dream. She's the top-ranked senior at her ultra-competitive Silicon Valley high school, with a spotless academic record and a long roster of extracurriculars. But there are plenty of perfect students in the country, and if Reshma wants to get into Stanford, and into med school after that, she needs the hook to beat them all.
What's a habitual over-achiever to do? Land herself a literary agent, of course. Which is exactly what Reshma does after agent Linda Montrose spots an article she wrote for Huffington Post. Linda wants to represent Reshma, and, with her new agent's help scoring a book deal, Reshma knows she'll finally have the key to Stanford.
But she's convinced no one would want to read a novel about a study machine like her. To make herself a more relatable protagonist, she must start doing all the regular American girl stuff she normally ignores. For starters, she has to make a friend, then get a boyfriend. And she's already planned the perfect ending: after struggling for three hundred pages with her own perfectionism, Reshma will learn that meaningful relationships can be more important than success—a character arc librarians and critics alike will enjoy.
Of course, even with a mastermind like Reshma in charge, things can't always go as planned. And when the valedictorian spot begins to slip from her grasp, she'll have to decide just how far she'll go for that satisfying ending. (Note: It's pretty far.)
In this wholly unique, wickedly funny debut novel, Rahul Kanakia consciously uses the rules of storytelling—and then breaks them to pieces.
73. Heartless by Marissa Meyer
release date: November 8
Long before she was the terror of Wonderland — the infamous Queen of Hearts — she was just a girl
Catherine may be one of the most desired girls in Wonderland, and a favorite of the yet-unmarried King of Hearts, but her interests lie elsewhere. A talented baker, all she wants is to open a shop with her best friend and supply the Kingdom of Hearts with delectable pastries and confections. But according to her mother, such a goal is unthinkable for the young woman who could be the next Queen.
At a royal ball where Cath is expected to receive the king's marriage proposal, she meets Jest, the handsome and mysterious court joker. For the first time, she feels the pull of true attraction. At the risk of offending the King and infuriating her parents, she and Jest enter into an intense, secret courtship.
Cath is determined to define her own destiny and fall in love on her terms. But
in a land thriving with magic, madness, and monsters, fate has other plans.
So there you go, 70 new books for you to check out in 2016!! Do you have anything that you would add to this list?
xx Sunny