welcome to another episode of "what did Caroline read this month?" I can't believe November is almost over, which means CHRISTMAS is right around the corner!! I am one of those people who is ridiculously obsessed with everything about Christmas: everything from music to decorations to movies to gift giving and everything else, so hopefully this next month will be super festive, both in life and on here. November was a pretty good month for me overall, I managed to read nine books and post four reviews, so here we go!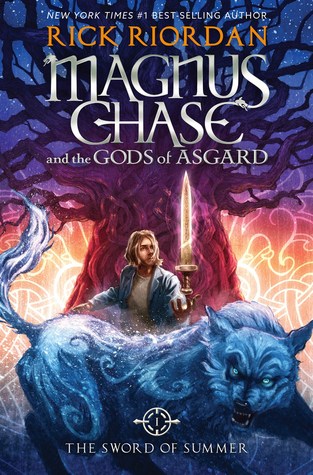 1. Magnus Chase and the Gods of Asgard: The Sword of Summer – Rick Riordan ☆☆☆☆☆
synopsis:
Magnus Chase has always been a troubled kid. Since his mother's mysterious death, he's lived alone on the streets of Boston, surviving by his wits, keeping one step ahead of the police and the truant officers.

One day, he's tracked down by a man he's never met—a man his mother claimed was dangerous. The man tells him an impossible secret: Magnus is the son of a Norse god.

The Viking myths are true. The gods of Asgard are preparing for war. Trolls, giants and worse monsters are stirring for doomsday. To prevent Ragnarok, Magnus must search the Nine Worlds for a weapon that has been lost for thousands of years.

When an attack by fire giants forces him to choose between his own safety and the lives of hundreds of innocents, Magnus makes a fatal decision.

Sometimes, the only way to start a new life is to die . . .
2. Bleak House – Charles Dickens ☆☆☆
I started this book in SEPTEMBER but I finally made it through
Bleak House opens in the twilight of foggy London, where fog grips the city most densely in the Court of Chancery. The obscure case of Jarndyce and Jarndyce, in which an inheritance is gradually devoured by legal costs, the romance of Esther Summerson and the secrets of her origin, the sleuthing of Detective Inspector Bucket and the fate of Jo the crossing-sweeper, these are some of the lives Dickens invokes to portray London society, rich and poor, as no other novelist has done. Bleak House, in its atmosphere, symbolism and magnificent bleak comedy, is often regarded as the best of Dickens. A 'great Victorian novel', it is so inventive in its competing plots and styles that it eludes interpretation.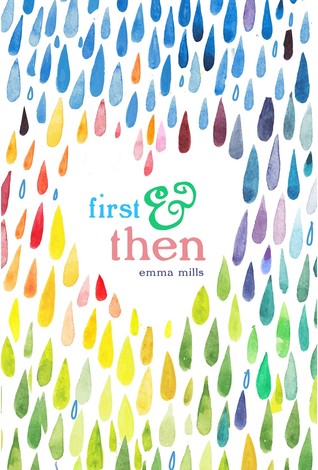 3. First & Then – Emma Mills ☆☆☆☆1/2
Devon Tennyson wouldn't change a thing. She's happy watching Friday night games from the bleachers, silently crushing on best friend Cas, and blissfully ignoring the future after high school. But the universe has other plans. It delivers Devon's cousin Foster, an unrepentant social outlier with a surprising talent for football, and the obnoxiously superior and maddeningly attractive star running back, Ezra, right where she doesn't want them first into her P.E. class and then into every other aspect of her life.

Pride and Prejudice meets Friday Night Lights in this contemporary novel about falling in love with the unexpected boy, with a new brother, and with yourself.
4. Cinder (The Lunar Chronicles #1) – Marissa Meyer ☆☆☆☆☆
Humans and androids crowd the raucous streets of New Beijing. A deadly plague ravages the population. From space, a ruthless lunar people watch, waiting to make their move. No one knows that Earth's fate hinges on one girl. . . .
Cinder, a gifted mechanic, is a cyborg. She's a second-class citizen with a mysterious past, reviled by her stepmother and blamed for her stepsister's illness. But when her life becomes intertwined with the handsome Prince Kai's, she suddenly finds herself at the center of an intergalactic struggle, and a forbidden attraction. Caught between duty and freedom, loyalty and betrayal, she must uncover secrets about her past in order to protect her world's future.
5. Scarlet (The Lunar Chronicles #2) – Marissa Meyer ☆☆☆☆☆
Cinder is back and trying to break out of prison―even though she'll be the Commonwealth's most wanted fugitive if she does―in this second installment from Marissa Meyer.
Halfway around the world, Scarlet Benoit's grandmother is missing. It turns out there are many things Scarlet doesn't know about her grandmother, or the grave danger she has lived in her whole life. When Scarlet encounters Wolf, a street fighter who may have information as to her grandmother's whereabouts, she is loath to trust this stranger, but is inexplicably drawn to him, and he to her. As Scarlet and Wolf unravel one mystery, they encounter another when they meet Cinder. Now, all of them must stay one step ahead of the vicious Lunar Queen Levana.
6. Cress (The Lunar Chronicles #3) – Marissa Meyer ☆☆☆☆☆
Cinder and Captain Thorne are fugitives on the run, with Scarlet and Wolf in tow. Together they're plotting to overthrow Queen Levana and her army.
Their best hope lies with Cress, who has been trapped on a satellite since childhood with only her netscreens as company. All that screen time has made Cress an excellent hacker; unfortunately, she's just received orders from Levana to track down Cinder and her handsome accomplice.
When a daring rescue goes awry, the group is separated. Cress finally has her freedom, but it comes at a high price. Meanwhile, Queen Levana will let nothing stop her marriage to Emperor Kai. Cress, Scarlet, and Cinder may not have signed up to save the world, but they may be the only ones who can.



7. Lumberjanes – Noelle Stevenson ☆☆☆☆
Five best friends spending the summer at Lumberjane scout camp...defeating yetis, three-eyed wolves, and giant falcons...what's not to love?!
Friendship to the max! Jo, April, Mal, Molly and Ripley are five best pals determined to have an awesome summer together...and they're not gonna let any insane quest or an array of supernatural critters get in their way! Not only is it the second title launching in our new BOOM! Box imprint but LUMBERJANES is one of those punk rock, love-everything-about-it stories that appeals to fans of basically all excellent things. It's Buffy the Vampire Slayer meets Gravity Falls and features five butt-kicking, rad teenage girls wailing on monsters and solving a mystery with the whole world at stake. And with the talent of acclaimed cartoonist Noelle Stevenson, talented newcomer Grace Ellis writing, and Brooke Allen on art, this is going to be a spectacular series that you won't want to miss. Collects Lumberjanes #1-#4.
8. Two on a Tower – Thomas Hardy ☆☆☆☆
Two On A Tower
is a tale of
star-crossed
love in which Hardy sets the emotional lives of his two lovers against the background of the stellar universe. The unhappily married Lady Constantine breaks all the rules of social decorum when she falls in love with Swithin St. Cleeve, an astronomer who is ten years her junior. Her husband's death leaves the lovers free to marry, but the discovery of a legacy forces them apart. This is Hardy's most complete treatment of the theme of love across the class and age divide and the fullest expression of his fascination with science and astronomy.
9. Fairest (The Lunar Chronicles #3.5) – Marissa Meyer ☆☆☆☆
Mirror, mirror, on the wall.Who is the Fairest of them all?
Pure evil has a name, hides behind a mask of deceit, and uses her "glamour" to gain power. But who
is
Queen Levana? Long before she crossed paths with Cinder, Scarlet, and Cress in The Lunar Chronicles, Levana lived a very different story—a story that has never been told . . . until now.
New York Times
–bestselling author Marissa Meyer reveals the story behind her fascinating villain in
Fairest
, an unforgettable tale about love and war, deceit and death. This extraordinary book includes a special full-color image of Levana's castle and an excerpt from
Winter
, the exciting conclusion to The Lunar Chronicles.
what did you love this month?
xx
Sunny