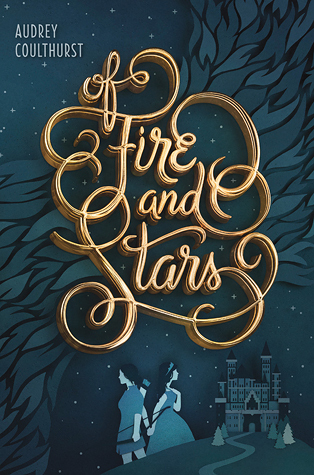 Of Fire and Stars
Audrey Coulthurst
☆☆☆☆
goodreads
/
b&n
/
amazon
Betrothed since childhood to the prince of Mynaria, Princess Dennaleia has always known what her future holds. Her marriage will seal the alliance between Mynaria and her homeland, protecting her people from other hostile lands. But Denna has a secret. She possesses an Affinity for fire—a dangerous gift for the future queen of a kingdom where magic is forbidden.

Now, Denna must learn the ways of her new home while trying to hide her growing magic. To make matters worse, she must learn to ride Mynaria's formidable warhorses—and her teacher is the person who intimidates her most, the prickly and unconventional Princess Amaranthine—called Mare—the sister of her betrothed.

When a shocking assassination leaves the kingdom reeling, Mare and Denna reluctantly join forces to search for the culprit. As the two become closer, Mare is surprised by Denna's intelligence and bravery, while Denna is drawn to Mare's independent streak. And soon their friendship is threatening to blossom into something more.

But with dangerous conflict brewing that makes the alliance more important than ever, acting on their feelings could be deadly. Forced to choose between their duty and their hearts, Mare and Denna must find a way to save their kingdoms—and each other.
full review under the cut
This book has been on my tbr for FOREVER. Like since the very beginning of this year. I loved the idea of a princess being engaged to a prince that she's never met and then falling for his sister.... LIKE WOW! Also the cover really caught my attention because it is so beautiful. Even though I've seen some reviews that aren't so positive for this book, I really enjoyed it and I think if you're looking for a high fantasy LGBT+ love story, you should definitely try this one out.
This book takes place in the country of Mynaria, when the Princess of Havemont, named Denneleia, arrives in the capital city to meet the prince that she has been betrothed to since she was a child. The only problem is that Denna is a wielder of a great deal of magic, which manifests itself in the form of fire. And in Mynaria, magic is feared and the people who use it are seen as an enemy of the state. So when Denna gets to what will be her new home, not only does she have to worry about meeting new people, learning about a new culture, and fitting into the court life, but she also has to worry about hiding her magic from everyone around her. This becomes increasingly difficult as a group of magic users called the Rescuants begin wreaking havoc on the city. Oh, and Denna also has to worry about one other thing. Mare: the princess of Mynaria and the sister of Thandi, Denna's betrothed. Mare is hotheaded and utterly unsuited to the court, and she would rather spend all of her time with horses than with humans. But when Mare is assigned to give Denna riding lessons, a friendship sparks between the girls, and they begin to respect and admire each other. Maybe a little bit too much?
Both of these heroines are really amazing in their own way. Mare is this headstrong and leap before you look tomboy who doesn't want anything to do with her station in life. She is happiest when she is around horses and out in the city, spying and generally getting into trouble. I loved that she was a little bit harsh at the beginning, but we got to see her really develop when she comes into contact with Denna. Denna, on the other hand, is about as proper as can be, having been vigorously trained her whole life to be queen of mynaria. But she is portrayed as just as strong and capable as Mare, in everything that she does, and I really liked that one of their skill sets was not valued above the other. I loved that they became besties before anything happened between them romantically, and I just really enjoyed reading from their POVs. Strong and confident high fantasy heroines are a yes from me!
As for the plot, I liked that there were multiple pokers in the fire, so to speak, but in the end they all related to one another? The fear of magic users related to the assassinations and attacks in the city which related to Denna's magic and Mare's spying. I also liked that there was the underlying storyline of Mare and Denna's feelings for one another, but that didn't really come to the forefront until the very end of the book. I loved the ending, and I don't know if this is supposed to be part of a longer story, but I think it definitely could be. There are so many questions about what the girls will do now, why Denna's powers are so strong, and what will become of the kingdom that came so close to war? I think there is a lot to explore, if Coulthurst is planning on writing another novel!
xx
Caroline