☆☆☆☆☆☆☆☆☆☆☆☆☆☆☆☆☆☆☆☆☆☆☆☆☆☆☆☆☆☆
The spotlight is a monthly series here on Stardust Words, where each month I feature a different theme. You can find the rest of the spotlight series posts
here
! This month, instead of doing a category, I thought I would post about a new release that I really enjoyed in the month of May. (which is basically just like me reviewing it but more fun!!)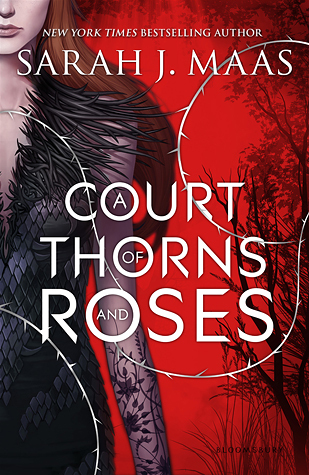 Name: A Court of Thorns and Roses
Author: Sarah J Maas
☆☆☆☆☆
find it on goodreads
/
barnes & noble
/
amazon
synopsis:
A thrilling, seductive new series from New York Times bestselling author Sarah J. Maas, blending Beauty and the Beast with faerie lore.
When nineteen-year-old huntress Feyre kills a wolf in the woods, a beast-like creature arrives to demand retribution for it. Dragged to a treacherous magical land she only knows about from legends, Feyre discovers that her captor is not an animal, but Tamlin—one of the lethal, immortal faeries who once ruled their world.
As she dwells on his estate, her feelings for Tamlin transform from icy hostility into a fiery passion that burns through every lie and warning she's been told about the beautiful, dangerous world of the Fae. But an ancient, wicked shadow grows over the faerie lands, and Feyre must find a way to stop it . . . or doom Tamlin—and his world—forever.
Perfect for fans of Kristin Cashore and George R. R. Martin, this first book in a sexy and action-packed new series is impossible to put down!
~~~
I went into this book with extremely high hopes. I mean, Sarah J Maas is one of my all time favorite authors, and I am in a drought because the next book in her Throne of Glass series doesn't come out until September. Also, this is a retelling, which we all know I am all on board for, anytime. But not only is this a retelling, it is a Beauty and the Beast retelling, which is probably my favorite fairy tale ever. AND, if that wasn't enough, there is also Faerie lore incorporated, which is something I've been wanting to try to get more into for the past couple of months. Add in the fact that Sarah promised us sexytimes and beautiful men, and you've basically got the formula for my ideal book. However, the fact that it seemed so perfect made me hesitate, because we have all had the awful experience of reading a book we were so excited for and having it be a complete flop. So, as I proceeded with caution, I am so happy to alert everyone that this was not one of those instances. A Court of Thorns and Roses lived up to all the hype, and surpassed it. That is why I am putting the spotlight on it this month. I think there is something in this book for everyone, and I want as many people as possible to experience it.
I truly believe that this book has it all. Romance and action, strong characters (both male and female, which is wonderful), magic, a horrid villainess and a copious amount of beauty. This is probably one of the most beautiful books I've ever read. Sarah does an amazing job with her imagery. In the beginning of the novel, the main character, Feyre, lives in an exceedingly bleak world, one without much color or happiness, and I really felt the gray quality of that world through the words on the page. When Feyre crosses into Tamlin's fae world, she is utterly overwhelmed by the colors and animation that did not have a place where she grew up. I loved reading about the beauty that Feyre noticed around her in this part of the book. The descriptions are just absolutely breathtaking.
Aside from the beauty and complexity of the world in this book, the characters are just as colorful and complex. From Feyre, the guarded, talented huntress/artist turned prisoner, to Tamlin, fae lord of the spring court, someone incredibly confusing to Feyre and her human sensibilities, to Lucien, emissary of Tamlin, wily and hilarious, to Feyre's selfish and somewhat simple family and beyond. These characters are diverse and all flawed in their own way, but also with good qualities in spades. Between Feyre and the immortal Tamlin there is a dangerous spark that others would exploit, which leads into the events in the end of the novel.
The end introduces us to Rhys, who is dangerous and untrustworthy, someone we love to hate, as well as the evil force that has haunted the fae lands for as long as anyone can remember. The end is the intense, nail biting action sequence to the first half's love story, and both parts are equally effective in telling their story. I just wish that everyone could experience the amazingness that is this book!! READ IT EVERYONE. READ IT NOW!
xx
Sunny