Hi everyone! Welcome to Top Ten Tuesday, hosted over at the Broke and the Bookish. This week's theme is: "
September 27
: Books On My Fall TBR List." These weeks are my favorites, because I just love talking about what books I want to read and seeing everything y'all have on your lists too!
Top Ten Books on my Fall TBR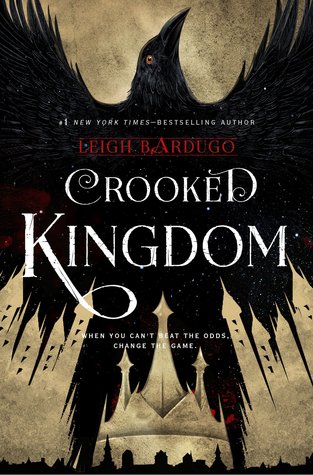 1. CROOKED KINGDOM by Leigh Bardugo – I don't even know how to describe how excited I am for this one. Six of Crows was one of my very top favorites of last year, and though I'm going to be sad to see these characters go, I cannot wait to see what happens next.
~~~
Kaz Brekker and his crew have just pulled off a heist so daring even they didn't think they'd survive. But instead of divvying up a fat reward, they're right back to fighting for their lives. Double-crossed and left crippled by the kidnapping of a valuable team member, the crew is low on resources, allies, and hope. As powerful forces from around the world descend on Ketterdam to root out the secrets of the dangerous drug known as jurda parem, old rivals and new enemies emerge to challenge Kaz's cunning and test the team's fragile loyalties. A war will be waged on the city's dark and twisting streets―a battle for revenge and redemption that will decide the fate of magic in the Grisha world.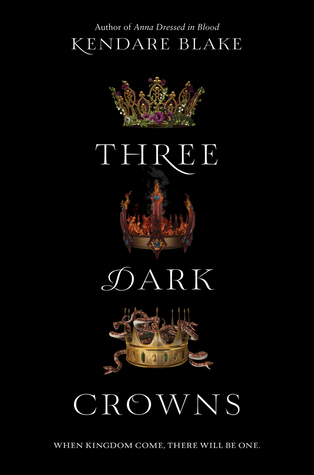 2. Three Dark Crowns by Kendare Blake– I bought this the other day, and I cannot wait to read it. Based on the first couple chapters that I have read, I think it's going to be awesome. Dark and twisty, but AWESOME.
~~~
Every generation on the island of Fennbirn, a set of triplets is born: three queens, all equal heirs to the crown and each possessor of a coveted magic. Mirabella is a fierce elemental, able to spark hungry flames or vicious storms at the snap of her fingers. Katharine is a poisoner, one who can ingest the deadliest poisons without so much as a stomachache. Arsinoe, a naturalist, is said to have the ability to bloom the reddest rose and control the fiercest of lions.

But becoming the Queen Crowned isn't solely a matter of royal birth. Each sister has to fight for it. And it's not just a game of win or lose…it's life or death. The night the sisters turn sixteen, the battle begins. The last queen standing gets the crown.

If only it was that simple. Katharine is unable to tolerate the weakest poison, and Arsinoe, no matter how hard she tries, can't make even a weed grow. The two queens have been shamefully faking their powers, taking care to keep each other, the island, and their powerful sister Mirabella none the wiser. But with alliances being formed, betrayals taking shape, and ruthless revenge haunting the queens' every move, one thing is certain: the last queen standing might not be the strongest…but she may be the darkest.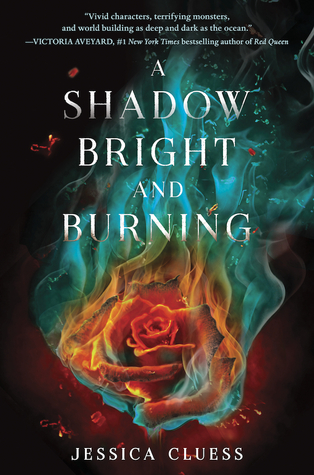 3. A Shadow Bright and Burning by Jessica Cluess – Sorcerers and magic and victorian England all rolled into one sounds like my perfect afternoon, and that is exactly why I can't wait to dive into this one! Some of my favorite authors have said great things about it, so *squeeeee*
~~~
I am Henrietta Howel. The first female sorcerer. The prophesied one. Or am I?

Henrietta Howel can burst into flames. When she is brought to London to train with Her Majesty's sorcerers, she meets her fellow sorcerer trainees, young men eager to test her powers and her heart. One will challenge her. One will fight for her. One will betray her. As Henrietta discovers the secrets hiding behind the glamour of sorcerer life, she begins to doubt that she's the true prophesied one. With battle looming, how much will she risk to save the city--and the one she loves?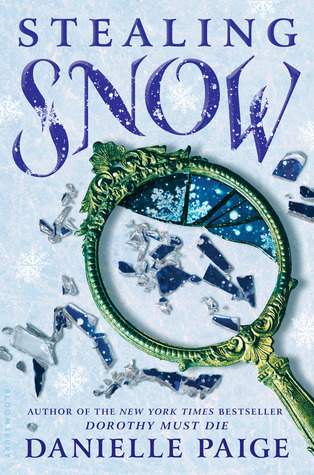 4. Stealing Snow by Danielle Paige – I wasn't crazy about her Dorothy Must Die series, but I've read the first bit of this one and I think it is something that I am definitely going to be into. I love fairy tale retellings, and I can't wait to see what edginess Paige gives to the Snow Queen.
~~~
Seventeen-year-old Snow has spent her life locked in Whittaker Psychiatric—but she isn't crazy. And that's not the worst of it. Her very first kiss proves anything but innocent…when Bale, her only love, turns violent.

Despite Snow knowing that Bale would never truly hurt her, he is taken away—dashing her last hope for any sort of future in the mental ward she calls home. With nowhere else to turn, Snow finds herself drawn to a strange new orderly who whispers secrets in the night about a mysterious past and a kingdom that's hers for the taking—if only she can find her way past the iron gates to the Tree that has been haunting her dreams.

Beyond the Tree lies Algid, a land far away from the real world, frozen by a ruthless king. And there too await the River Witch, a village boy named Kai, the charming thief Jagger, and a prophecy that Snow will save them all.
5. The Queen of Blood by Sarah Beth Durst – This book looks like the high fantasy dream that I've been waiting for. I have also read a couple non-spoilery reviews and loved what I've seen... especially that there's a city in the trees? or something like that... whatever it is, sign me up.
~~~
An idealistic young student and a banished warrior become allies in a battle to save their realm in this first book of a mesmerizing epic fantasy series, filled with political intrigue, violent magic, malevolent spirits, and thrilling adventure

Everything has a spirit: the willow tree with leaves that kiss the pond, the stream that feeds the river, the wind that exhales fresh snow . . .

But the spirits that reside within this land want to rid it of all humans. One woman stands between these malevolent spirits and the end of humankind: the queen. She alone has the magical power to prevent the spirits from destroying every man, woman, and child. But queens are still just human, and no matter how strong or good, the threat of danger always looms.

With the position so precarious, young women are chosen to train as heirs. Daleina, a seemingly quiet academy student, is under no illusions as to her claim to the throne, but simply wants to right the wrongs that have befallen the land. Ven, a disgraced champion, has spent his exile secretly fighting against the growing number of spirit attacks. Joining forces, these daring partners embark on a treacherous quest to find the source of the spirits' restlessness—a journey that will test their courage and trust, and force them to stand against both enemies and friends to save their land . . . before it's bathed in blood.
6. Been Here All Along by Sandy Hall – Sandy Hall's contemporaries make me swoony happy. A Little Something Different is still one of my absolute favorite contemporaries ever. I really need to get my hands on her new one, which looks just as promising as her other two.
~~~
Gideon always has a plan. His plans include running for class president, becoming head of the yearbook committee, and having his choice of colleges. They do NOT include falling head over heels for his best friend and next door neighbor, Kyle. It's a distraction. It's pointless, as Kyle is already dating the gorgeous and popular head cheerleader, Ruby. And Gideon doesn't know what to do.

Kyle finally feels like he has a handle on life. He has a wonderful girlfriend, a best friend willing to debate the finer points of Lord of the Rings, and social acceptance as captain of the basketball team. Then, both Ruby and Gideon start acting really weird, just as his spot on the team is threatened, and Kyle can't quite figure out what he did wrong…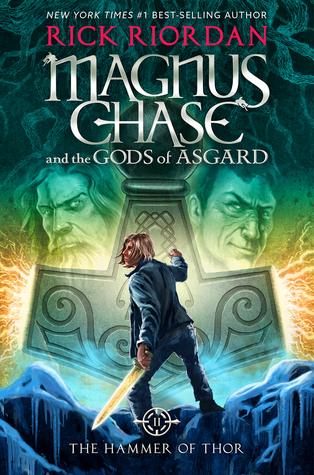 7. Magnus Chase and the Gods of Asgard: The Hammer of Thor by Rick Riordan – Rick Riordan + any mythology ever = me reading it. I enjoyed the first book in this series and am excited to pick it back up :)
~~~
Thor's hammer is missing again. The thunder god has a disturbing habit of misplacing his weapon--the mightiest force in the Nine Worlds. But this time the hammer isn't just lost, it has fallen into enemy hands. If Magnus Chase and his friends can't retrieve the hammer quickly, the mortal worlds will be defenseless against an onslaught of giants. Ragnarok will begin. The Nine Worlds will burn. Unfortunately, the only person who can broker a deal for the hammer's return is the gods' worst enemy, Loki--and the price he wants is very high.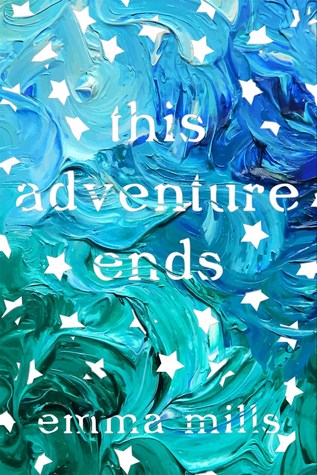 8. This Adventure Ends by Emma Mills – LOVED First & Then. Heard amazing things about this, her next novel. Commenced the impatient waiting. STILL impatiently waiting. Cannot wait to get my hands on this one.
~~~
Sloane isn't expecting to fall in with a group of friends when she moves from New York to Florida—especially not a group of friends so intense, so in love, so all-consuming. Yet that's exactly what happens.

Sloane becomes closest to Vera, a social-media star who lights up any room, and Gabe, Vera's twin brother and the most serious person Sloane's ever met. When a beloved painting by the twins' late mother goes missing, Sloane takes on the responsibility of tracking it down, a journey that takes her across state lines—and ever deeper into the twins' lives.

Filled with intense and important friendships, a wonderful warts-and-all family, shiveringly good romantic developments, and sharp, witty dialogue, this story is about finding the people you never knew you needed.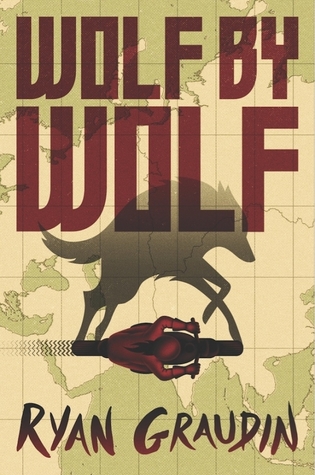 9. Wolf by Wolf by Ryan Graudin – I have been meaning to read this for forever, and it just sits on my shelf, mocking me because I know it is going to be amazing, I just balk at picking it up. Do y'all ever do that? I annoy myself. In any case, I really want to read this one so that I can read the second one as well, and I've heard incredible things about it.
~~~
The year is 1956, and the Axis powers of the Third Reich and Imperial Japan rule. To commemorate their Great Victory, Hitler and Emperor Hirohito host the Axis Tour: an annual motorcycle race across their conjoined continents. The victor is awarded an audience with the highly reclusive Adolf Hitler at the Victor's Ball in Tokyo.

Yael, a former death camp prisoner, has witnessed too much suffering, and the five wolves tattooed on her arm are a constant reminder of the loved ones she lost. The resistance has given Yael one goal: Win the race and kill Hitler. A survivor of painful human experimentation, Yael has the power to skinshift and must complete her mission by impersonating last year's only female racer, Adele Wolfe. This deception becomes more difficult when Felix, Adele twin's brother, and Luka, her former love interest, enter the race and watch Yael's every move.

But as Yael grows closer to the other competitors, can she bring herself to be as ruthless as she needs to be to avoid discovery and complete her mission?

From the author of The Walled City comes a fast-paced and innovative novel that will leave you breathless.
10. Anne of Green Gables by L.M. Montgomery – would y'all believe I've never read this book???? I've seen the movie and loved the cartoon tv show when I was little, but fall feels like a perfect time to dive into this one :)
~~~
Everyone's favorite redhead, the spunky Anne Shirley, begins her adventures at Green Gables, a farm outside Avonlea, Prince Edward Island. When the freckled girl realizes that the elderly Cuthberts wanted to adopt a boy instead, she begins to try to win them and, consequently, the reader, over.
what's on your lists this week?
xx
Caroline