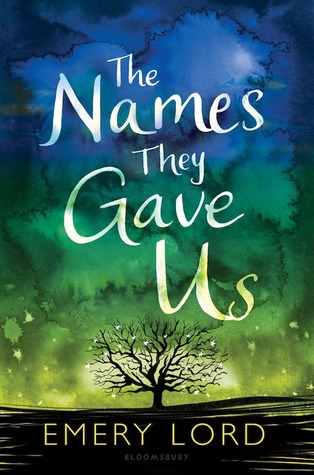 The Names They Gave Us
Emery Lord
release date: May 16 by Bloomsbury
ALL OF THE STARS/5 (infinite stars. a whole multiverse full of stars for this one)
Lucy Hansson was ready for a perfect summer with her boyfriend, working at her childhood Bible camp on the lake. But when her mom's cancer reappears, Lucy falters—in faith, in love, and in her ability to cope. When her boyfriend "pauses" their relationship and her summer job switches to a different camp—one for troubled kids—Lucy isn't sure how much more she can handle. Attempting to accept a new normal, Lucy slowly regains footing among her vibrant, diverse coworkers, Sundays with her mom, and a crush on a fellow counselor. But when long-hidden family secrets emerge, can Lucy set aside her problems and discover what grace really means?
Full review under the cut. Definitely top two favorite books I've read all year.
Oh man, guys.
I really don't know what to say. I requested this book on Netgalley just because I was
so desperate
to get my hands on it, and I was really just waiting for the rejection email. I was not expecting to get approved for this one at all.... but when the email came.... it wasn't a rejection. I was ecstatic. I devoured the book in one day. I cried a lot, but my heart was so full. That was days ago, and I've been trying to get my thoughts together ever since. By the time you guys read this, the book will be close to its pub date, and I just want to say YOU NEED THIS ONE. You need it.
I think books that you truly truly love are 10000x harder to write reviews for, but I'm going to try my best to communicate a small piece of my love.
For a little background. Emery Lord is in my top five favorite writers ever. Right up there with J.K. Rowling, Shannon Hale, and Gail Carson Levine. She is the writer who, with every book that she releases, I think it can't be as good as her other ones, and then it exceeds my expectations. I've done entire posts about how much I love her, how I think she is writing some of the truest YA out there, how her words are such a positive force in my life.
The Start of Me and You
changed my life. I read it twice in a row, just finished it and then opened the book back up and restarted.
Open Road Summer
made me want to gather my best friends and hug them for approximately a year.
When We Collided
was imaginative, hopeful, and jarringly realistic all at the same time, and it taught me a lot about mental illnesses and living with them. I truly did not think that
The Names They Gave Us
could top these books, which are among some of my favorites to read and reread. But within the first two chapters of this book, I could tell that it was something special. I was so filled with so many different emotions throughout this book, which I will unpack in a minute, but I just want to take this moment to say that if you aren't reading Emery Lord, you need to be. I'm so thankful that I picked up her work, and I will gladly read anything she publishes.
So basically with this book we have Lucy. She is the daughter of a pastor and a nurse, and is basically the quintessential Good Girl. This is partly what makes her so endearing throughout the book: she is earnest, innocent, and really trying her best to be a good person, a good Christian, a good daughter, a good friend. But life is nothing if not unpredictable, and Lucy soon finds her perfectly curated world thrown into a wood chipper, and she comes out on the other side to find herself almost unrecognizable. Firstly, her mother, the person closest to her in the entire world, finds out that the cancer that was thought to be gone has returned, with a vengeance. This causes the faith that Lucy has always felt rock solid in to be violently shaken as she wonders how God could let something like this happen to her family for a second time. She starts doing things that pre-diagnosis Lucy would never do, like walk out of church, drink, and try to go further with her boyfriend than she ever has before. Secondly, Lucy's too-good-to-be-true boyfriend, Lukas, is questioning their relationship in the wake of Lucy's post-diagnosis outbursts. He puts their relationship on "pause" for the summer, because Lucy is going to work at her family's Christian camp with her parents. Thirdly, Lucy's mom asks her not to work for their camp, the tranquil Holyoke, but for the next camp over, a diverse place for people dealing with trauma called Daybreak. Lucy, of course, goes along with her mother's wishes, but is staring down a summer where she is separated not only from her boyfriend, but also from her terminally ill mother, while working at Daybreak, where she knows no one and is intimidated by the secular nature of the camp.
At first, Lucy is terrified, feels completely out of place, and wants to quit immediately. She is sure that she won't fit in with her fellow counselors, who are already close, and doesn't know how to deal with the lives of the girls that she is supposed to be in charge of. But slowly, through hard work and through the kindness of those around her, Lucy begins to find her footing. The number one most important thing to me in this book were the relationships that Lucy formed at Daybreak. Starting with Anna, who is the sweetest and friendliest person in the world, and who does everything she can to make Lucy feel at home. I loved Anna's personality and the way she was such a giver, even though she herself has really bad anxiety and could've felt sorry for herself. Also, A+ for trans rep in here, I was so scared that Lucy was going to be dumb about this part of Anna, but I was glad to see that, though Lucy fumbled a bit, it didn't change their friendship. (sidenote: I really appreciated the fact that Lucy talked about her parents when she's thinking about Anna's transitioning, because I think that, while some "Chritians" are the ones driving the push to dehumanize and take rights away from trans individuals, the best Christians that I know are the ones who actively embrace everyone with open arms. I'm glad that Lucy's parents were portrayed as so understanding and open in their faith.) Anyways! Anna was the best. She's probably my favorite character in here. I loved that scene where she and Lucy were laying in bed watching their favorite show together, it was just so beautiful. I feel like Anna was the linchpin in the friendships at Daybreak, and I loved that she just pulled Lucy in and loved her, no questions asked.
I loved the other relationships that Lucy had at Daybreak as well. Keely and Mohan and Henry. Keely is this like kickass, super strong girl who lost someone close to her when she was young. She's a big sister and an amazing counselor and I was so glad that she and Lucy shared a cabin. I think she really showed Lucy how to be there for the girls in their cabin, how to be strong when all eyes are on you, and how to look at life and fight the bad things, instead of just laying down and letting them roll over you. Mohan was sort of like the comic relief, but also so much more than that. I loved all of his graphic tees, the way he was unabashedly excited about everything in life, and his fierce loyalty to his friends, especially the gentle and unconditional way that he was there for Anna always. (SPOILER: I loved that scene where Lucy asks Keely if Anna and Mohan are together and Keely says "that's a someday. when they get together that will be it for them," I just felt like crying it was so beautiful. OKAY END SPOILER). And, of course, Henry. HENRY. I WANT A HENRY! Sweet, sensitive, great-with-kids, trumpet-playing, kind eyes Henry. I really liked that there was no back and forth and will-they, wont-they. They obviously liked each other, and they were respectful of each other in every way. Lucy didn't get confused when Lukas came to camp, she just broke up with him. When Lucy was freaking out because she thought Henry would want to sleep with her, he talked her down and they moved forward together. When he was mad that she didn't tell him that her parents were nearby, at Holyoke, they had a fight and talked about it, but it wasn't a huge drama. Also, they were together in the middle of the book, and we got to see their relationship play out a little bit. I just loved it, I thought it was a really great portrayal of a healthy relationship, and Henry is literally the cutest person ever. There were so many scenes where I was just filled with so much joy while reading about them! The time where they danced in the bar place, the time they went camping, the fourth of July, just SO MANY. So good. SO GOOD.
What else what else. The campers! I loved how learning about her campers and bonding with them helped Lucy through her own struggles. I loved the bright and vibrant diversity at Daybreak, from the skin colors of the counselors and campers to their backgrounds to their religious beliefs to their personalities, there were so many differences between them all, but they all came together in love at camp. I thought it was so beautiful. The excitement and activity and silliness reminded me of when I used to go to a summer camp not unlike this one (minus the dealing with trauma part), which are some of the happiest memories of my life. I was feeling so nostalgic and in love while I was reading, and I just think this book does such a good job at really getting feelings across.
I loved Lucy's parents as well. Her dad, the pastor, was hilarious and steadfast, and I loved that he was just loving and supportive and not judgemental at all. I also liked that we got to see him struggling with his wife's cancer. Pastors are, after all, just human, so I liked that it was really clear how imperfect he was too. Lucy's mom was just... everything. I loved how understanding and selfless she was, and I loved that we saw her struggling and stubborn and mad as hell too. I usually don't really like books that deal really closely with religion, not because I'm not a religious person or anything like that, but because it always comes off either really fake or holier than thou. But with this book, I didn't feel that discomfort at all. It felt super natural, especially in terms of Lucy's parents, and I ended up loving that part of the book as well. So even if you aren't religious or aren't Christian or just don't like books having to do with religion, I still think you'll love this one. It isn't in your face or preachy, it's more just like there, and you can pay as much or as little attention as you want. But anyways. Lucy's mom was great, and I loved how close they were. I also loved her mother's friend Rachel, because that was another amazing female friendship in here that I adored. There were a couple plot twists or secret reveals with Lucy's mom: one that I saw coming and one that I TOTALLY did not, which I really liked. I won't say too much about them here, but I just really thought they were amazing and they showed the power of forgiveness and of getting help to move on from trauma.
I'm almost done, so kudos if you've made it this far. I adored so many things about this book. I really thought it did an amazing job of portraying Lucy questioning her faith. I think a lot of people, when they grow up in one religious tradition or another, have something in their life that shakes the faith that they've always had. Whether that is a loss of someone or something, or a turn of events that makes life hard, or a diagnosis like Lucy, it can be terrifying and so scary to see the faith that your life has revolved around slip through your fingers. And I really thought that this book did an amazing job of showing Lucy's anger, her questioning, her bargaining, her sadness, and the way she couldn't even bring herself to pray. I just liked how real and raw those parts were. I also, liked I have previously mentioned, loved the representation in this novel. It made Daybreak feel that much more real, because I could really picture all of these people there. I also liked the fact that Lucy was able to be humbled and learn a lot from the people around her. I loved the friendships, and I get emotional thinking about Lucy having 100% true friends for the first time in her life. I liked how the ending was a little bit open ended, and the story could really go either way after the end of the book. I always want contemporaries to be a little bit longer, just so that I can spend more time with the characters, but I totally get why this ended when it did. I loved the way that secrets were revealed, and I loved that the characters in this book communicated with each other like normal people, instead of keeping dumb secrets for no reason. I loved the settings, and I fell in love with each of the characters. I think this book is so important, and I think it will touch people in a million different ways, and probably help people who are going through hard things. I want to thank Emery Lord a million times for writing it, because I can imagine that it was pretty difficult.
I love it so much, I don't even know if these 2,000+ words have captured my feelings exactly, but it will have to do. Read this book, guys! Give it a chance, and I bet it will make you feel things.
xx
Caroline