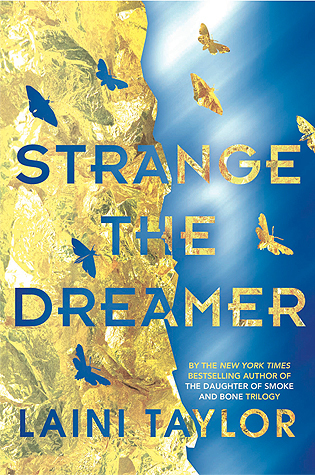 Strange the Dreamer (Strange the Dreamer #1)
Laini Taylor
☆☆☆☆☆
goodreads
/
b&n
/
amazon
The dream chooses the dreamer, not the other way around—and Lazlo Strange, war orphan and junior librarian, has always feared that his dream chose poorly. Since he was five years old he's been obsessed with the mythic lost city of Weep, but it would take someone bolder than he to cross half the world in search of it. Then a stunning opportunity presents itself, in the person of a hero called the Godslayer and a band of legendary warriors, and he has to seize his chance or lose his dream forever.

What happened in Weep two hundred years ago to cut it off from the rest of the world? What exactly did the Godslayer slay that went by the name of god? And what is the mysterious problem he now seeks help in solving?

The answers await in Weep, but so do more mysteries—including the blue-skinned goddess who appears in Lazlo's dreams. How did he dream her before he knew she existed? And if all the gods are dead, why does she seem so real?

Welcome to Weep.
full review under the cut!
I never quite know what to say to people about Laini Taylor's books. They are always so hauntingly, gorgeously strange that trying to explain them never works. However! I will try for the sake of whoever will read this, because I loved this book too much not to share my thoughts about it! I'll say one thing before I start this review, though, just to let y'all know. This book is LONG, like, over 500 pages long. And this book has a lot o world-building and slow burn aspects to it that have caused some people to grow bored. Now, I myself was absolutely rapt from the very first page and did not experience any feelings of boredom or lagging, but if you aren't in the right mindset to appreciate all of the building blocks that are being assembled, then I could see how you wouldn't get along with this one at first. But if you can be patient and enjoy the breathtaking writing of Laini Taylor, I know that you will love this book.
This is the story of Lazlo Strange. He is a war orphan, raised by monks, librarians, and most importantly, by books and by stories. He has been obsessed, since he was a child, with one story in particular: the story of the lost city of Weep, which disappeared from civilization two hundred years ago and who's true name Lazlo felt stolen from his tongue when he was young. Lazlo spends his days in a great library, gathering what information he can on Weep, learning its customs, its language, and devouring every scrap of story he can. He reads about the bell towers, the marketplaces alive with magic, and the Tizerkane warriors, fearsome and strong. So imagine Lazlo's surprise when a Tizerkane warrior, a person he thought had been lost to time, shows up at the library, asking for people to journey with him to Weep. The warrior calls himself the Godslayer, and Lazlo knows he has to go with him, no matter what.
I don't want to say too much about this book, because I think it is just one of those stories that is better when you know practically nothing. That way, the surprises and the choices that Laini Taylor makes are that much more effective. But I will say a few things, mostly opinions and not plot explanations!
The worldbuilding... wow... the first word that comes to my mind is masterful, and I'm not exaggerating. Every little thing has a place, nothing is included in this book arbitrarily, and paying attention to the details will make the story richer, blooming out before your very eyes. I loved that so many connections were set up in the very beginning and them brought together in the end. I loved the system of magic that was at work here. I love that Weep is a city that mingles together humanity and godlike powers, and the people that are half and half have struggles that no one else can understand. I love that half god half human children have blue freaking skin!!! how cool is that!! The city itself, with all of its traditions, just felt so real to me, even as it was one of the most fantastical settings i've ever read. Laini Taylor just did such a good job setting this all up in such a meticulous way that I felt like I could walk into the story and clearly see everything. Same goes for the set up of the characters. Just as there were details and nuances to the worldbuilding, there are also tons of nuances to the character building as well. I absolutely loved the fact that there were tons of characters, but none of them were all good or all bad. Like, obviously, there are antagonists, but sometimes the identity of the antagonist changes based on who you ask, and even the antagonists sometimes have pure motivations. I just... everything in this book was complex and had a depth that made me want to reread entire chapters over again, just to bathe myself in the loveliness of the words and the complexities of the characters.
Lazlo is so pure. I wanted to hug him and tell him everything is going to be okay. You know how I just said no character was 100% good or 100% evil? I lied, because Lazlo is 100% good. I just loved the innocence of his mind, how his motivations weren't selfish, and how he was known, from the moment we met him, as a Dreamer (capital D because it is that important) I love his imagination and his love for books, because relatable, and I love the way he was always thinking about other people.
Sarai, as well. PURE! She has some more darkside to her than Lazlo does, I think, but she is still such a lovely character that I wanted to hug her as well. Not telling you exactly who Sarai is, because you'll want to be surprised for yourself, but just know that she is not only soft and sweet, but also badass.
There were so many other characters that I enjoyed too. Eril-Fane and Azareen, Calixte, Sparrow, Ruby, Feral, Master Hyrokkin, even Thryon. Everyone was just really really interesting and I loved learning about their lives and motivations. I think Lazlo is a good perspectival character because he has spent most of his life in a library, and so when he gets out and starts to move around the world, everything is a little bit new to him, so we get to experience everything with him for the first time.
Last thing I'll say: the plot really picks up in the second half, when this book becomes less world-building and more putting that world into action, and the ending is CRAZY. I was holding my breath for probably the last thirty or forty pages, just wondering what was going to happen. Some of the plot twists I sort of guessed at, but there was no way I could see the full story before it was revealed, so that was really fun to read. I just thought this book was absolutely so gorgeous. The writing is lyric and lovely, the plot was twisty and light and dark at the same time, the world was so inventive and the characters jumped off the page. I would highly HIGHLY recommend this one
xx
Caroline