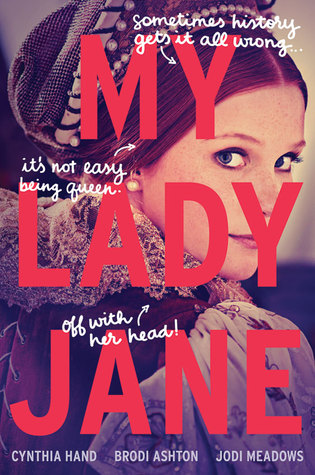 My Lady Jane
Cynthia Hand, Brodi Ashton and Jodi Meadows
☆☆☆☆
goodreads
/
b&n
/
amazon
The comical, fantastical, romantical, (not) entirely true story of Lady Jane Grey. In My Lady Jane, coauthors Cynthia Hand, Brodi Ashton, and Jodi Meadows have created a one-of-a-kind fantasy in the tradition of The Princess Bride, featuring a reluctant king, an even more reluctant queen, a noble steed, and only a passing resemblance to actual history—because sometimes history needs a little help.

At sixteen, Lady Jane Grey is about to be married off to a stranger and caught up in a conspiracy to rob her cousin, King Edward, of his throne. But those trifling problems aren't for Jane to worry about. Jane gets to be Queen of England.
full review under the cut :)
Y'all, I have to say, this was not a book that was on my radar at all when I first heard about it. I usually am pretty picky about which historical fictions I read, and I feel like I've read a ton about the Tudors, so I thought I might skip this one. However, after seeing a bunch of positive reviews, I decided to pick it up to pull me out of a semi-reading slump. AND BOY, DID IT WORK!
This book is one of the funniest things I've ever read. It had me laughing out loud every couple of pages. It is just so clever and snarky and genuinely hilarious. A big part of that, for me, was the voice of our narrators. They play an active role in the story, with funny asides and qualifications. I honestly adored every single time they interjected. The dialogue was funny as well, and the way the characters reacted to the hilarious situations they were in contributed to the overall hilarity of this novel. It was kind of like organized chaos the whole way through, and I had so much fun reading it.
Basically, this novel takes the historical figure of Lady Jane Grey, who was queen of England for nine days before getting her head chopped off, and turned her into the heroine of this story. It also takes the history of England and turns it on its head. I loved the way these authors rewrote history, especially the fact that they put a little bit of magic in, where real history is seriously lacking in it. My Lady Jane takes the historic struggle between Catholics and Protestants and turned it into a battle between those without magic, called Verities, and those with magic (those that have an animal form that they can turn into), called Edians. I thought that little tweak was so clever! This book is filled with historical details, but also with these tweaks, so it made for a really interesting and fun read.
These characters were so memorable! We have three POVs in this book, one being King Edward, son of Henry VIII, who historically died at 16. However, in this book, his fate is something a little bit different. The second POV is that of Jane herself, who is bookish and clever and as feisty as the red of her hair. The third POV is that of Gifford Dudley, son of the lead advisor to king Edward and Jane's betrothed. Gifford, or G, also has a secret. He is an edian, who has, ever since he was 13, spent every day of his life as a horse. When night falls, he turns back into a boy. I loved all three of these characters. I also loved the tongue-in-cheek feminism that ran through the book, with Jane and Elizabeth Tudor and Edward's Grandmother and Gracie rounding up the cast of strong female characters.
I just really loved this idea, okay!! It takes everything that I knew about Tudor England and made it SO MUCH BETTER. It was as if someone looked into my brain, knew that I thought history needed more magic and girl power, and put that into a hilarious novel with a cute boy and shapeshifting females getting shit done. The events of this book are just so much funnier if you come across them yourself, so I'll leave their discovery to you. But trust me on this, this book is not like any other historical fiction you've read.
x
x
Caroline