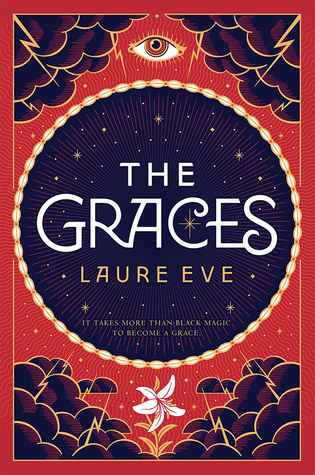 The Graces (The Graces #1)
Laure Eve
☆☆☆
goodreads
/
b&n
/
amazon
In The Graces, the first rule of witchcraft states that if you want something badly enough, you can get it . . . no matter who has to pay.

Everyone loves the Graces. Fenrin, Thalia, and Summer Grace are captivating, wealthy, and glamorous. They've managed to cast a spell over not just their high school but also their entire town—and they're rumored to have powerful connections all over the world. If you're not in love with one of them, you want to be them. Especially River: the loner, new girl at school. She's different from her peers, who both revere and fear the Grace family. She wants to be a Grace more than anything. And what the Graces don't know is that River's presence in town is no accident.

This fabulously addictive fantasy combines sophisticated and haunting prose with a gut-punching twist that readers will be dying to discuss. Perfect for fans of We Were Liars as well as nostalgic classics like Buffy the Vampire Slayer and the 1996 movie The Craft, The Graces marks the beginning of a new wave of teen witches.
full review under the cut!
I received this book through netgalley from ABRAMS kids, so thanks to them for letting me read this book! The Graces is a really witchy, mysterious book, one that I think would be perfect to read around Halloween. It reminds me a bit of We Were Liars, like the blurb says, but it is even more magical. You will go through the whole book having questions, and some of them aren't even answered yet, but they're good questions, questions that keep you reading, and so I think they're effective in that way.
I feel like saying too much about this book would do the plot a disservice, because I really feel like the less you know going into this one, the better the book will be, but I will lay out some basics here. Basically, River is the new girl in school. She is someone who has never felt comfortable in her own skin, someone who has always stood apart from everyone else, for reasons that she can't quite understand. In her new town, there is only one family that stands apart, not unlike River. They're the Graces, twins Thalia and Fenrin and youngest child Summer, and they're wealthy, beautiful, and the stars of the town rumor mill, where the main story that circulates is that these siblings are witches. River, unlike the rest of the town, isn't only interested in the Graces, she wants to be one of them. And when River and Summer become friends and spells start flying between these four characters, things end up getting a little out of control.
River was a good main character, and I felt like she was a bit of an unreliable narrator. She knew a lot more than she let on, but we didn't get the big reveal until the end of the novel. She was purposefully withholding things until the time that they became relevant to the story, and I thought that this was effective, even if it was a little frustrating for me. It did keep me reading though, because I just HAD to know everything that River did. And in the end, I feel like she is still keeping some secrets. I don't know if I necessarily liked her or not, because I was being really wary of all the characters in this book. Sometimes I liked her, sometimes I thought she was crazy, and sometimes I thought she was the only one who knew the truth about herself and the Graces. I went back and forth so many times, but in the end, I was sympathetic to her.
I think we all knew/know a family like the Graces. Wealthy and beautiful, they get what they want when they want it, and people will fawn all over them, no matter what they do. Thalia is the perfect poster child, the spitting image of her perfect mother, ethereal and beautiful. Fenrin is the golden boy, friends with everyone, going through girls at the speed of light, getting out of trouble with a smirk. Summer is the careful rebel, with her band t-shirts, heavy eyeliner, and devil-may-care attitude. They're part of the town, but at the same time, they never really let anyone in, instead are super close to each other.
I just really enjoyed the mysterious, atmospheric vibes from this one. I would love to see a mood board for this book, with dark landscapes, rolling sea waves, foxes, tarot cards, and figures dancing in the woods. I thought that the overall feeling of this story was totally engaging, and I honestly could not stop reading it. Frustrations with the pace of information revealing aside, I was completely into it from the get go. I also didn't realize that it was going to have a sequel before I started, so I am really excited for that too! I thought the balance of mystery to plot was really great, and I would definitely recommend it to fans of we were liars, the raven boys, and halloween in general (is that a cop out? i don't care haha)
xx
Caroline