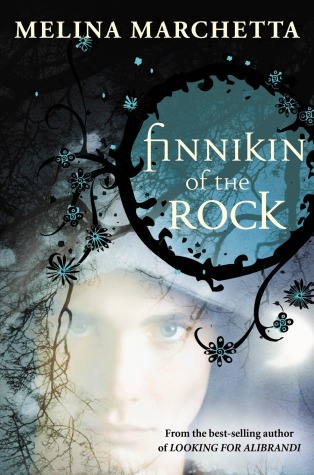 The Lumatere Chronicles by Melina Marchetta
Book 1: Finnikin of the Rock
☆☆☆☆☆
Finnikin of the Rock and his guardian, Sir Topher, have not been home to their beloved Lumatere for ten years. Not since the dark days when the royal family was murdered and the kingdom put under a terrible curse. But then Finnikin is summoned to meet Evanjalin, a young woman with an incredible claim: the heir to the throne of Lumatere, Prince Balthazar, is alive.

Evanjalin is determined to return home and she is the only one who can lead them to the heir. As they journey together, Finnikin is affected by her arrogance . . . and her hope. He begins to believe he will see his childhood friend, Prince Balthazar, again. And that their cursed people will be able to enter Lumatere and be reunited with those trapped inside. He even believes he will find his imprisoned father.

But Evanjalin is not what she seems. And the truth will test not only Finnikin's faith in her . . . but in himself.

full review under the cut!
Melina Marchetta is an Australian goddess full of magic and wonder. I have yet to read a single word of her writing that I did not fall completely head over heels in love with. I was a little apprehensive about this, because I've seen so many amazing reviews, and also I've loved her contemporary books so much, I was worried how this series would measure up to her other writing. I needn't have been, because Marchetta is just as amazing writing fantasy as she is writing contemporary, and I think you have to be really skilled to do both equally as well.
Finnikin, the first book in this series, does a really great job setting up the world of these novels. It took me a bit to get into it, but I attribute that to the strangeness of adjusting to a completely foreign world, and not to Marchetta's writing. I thought that the worldbuilding was well done. It was paced nicely so that there weren't huge info dumps, but I also didn't feel like things were being held back on purpose from me. By the end of the book, I felt comfortable in the world, and I think that is something 100% vital for a fantasy world.
As for the characters, they were REAL to me. Finnikin, from his ability to get people to talk, to his hotheadedness, to his hopes and dreams and stubbornness and determination, was an incredible male MC. Evanjalin, with her secrets, gambles, and ferocity, was a close second in my heart to Finn, but she got on my nerves sometimes with the decisions she would make and the information she would choose to withhold. I really ended up loving everyone in this book, and I even developed a soft spot for Froi, who will (obviously) become a lot more important in the next novel, but I loved seeing his growth in this one. Trevanion, Topher, Beatriss, Tesadora... they were all such good characters, and I especially loved the relationship between Trevanion and Finnikin.
THE ROMANCE MADE ME SWOON SO MANY TIMES. It was kind of slow burn, but once it hit, it REALLY HIT, and there was absolutely no stopping it after that.
The plot had me so caught up. There is political intrigue and magic and secrets and fighting and family and honor. I loved it so freaking much, and I absolutely did not see the plot twist coming. Looking back, I probably should've, but I was so focused on other things that I definitely didn't stop to think about the one place I should've seen a twist coming. (if you've read it, you'll know what I mean) AHHH I just felt so wrapped up in this world and the goings on of Lumatere and beyond, I am so happy that I read it. I felt literally about a thousand emotions for the last one hundred pages. (spoilers!) There was something just so incredibly touching about the battle and all of the lumaterans reclaiming their homeland, with a queen at their helm. i think I cried five separate times.
in other words, Finnikin of the Rock was an amazing start to this series. I'm going to keep on with the next two, but Froi of the Exiles is so big it is intimidating, so I got the audiobook and am going to try that out :)
xx
Caroline