The Broke and The Bookish
, and this week's theme is "
March 3
: Top Ten Books You Would Classify As ALL TIME FAVORITE BOOKS from the past 3 years (you can extend it to 5 if you need to)." Needless to say, I love this theme, as talking about my favorite books is a favorite pastime. So, I went through my goodreads "favorites" shelf and tried to narrow it down to ten. Because the last three years were the first years I really joined into the online reading community, I've read so many amazing stories, but here are the top eleven (sorry) that have impacted me the most over the last three years.
(note: these books are in no particular order, I love them all so much.)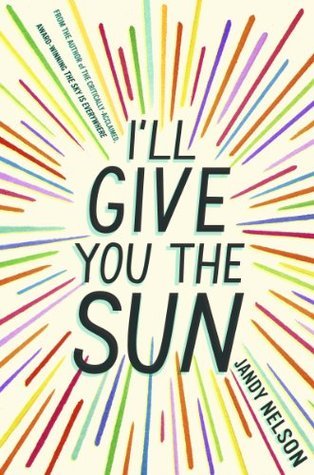 1. I'll Give You the Sun – Jandy Nelson
The feelings that I have for this book cannot be summed up neatly, or even really expressed at all. It's so heart-wrenchingly beautiful, lyrical and real. It changed me, and I don't say that lightly. This is honestly such a must read, for everyone, because it sums up the beauty and complexity and sometimes just unfairness of the human condition. One of my top reads of all time, ever.
2. Anna and the French Kiss – Stephanie Perkins
I went into this book a little over three years ago thinking I was going to get a cute, fluffy romance. Which it is at some points, but it is so much more than that. I have rarely ever been so connected to characters, and Stephanie Perkins does a magnificent job of building tension throughout a story. It's cute, it's fun, but it is also very real, and I appreciate the portrayal of high school students as complex, each with their own set of problems and triumphs.
3. Heir of Fire (Throne of Glass #3) – Sarah J. Maas
The Throne of Glass is one of the best series I've ever read, so picking just one to call my "favorite" was a bit arbitrary, but since Heir of Fire is the longest and I loved the new characters introduced in it, I chose it for this list! Throne of Glass is high fantasy, but it is definitely more accessible than a lot of other high fantasy I've read. I think this is due in large part to the amazing characters, from Celaena to Nehemia and Chaol, Dorian and Aedion and Ronan and Manon. I love them all. The story is so gripping, and I fly through these books because I'm so intrigued with what is going to happen next. Sara J Maas' brilliance is substantial.
4. Cress (Lunar Chronicles #3) – Marissa Meyer
The Lunar Chronicles is a quartet of brilliant sci-fi fairy tale retellings, with the final installment coming out in November. I love all of the books in this series, but Cress is the one that ties all the different plotlines together, and it is also the most exciting. This is another book that has strength in amazing and relatable characters, and the settings are also incredibly compelling. I love the action and race-against-time aspect of the story, but the relationships, both romantic and platonic, are also very strong.
5. Fangirl – Rainbow Rowell
Oh Rainbow, you never disappoint. I think a lot of us in the bookish community feel like Fangirl is a biography of our lives (for me, it's minus the cute guy, which is so sad). Fangirl is an adorable story, but it also deals with problems like anxiety, living away from home, familial relationships, depression, etc. I love Rainbow Rowell with all of my heart, and I definitely believe this is her best work. I love the fanfic aspect of it, I relate because I too am in my first year of university, and I could read this book again and again.
6. Clockwork Princess(The Infernal Devices #3)–Cassandra Clare
The shadowhunter world and all the books that take place within it are absolutely amazing, but this book is a masterpiece. I cried my eyes out during the entire second half of it, and
that epilogue
. Those of you who have read it know what I'm talking about. This is a great trilogy, and I definitely recommend it to everyone who is looking for romance and demon hunting in Victorian London. (which is a specific category, but it's what you need in your life. trust me)
7. Jellicoe Road – Melina Marchetta
A mystery within a mystery. That is how I would describe this book. Its a guarantee that you will be confused for like 50 pages, but if you stick it out, you will be thrown into one of the most interesting stories that I've ever read. It is told during two time periods, but everything that is seemingly disconnected has a place. The ending is an amazing twist, and I gasped aloud several times reading this.
8. The Fault in Our Stars – John Green
Since there is so much hype surrounding this book, I can see how people would leave it off of their favorites lists, being tired of hearing about it and seeing so many other books that are just as good. I understand that. But I also remember the first time that I read this book, and being completely bent over, sobbing into my pillow. There aren't a lot of words that I can say that describe my feelings for this book, but in a lot of ways this was the moment that really cemented my half-hearted feelings about being a writer.
9. The House of Hades(The Heroes of Olympus #4)–Rick Riordan
I've been reading Percy Jackson since I was 11 years old. It has always been one of my favorite series, and when Heroes of Olympus came out, I wasn't disappointed. This will always be one of my favorite series, and I was so sad to say goodbye to the characters that I've been with for almost 10 years when the last book came out last year. House of Hades was definitely my favorite installment in the five part Heroes of Olympus series, though they are all amazing.
10. Ready Player One - Ernest Cline
I really didn't expect to love this book as much as I did. I'm not really a video game buff, and though I love the 80's, I don't go searching for books about 80's culture. However, this book completely blew me away. It was a wild ride from start to finish, and the world was different and terrifying, but I couldn't put it down. I was enthralled and managed to finish it during a nine hour plane ride. There are few books that I physically could not put down, reading them in one sitting, but this is definitely one of them.
11. The Book Thief – Markus Zusak
Historical fiction can kind of be a hit or miss for me, but
The Book Thief
tells the story of a little German girl during World War II from the perspective of death, and I fall in love. Just the fact that this book has the element of being narrated by death was enough to pull me in, but I stayed for the story. This is a wonderful tale of courage and friendship and words, and the power all three of these things have. I laughed and I
weeped.
what are some of your favorite books?
xx
Sunny