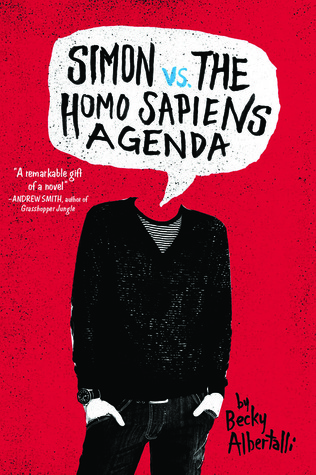 Name: Simon Vs. The Homo Sapiens Agenda
Author: Becky Albertalli
☆☆☆☆☆
find it on goodreads
barnes & noble
amazon
synopsis:
Sixteen-year-old and not-so-openly gay Simon Spier prefers to save his drama for the school musical. But when an email falls into the wrong hands, his secret is at risk of being thrust into the spotlight. Now Simon is actually being blackmailed: if he doesn't play wingman for class clown Martin, his sexual identity will become everyone's business. Worse, the privacy of Blue, the pen name of the boy he's been emailing, will be compromised.

With some messy dynamics emerging in his once tight-knit group of friends, and his email correspondence with Blue growing more flirtatious every day, Simon's junior year has suddenly gotten all kinds of complicated. Now, change-averse Simon has to find a way to step out of his comfort zone before he's pushed out—without alienating his friends, compromising himself, or fumbling a shot at happiness with the most confusing, adorable guy he's never met.
full, non-spoilery review under the cut!
I listened to this book on a long car trip that I had to take the other day, and may I just say, I thought it was a fabulous audiobook, which might have even made this amazing story even better than it already was. I would highly recommend this audiobook to someone who is looking for a good one!
Simon Vs. The Homo Sapiens Agenda is, to use a catchy cliche, a breath of fresh air. I'd seen lots and lots of reviews for this book, each better than the last, and so I was curious. I was also looking for something lighter and funny to listen to, something that I could get completely into immediately, and this book definitely fit that bill. Right off the bat, I was laughing and totally engaged.
This is Simon's story. He's gay in a small town outside Atlanta, Georgia, and no one knows. Except now, someone does. And Martin, the boy who finds out, becomes Simon's blackmailer, threatening to expose his sexual orientation if he doesn't help Martin win over Abby, the new girl and one of Simon's good friends. Simon wouldn't allow himself to be blackmailed if it wasn't for Blue, the mysterious pen pal that Simon has been emailing and, slowly, falling for. Simon knows Blue would never forgive him if Martin exposed their emails, and so Simon sets to the tedious task of matchmaker and begrudging companion to Martin's antics.
Simon's voice, throughout the book, is one of the most distinct narratives I've read in a long time. I love the way he talks and thinks, it was funny and, especially, real. It made listening to this book amazing, because I could really picture someone I knew talking like Simon did. Sometimes, I think the narrators in books that I read can speak a little too stiffly, formally, and I loved the fact that Simon's personality showed right through his narration, right from the start.
Probably my favorite thing about the novel was the cast of family and friends surrounding Simon. From his overeager but slightly amazing parents to his two perceptive sisters to his two best friends, Nick and Leah, to Abby and so on and so forth. They were all realistically developed, and I loved the way they all come together to support Simon. I also liked the way that Simon didn't have just two friends who he talked to all the time. I feel like in a lot of books and movies and tv shows, the main character has their best friends, and then they don't really speak to anyone else. I know that there is the trouble of underdeveloped background people, but I thought that Albertalli did an amazing job of creating a full life for Simon. He had his best friends, of course, but also the people he sits with at lunch, his theater friends, people that he knew from soccer and class, etc. It just felt very authentic, which I appreciated.
The blossoming romance between Simon and the mysterious Blue had me squealing from its adorableness. As we see it develop through their emails, I was getting antsy because I wanted Simon to have a chance to be happy with Blue, and I was scared that we would never figure out who he is, or he would end up being someone that Simon didn't like. But the way the book ended was absolutely perfect, in my opinion, and I was so happy with the relationship between Simon and Blue.
Though this book was cute and happy and hilarious, I do think it dealt with a huge issue. The process of coming out, to your parents, friends, strangers, etc, and doing it on your own time, the way that you choose to. I can't even imagine how difficult it must be for anyone to do that. It was interesting because Simon was very secure in who he was, but he talked a lot about how hard it was for him to even imagine saying the words "I'm gay" aloud. I felt so horrible for him, because coming out should be something that he is able to own, to be his and his alone, and that made Martin's blackmail all the worse.
Overall, I gave this book five stars because I loved how funny and how realistic it felt to me. By the end, I really felt like these people were my friends, and I think that is the mark of an amazing novel.
xx
Sunny