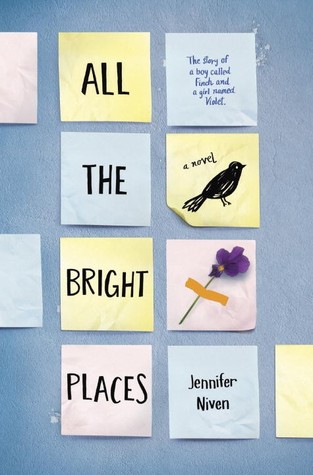 Name: All The Bright Places
Author: Jennifer Niven
☆☆☆☆½
find it on goodreads
barnes & noble
amazon
synopsis:
The Fault in Our Stars meets Eleanor and Park in this exhilarating and heart-wrenching love story about a girl who learns to live from a boy who intends to die.
Theodore Finch is fascinated by death, and he constantly thinks of ways he might kill himself. But each time, something good, no matter how small, stops him.
Violet Markey lives for the future, counting the days until graduation, when she can escape her Indiana town and her aching grief in the wake of her sister's recent death.
When Finch and Violet meet on the ledge of the bell tower at school, it's unclear who saves whom. And when they pair up on a project to discover the "natural wonders" of their state, both Finch and Violet make more important discoveries: It's only with Violet that Finch can be himself—a weird, funny, live-out-loud guy who's not such a freak after all. And it's only with Finch that Violet can forget to count away the days and start living them. But as Violet's world grows, Finch's begins to shrink.
This is an intense, gripping novel perfect for fans of Jay Asher, Rainbow Rowell, John Green, Gayle Forman, and Jenny Downham from a talented new voice in YA, Jennifer Niven.
Full non-spoilery review under the cut!
I think intense is as good a word as any to describe the experience of this book. I was swept away by the magic and magnetism of Violet and Finch's story, that by the end I felt like I could physically experience the things that they were going through. This is a pretty remarkable story, something that is pretty different from anything I've read before.
Of course, there are elements of other novels that I've read: a damaged boy and a grieving girl, beloved sisters dying in car crashes, unspoken mental illness, etc. But the story surrounding these common threads was so endearing that it made these elements seems new.
Violet and Finch meet on top of the bell tower at their high school, both wondering what it would be like to jump. This begins Finch's pursuit of Violet. Finch is a complicated character, one who is very up and down the whole novel. He talks about long periods of his life, which he calls the Asleep, where he is listless and doesn't have the strength to go to school, but when he comes out of the Asleep, as he does in the beginning of this novel, he is one of the most creative, energetic, spontaneous, fearless characters ever. He pulls Violet, who is reluctant and inside herself since the death of her sister months earlier, out into the world and really teaches her how to live, all the while fighting something dark on the inside.
Through a school project where the goal is to wander the land around their home in Indiana, they find wonder and beauty and strangeness, altogether glorious, in the world around them. They find small pockets of oddities and lovely people, and all the while they are falling in love. Then, as Finch teeters on the verge of another Asleep, tragedy strikes, and everything is forever changed.
For the first half of this book, everything was so cute, you got the feeling that the big tragedies had already happened for our two main characters. However, around page 200, I got the sinking feeling that something terrible was going to happen before the book was over. And the ending is remarkably sad and also poignant, but the ending is not the most important thing about this novel. It is the lives lived before the ending came. Violet was a sad, lonely person who couldn't forgive herself and move on from her sister's death. Finch helps her come back into the world, he really saves her life in more ways than one, and Violet seems to be doing the same for him.
The thing I liked about this book was that it showed that, no matter how in love you are or how happy you can fancy yourself, sometimes mental illness still exists. And there is no amount of love in the world that can necessarily save someone from the sickness in their own head. I think there's a kind of trend in pop culture that makes people think that, if they can just fall in love, they will be "saved" or "cured" of their depression or their bipolar disorder or what have you, and Niven makes it very clear that that is not the case. I liked the reality of her portrayal of mental illness, even though it was heartbreaking.
All in all, I absolutely adored this book. I loved the places that Violet and Finch wandered to, and how they brought out the best in each other. There were so many parts of this novel that captured me and made me think, and I would recommend it to anyone who wants a good love story but is prepared for it to be about a lot more than just that.
Favorite quotations (and there were such a lot of them)
1. Writing was what I did best, better than being a daughter or a girlfriend or a sister. Writing was me. But now, writing is one of the things I can't do. p. 25
2. He is perfect and I have memorized him. I am not perfect. I have secrets. I am messy. Not just my bedroom but me. No one likes messy. They like smiling Violet. p. 49
3. Since I stopped writing, I read more than ever. Other people's words, not my own – my words are gone. Right now, I'm into the Brontë sisters. I love the world that is my room. It's nicer in here than out there, because in here I'm whatever I want to be. I am a brilliant writer. I can write fifty pages a day and I never run out of words... I am fearless. I am free. p. 52
4. This goes to what Violet said about time filler and how none of it matters, but it's also me exactly – buzzing, humming, soaring roaring diving,and then falling deep into mud, so deep I can't breathe. The Asleeps and the Awakes, no in-betweens. p. 76
5. I decide the new Finch swears whenever and however he wants to. He's the kind of Finch who would stand on a building and think about jumping just because nothing scares him. He is seriously badass. p. 84
6. Theodore "Freak" or no freak, he is lean and good-looking and trouble. p. 101
7. This is my secret– that any moment I might fly away. Everyone on earth but me – and now Violet – moves in slow motion, like they're filled with mud. We are faster than all of them. p. 132
8. On all sides of us, spread out below, are little white lights and black pockets of trees. Stars in the sky, stars on the ground. It's hard to tell where the sky ends and the earth begins. p. 155
9. The only thing I leave alone is the ceiling, because white contains all the wavelengths of the visible spectrum at full brightness... I sign onto the computer and send a message to Violet. You are all the colors in one, at full brightness. p. 172
10. At home in my room, I am overcome by words. Words for songs. Words of places Violet and I will go before time runs out and I'm asleep again. I can't stop writing. I don't want to stop even if I could. p. 201-202
11. 'I practice' I say, suddenly wishing I hadn't said it at all, because it's one of those things – like I am make-believe– that just sounds better in my head. p. 222
12. You deserve better. I can't promise you I'll stay around, not because I don't want to. It's hard to explain. I'm a fuckup. I'm broken, and no one can fix it. I've tried. I'm still trying. I can't love anyone because it's not fair to anyone who loves me back. I'll never hurt you, not like I want to hurt Roamer. But I can't promise I won't pick you apart, piece by piece, until you're in a thousand pieces, just like me. You should know what you're getting into before getting involved. p. 227
13. He's just wandering... May your eye go to the Sun. to the wind your soul... You are all the colors in one, at full brightness. p. 338
14. I think of my own epitaph, still to be written, and all the places I
'll wander. No longer rooted, but gold, flowing, I feel a thousand capacities spring up in me. p. 378
xx
Sunny