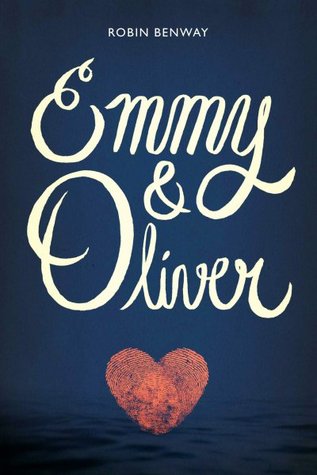 Name: Emmy and Oliver
Author: Robin Benway
goodreads
/
b&n
/
amazon
☆☆☆☆☆
synopsis:
Emmy's best friend, Oliver, reappears after being kidnapped by his father ten years ago. Emmy hopes to pick up their relationship right where it left off. Are they destined to be together? Or has fate irreparably driven them apart?

Emmy just wants to be in charge of her own life.

She wants to stay out late, surf her favorite beach—go anywhere without her parents' relentless worrying. But Emmy's parents can't seem to let her grow up—not since the day Oliver disappeared.

Oliver needs a moment to figure out his heart.

He'd thought, all these years, that his dad was the good guy. He never knew that it was his father who kidnapped him and kept him on the run. Discovering it, and finding himself returned to his old hometown, all at once, has his heart racing and his thoughts swirling.

Emmy and Oliver were going to be best friends forever, or maybe even more, before their futures were ripped apart. In Emmy's soul, despite the space and time between them, their connection has never been severed. But is their story still written in the stars? Or are their hearts like the pieces of two different puzzles—impossible to fit together?

Readers who love Sarah Dessen will tear through these pages with hearts in throats as Emmy and Oliver struggle to face the messy, confusing consequences of Oliver's father's crime. Full of romance, coming-of-age emotion, and heartache, these two equally compelling characters create an unforgettable story.
full review under the cut!
Oh my. What a sweet, sad, lovely story. I feel like I've been on a roll with some awesome contemporaries in the last couple months, and
Emmy & Oliver
is no different. This book made me feel everything so deeply, from the heady rush of new love to the frustrated anger that comes with things that we cannot change. It was bittersweet and wonderfully written, and I sincerely recommend this book to you, if you have even the slightest interest.
When Emmy and Oliver are in the second grade, Oliver's father picks him up from school one Friday afternoon, and then Oliver disappears for ten entire years. This book takes place during the year after Oliver comes back to his hometown, and how his relationship with Emmy and their other friends is affected by the ten year gap. It is bittersweet, because Oliver blames himself for not trying harder to get back to his mom, feels guilty because he cant bring himself to hate the father who raised him, and is confused by his feelings for Emmy, his childhood best friend who he has not seen in ten years. Emmy, our narrator, has her own problems in the form of overprotective parents who have been on edge since Oliver disappeared, the secrets that she keeps from them, and the sudden reappearance of Oliver, who she hasn't stopped thinking about since the day he disappeared.
I felt ALL of the feelings while reading this one. Emmy and Oliver just fit together, even with years and miles and everything else working against them, they were able to find solace in one another. Of course, when Oliver first returns, it's awkward and neither one of them know quite how to act, but it doesn't take very long for the two of them to fall back into a familiar pattern, first as friends and then as so much more. I loved that, despite all of the complications and crazy things going on around them, the way they felt about each other was simple. There was no angst, no miscommunication, no holding it inside, and that made me fall in love with the two of them. It also allowed me to focus on the rest of the story, instead of having to worry about whether or not Emmy and Oliver were going to be together. (Is that a spoiler? i think you could guess that just by looking at the book...)
Another thing I loved in this book was the relationships between Emmy and her two best friends, Caroline and Drew. They provided comic relief and support for Emmy as her life is thrown into confusion with the return of Oliver. I loved the way this book emphasized the importance of friends and friendship, and though they were sort of secondary characters, both Caro and Drew were fully characterized, with their own issues and personalities, and I loved them both. It also made me feel so bad for Oliver, because at one point he tells Emmy how sad it makes him, that her and Caro and Drew have ten years of shared experiences that he will never be a part of. In the end though, he ends up being close with them, and I like the idea that friendship isn't solely built on shared experiences, it can become strong in any number of ways.
Its been like two weeks since I finished this book, which I know is horrible, but I have been sans-wifi, so I've had no capability to post! That's why this review is shorter than my normal ones. But!! I loved this book so much, if you're looking for a sweet contemporary that hits on some important issues and has great relationships, this is the book for you!!
xx
Sunny