Waiting on Wednesday is a feature hosted over at Breaking the Spine, where we highlight a new release each week! This week is going to be a little different because there are SO many books coming out on September 1st. Because of this, I'm going to do half of the books today and half of them next Wednesday! Here we go :)
Hello, Goodbye and Everything In Between – Jennifer E. Smith
goodreads
Release Date: September 1
On the night before they leave for college, Clare and Aidan only have one thing left to do: figure out whether they should stay together or break up. Over the course of twelve hours, they'll retrace the steps of their relationship, trying to find something in their past that might help them decide what their future should be. The night will lead them to friends and family, familiar landmarks and unexpected places, hard truths and surprising revelations. But as the clock winds down and morning approaches, so does their inevitable goodbye. The question is, will it be goodbye for now or goodbye forever?

This new must-read novel from Jennifer E. Smith, author of The Statistical Probability of Love at First Sight, explores the difficult choices that must be made when life and love lead in different directions.
~~~
I really have enjoyed Jennifer E Smith's other three novels, at varying degrees. I felt they got better as she published them, with her most recent release being my favorite, so I have hopes for this novel to be good! I am feeling the need for a cute contemporary in my life, especially after the inevitable trauma that Queen of Shadows will cause.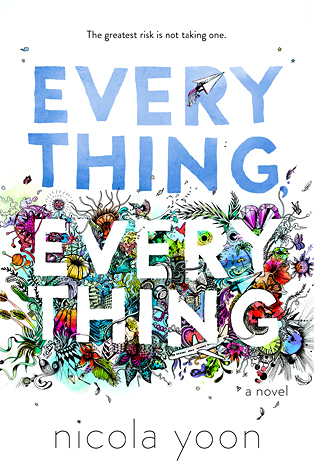 Everything, Everything – Nicola Yoon
goodreads
Release Date: September 1
This innovative, heartfelt debut novel tells the story of a girl who's literally allergic to the outside world. When a new family moves in next door, she begins a complicated romance that challenges everything she's ever known. The narrative unfolds via vignettes, diary entries, texts, charts, lists, illustrations, and more.

My disease is as rare as it is famous. Basically, I'm allergic to the world. I don't leave my house, have not left my house in seventeen years. The only people I ever see are my mom and my nurse, Carla.

But then one day, a moving truck arrives next door. I look out my window, and I see him. He's tall, lean and wearing all black—black T-shirt, black jeans, black sneakers, and a black knit cap that covers his hair completely. He catches me looking and stares at me. I stare right back. His name is Olly.

Maybe we can't predict the future, but we can predict some things. For example, I am certainly going to fall in love with Olly. It's almost certainly going to be a disaster.
~~~~
!!!! This is for sure one of my most highly anticipated books of the entire year, an opinion that has only escalated into even HIGHER anticipation because I have literally seen nothing but GLOWING reviews of this everywhere on the interwebs. I think this is such an original concept, and I seriously hope it lives up to my expectations. PLUS! Look at that cover! It is absolutely gorgeous and everything I could ever want out of a cover. Just let me have this book. PLease.
Cut Both Ways – Carrie Mesrobian
goodreads
Release Date: September 1
Will Caynes never has been good with girls. At seventeen, he's still waiting for his first kiss. He's certainly not expecting it to happen in a drunken make-out session with his best friend, Angus. But it does and now Will's conflicted—he knows he likes girls, but he didn't exactly hate kissing a guy.

Then Will meets Brandy, a cute and easy-to-talk-to sophomore. He's totally into her too—which proves, for sure, that he's not gay. So why does he keep hooking up with Angus on the sly?

Will knows he can't keep seeing both of them, but besides his new job in a diner, being with Brandy and Angus are the best parts of his whole messed-up life. His divorced parents just complicate everything. His father, after many half-baked business ventures and endless house renovations, has started drinking again. And his mom is no help—unless loading him up with a bunch of stuff he doesn't need plus sticking him with his twin half-sisters counts as parenting. He's been bouncing between both of them for years, and neither one feels like home.

Deciding who to love, who to choose, where to live. Whichever way Will goes, someone will get hurt. Himself, probably the most.
~~~
I've seen many many mixed reviews for this book, but I've decided to withhold my own judgement until I read it myself. I think it is so important for there to be positive representation of bisexuality (along with many other things) in YA books, so I'm really hoping that this is a book that I can put under that category!
what's on your WoW for this week?
xx
Sunny