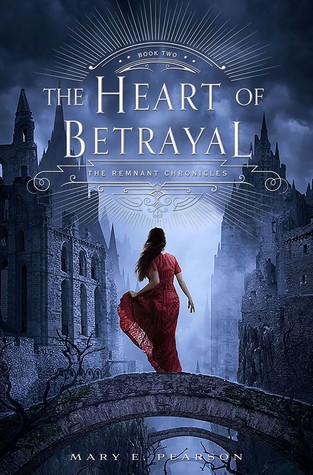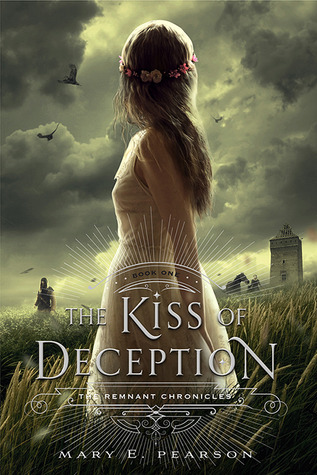 The Kiss of Deception and The Heart of Betrayal – Mary E. Pearson
synopsis (book 1):
A princess must find her place in a reborn world.
She flees on her wedding day.
She steals ancient documents from the Chancellor's secret collection.
She is pursued by bounty hunters sent by her own father.
She is Princess Lia, seventeen, First Daughter of the House of Morrighan.
The Kingdom of Morrighan is steeped in tradition and the stories of a bygone world, but some traditions Lia can't abide. Like having to marry someone she's never met to secure a political alliance.
Fed up and ready for a new life, Lia flees to a distant village on the morning of her wedding. She settles in among the common folk, intrigued when two mysterious and handsome strangers arrive—and unaware that one is the jilted prince and the other an assassin sent to kill her. Deceptions swirl and Lia finds herself on the brink of unlocking perilous secrets—secrets that may unravel her world—even as she feels herself falling in love.
The Kiss of Deception
I had been gearing up to read this book for almost a year, because I bought it when it first came out, but, as is wont to happen when you have too many things on your tbr shelves, I kept putting it off for no apparent reason. When I finally did get around to it, I was SO happy that I did. This is the high fantasy that I needed in my life. On the heels of finishing all the existing books in the Throne of Glass series, then the first two books in the Winner's Curse trilogy, I needed something high fantasy with an interesting heroine, and this book definitely delivered.
First of all, I thought it was so interesting that being a First Daughter in Morrighan is such a big deal. The magic, a gift of Sight, passes down through the First Daughters, going all the way back to Morrighan herself, who led the chosen people of the Remnant to the land that comes to be named for her. I love the idea, and the way this "gift" was executed in this novel was interesting. I liked how it wasn't something you were just born with, it was something that came from within and could either be heeded and developed or ignored.
The plot moved pretty slowly in the first part of the book, so it took me a few days to really get into it, but I never considered putting it down. I just think that is sort of a natural part of the first book of a fantasy series, that the worldbuilding can get sort of slow sometimes, but I really appreciated how intricate Pearson made her setting. The languages and cultures of each country, the realistic and complicated political relationships between them, and the diversity of the people in the book. Once I got into the world, I found myself really invested in its fate.
As far as characters go, I felt that, since this book involved a lot of build up, I didn't get to know the characters quite as well as I did in the second novel, but I still ended up conflicted because I liked all of them, even though it was clear at the end that they all lied repeatedly, both to each other and to all the other characters in the book. Lia was an interesting protagonist, but like I mentioned before, she really comes into herself completely in the second novel, although I did like that she was so committed to her life outside the palace walls. As for the intrigue of the assassin vs the prince, I didn't realize that it was meant to be an intrigue over who was who until after the book was over. I just thought that I missed the reveal of who was who. But I did like the idea. Honestly, my favorite characters were Pauline, Gwyneth and Berdi, and how they were so lovely and supportive of Lia. I loved all of their friendships.
Probably my favorite part of the novel was the journey from Morrighan to Venda with the assassin and his group, who weren't what I expected at all. Especially the part where they stopped at the vagabond camp, where we met Dihara and the other vagabond women. I loved how they encouraged Lia and stood behind her, even though they have a good relationship with the assassin, they believed what he was doing with Lia was wrong. The heartbreaking part of the novel was at the end of the journey, when Lia had to witness something truly awful (if you read the book, you know what I mean) I was constantly amazed by her strength and fortitude throughout all the difficult things that she had to go through.
Basically, this was a really really awesome novel that I felt was a great introduction to this world and all of its ins and outs, and a nice segue into the second novel, which I liked better, but only because I didn't have that period of adjustment like I did in the first book.
The Heart of Betrayal (obviously, there will be spoilers for the first book in this review)
Talk about an awesome novel. I completely adored the way this one went, which wasn't in a direction that I necessarily expected, but one that was completely amazing nonetheless.
I loved that this book took place in Venda, which was largely unknown to us in the first novel. It was so interesting to see the juxtaposition of the Kozimar and his "upper class" companions with the extreme poverty of the rest of the population. I felt that, as Lia felt herself growing more attached to the people in Venda, so did I. Though I *hated* (HATED) the Kozimar, I didn't hate all of Venda, and I really felt for Lia, because she was conflicted about her desire to leave and her growing attachment to the land.
I really appreciated Lia's character development in this novel. She grows into herself, realizing that, too survive, she will have to embrace her darker side. She became more cunning, more willing to do whatever it took to stay alive, including what she would have previously thought unthinkable. The parallels between her and Venda herself, sitting high on their walls and drawing crowds to hear the borderline crazy things that they say, the fact that Lia was almost met by the same fate as Venda, it was all so interesting.
As for Kaden and Rafe, I really don't have any strong feelings about who Lia ends up with. I actually really like them both as characters, even though they both have big flaws in my opinion. They've both lied and deceived Lia, they both are loyal to a fault, though maybe not to her necessarily, and they're both strong personalities. I feel for Kaden, as his life has been terrible so far, so I think that he and Lia could make each other happy, but I also appreciate that Rafe came across the entire world to find Lia, and has risked his life time and time again for her sake.
The ending of this novel was SO dramatic, and I felt like I couldn't even breathe for the last fifty or so pages. From the almost-wedding with the red dress from the cover to the daring escape gone horribly wrong, I couldn't put the book down. I literally broke down in tears over Aster, sweet thing that she is, and I absolutely loved the loyalty of Rafe's friends in their efforts to get them out of Venda.
I absolutely cannot wait for the third book to come out, I'm going to be on absolute PINS AND NEEDLES until next year. This is definitely a new favorite series for me, and I know I will be rereading them lots of times.
xx
Sunny