Waiting on Wednesday is a weekly feature hosted over at Breaking the Spine! Since there are two books coming out next week that I have been waiting for LITERALLY for forever, I decided to do a double whammy WoW post this week and feature them both!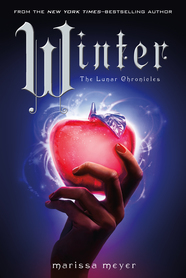 Pick #1
Winter by Marissa Meyer
release date: November 10
synopsis: (spoilers)
Princess Winter is admired by the Lunar people for her grace and kindness, and despite the scars that mar her face, her beauty is said to be even more breathtaking than that of her stepmother, Queen Levana.

Winter despises her stepmother, and knows Levana won't approve of her feelings for her childhood friend–the handsome palace guard, Jacin. But Winter isn't as weak as Levana believes her to be and she's been undermining her stepmother's wishes for years. Together with the cyborg mechanic, Cinder, and her allies, Winter might even have the power to launch a revolution and win a war that's been raging for far too long.

Can Cinder, Scarlet, Cress, and Winter defeat Levana and find their happily ever afters?
~~~
I have been a huge fan of the Lunar Chronicles since Cinder came out four years ago. I can't believe the series is finally coming to an end! It will be bittersweet for sure, I'm not sure I'm ready to say goodbye to these characters, but at the same time, I want to know what happens so badly! AHHH y'all its finally here and I couldn't be more excited for it.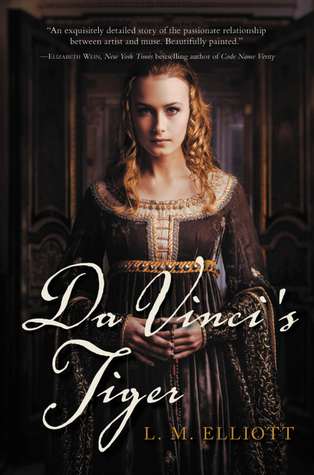 Pick #2: Da Vinci's Tiger by L.M. Elliott
release date: November 10
synopsis:
Young, beautiful, and witty, Ginevra de' Benci longs to take part in the artistic ferment of Renaissance Florence. But as the daughter of a wealthy family in a society dictated by men, she is trapped in an arranged marriage, expected to limit her creativity to domestic duties. Her poetry reveals her deepest feelings, and she aches to share her work, to meet painters and sculptors mentored by the famed Lorenzo de Medici, and to find love.

When the charismatic Venetian ambassador, Bernardo Bembo, arrives in Florence, he introduces Ginevra to a dazzling circle of patrons, artists, and philosophers—a world of thought and conversation she has yearned for. She is instantly attracted to the handsome newcomer, who admires her mind as well as her beauty. Yet Ginevra remains conflicted about his attentions. Choosing her as his Platonic muse, Bembo commissions a portrait by a young Leonardo da Vinci. Posing for the brilliant painter inspires an intimate connection between them—one Ginevra can only begin to understand. In a rich and enthralling world of exquisite art, elaborate feasts, and exhilarating jousts, she faces many temptations to discover her voice, artistic companionship, and a love that defies categorization. In the end, she and Leonardo are caught up in a dangerous and deadly battle between powerful families.
~~~~
Despite what I think is a lamentable cover change earlier in the year, (COVERS ARE IMPORTANT TO ME OKAY) this book has sat atop my list of highly anticipated novels for the better part of 2015. I am absolutely enamored with Renaissance Florence, and I can't wait to see what this book does with it.
What are you looking forward to this week?
xx
Sunny