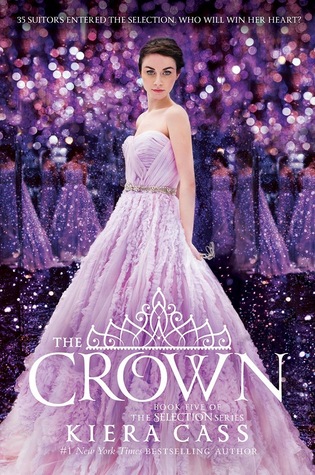 The Crown (The Selection Series #5)
by Kiera Cass
☆☆☆☆☆
goodreads
/
b&n
/
amazon
blurb:
When Eadlyn became the first princess of Illéa to hold her own Selection, she didn't think she would fall in love with any of her thirty-five suitors. She spent the first few weeks of the competition counting down the days until she could send them all home. But as events at the palace force Eadlyn even further into the spotlight, she realizes that she might not be content remaining alone.

Eadlyn still isn't sure she'll find the fairytale ending her parents did twenty years ago. But sometimes the heart has a way of surprising you…and soon Eadlyn must make a choice that feels more impossible—and more important—than she ever imagined.
Full review under the cut!
ahhh! I can't believe that the Selection series is over – for real this time. I read the first one way back when it first came out, and have faithfully followed along on these adventures ever since. The Crown was such a sweet way to finish this series, and I'm so happy with the way that everything was wrapped up.
In The Heir, which is book four of this series, we are introduced to Eadlyn, the daughter of our canon OTP from the first three books in the series, Maxon and America. One of the best things about books four and five of this series is that we get to see characters that we have previously known and loved, but all grown up. I loved seeing Maxon and America as parents, especially because they're still so in love. It made my heart melt to see Maxon being so worried about America, and vice versa, and I loved the references to the first three books. The same goes for Aspen, Lucy, and Marlee: I just love the little moments that we get to see these characters again.
As for Eadlyn, I felt like she grew in enormous leaps and bounds from book four to book five. In the fourth novel, she was imperious, bossy, spoiled, and a little selfish, though I still liked her. In book five, she retained some of the better aspects of these traits, but grew into a more mature and self-sacrificial individual. I think that this is best seen in the relationships that she forms with the various women and girls in this novel. One thing that I remember thinking about the Heir is that I wished that Eadlyn had more girls to lean on, like America does. I definitely got my wish in this novel, and it was so nice to see Eadlyn get close to girls that have her back. From Neena, Eadlyn's maid turned close advisor and bestie, to Lady Brice, who (SPOILER) ended up being her prime minister and also aunt (I really liked the plot twistiness there), to even Josie, in the end. And then, she grew closer to her mother and learned to have a relationship with her twin brother's wife, Camille. The fact that Eadlyn was able to get over her jealousy of other girls and stop feeling threatened by women and femininity was a huge stepping off point for her. I am so so glad that her character went in this direction.
The political side of this book threatened to become too much for my anti-political brain at times, but it never went fully there. I liked that we were able to see the fallout from decisions made in previous books, but that Eadlyn was able to face them and respond in her own way. I also liked that she chose to shoulder the burden of Queen before she was even supposed to, which was another way I saw her learning and growing throughout the novel. She knew that taking on the duties of Queen was going to cause her a ton of stress and maybe make her even more unpopular, but she also knew that it was the right thing to do by her parents, so she did it anyways. I also loved the plot twist at the end, of Eadlyn turning the country into a constitutional monarchy, especially because, though it was a surprise, it was definitely set up well throughout the book.
Now let's get down to business. THE BOYS! Spoilers ahead if you don't want to know who she ends up with! I will say that I didn't have a favorite coming into this novel. If I had had to say, I would've thought that Eadlyn would marry Kile, but I didn't have a preference, as long as it made for a good story. The relationship between Ean and Hale, while not a complete surprise (I had my suspicions about both of them), was a sweet little romance that I loved. I am happy that Kiera Cass slipped that in there :) I knew that it wouldn't be Fox, I just didn't think that he was characterized enough, and I didn't think it would be Henri either, because of the language barrier. I knew that Erik had feelings for her, but I didn't think she would or could return those, so Kile was the logical explanation. The way it actually ended was so much better, in my opinion. Who better for Eadlyn than someone humble and kind, someone who shies away from the spotlight and attention, but who is steadfast? I loved Erik, and I loved the way their relationship progressed. I loved that he was so willing to step away, without a fuss, and watch her marry someone else, but when she asked him, he said yes immediately. I love how kind he is, and that he gives amazing advice. I just loved basically everything about him, and I am so so glad that Eadlyn and he ended up together. I really enjoyed reading the scene where Maxon tells her to be a traitor and marry him :)
Since this book was kind of short and sweet, and I just really felt nostalgic and full of love while reading it, this review is pretty short, but I just want to reiterate how much I loved the character growth from books four to five and how content I am with the end of this series!
xx
Caroline