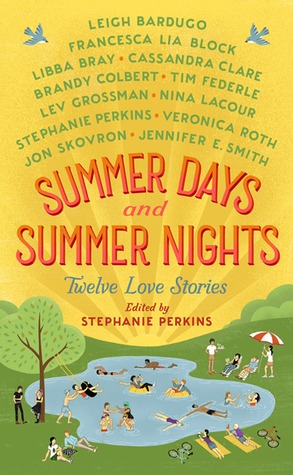 Summer Days and Summer Nights: Twelve Love Stories
edited by Stephanie Perkins
☆☆☆☆
goodreads
/
b&n
/
amazon
Maybe it's the long, lazy days, or maybe it's the heat making everyone a little bit crazy. Whatever the reason, summer is the perfect time for love to bloom. Summer Days & Summer Nights: Twelve Love Stories, written by twelve bestselling young adult writers and edited by the international bestselling author Stephanie Perkins, will have you dreaming of sunset strolls by the lake. So set out your beach chair and grab your sunglasses. You have twelve reasons this summer to soak up the sun and fall in love.

Featuring stories by Leigh Bardugo, Francesca Lia Block, Libba Bray, Cassandra Clare, Brandy Colbert, Tim Federle, Lev Grossman, Nina LaCour, Stephanie Perkins, Veronica Roth, Jon Skovron, and Jennifer E. Smith.
mini reviews for each short story under the cut!
here's something new and exciting about me: I don't like summer. Don't get me wrong, I love the whole not being in school, relaxed thing, but the one thing I hate more than anything is being inescapably hot. So summer is my least favorite season. I am much more of a winter girl: no matter how cold it gets, I'm never sick of it. And I especially love Christmas and the holidays, which is why Stephanie Perkins' other collection, My True Love Gave to Me, is one of my favorite things ever. However, I knew that, with the authors included here, I would find a way to love Summer Days and Summer Nights. And I wasn't wrong! I preferred some stories over others, but altogether, it was super enjoyable and a great way to kick off your summer.
Here are mini reviews for the twelve stories included here :)
Head, Scales, Tongue, Teeth by Leigh Bardugo ☆☆☆☆
I think I would've given this one at least three stars, even if I hadn't liked it as much as I did, because it was such a thrill to read something by Leigh Bardugo that wasn't in the Grishaverse. (and I love the Grishaverse!!!! A LOT!!! It is just exciting to see something new from her) This story was equal parts adorable and supernatural, which I loved. It is about a boy and a girl over the course of summers, falling for each other and researching sea monsters. So basically goals. Gracie and Eli were both great characters, and I loved that we got to see them grow up a little bit throughout the story. The ending was probably my favorite part though. It was hauntingly beautiful, and made me sad, but in a hopeful way, if that makes sense? In any case, this was a fab way to start the collection, with a bang, and I would definitely read more about humans and sea creatures and Gracie and Eli.
The End of Love by Nina Lacour ☆☆☆☆
I have never read anything by Nina Lacour, though I own Everything Leads to You, and so I was very excited to at least get a snippet of her words in this story. I thought it was funny that this book was about summer, but it was mostly about summer school. I found it so cool that the main character's name was Flora, for some reason, that really stuck out to me. Flora is auditing a summer Geometry class, and runs across three friends from a different school that she used to know, and sort of rekindles a friendship with them. Flora and Mimi were so cute, and there's a super adorable scene near the end, when the two of them are camping and go see an old tree... if you've read it, you'll know what I'm talking about ;) This story definitely made me want to pull out Everything Leads to You, so I can read more of Nina's words.
Last Stand at the Cinegore by Libba Bray ☆☆☆
Really cool horror-y romance in this story by Libba Bray. Another author I have yet to read, despite owning several of her books. (whoops) Anyways. I thought this story was so creative, and so, even though I am not a fan of horror, I ended up liking this one more than I thought I would. The idea of a horror-themed movie theater is so interesting to me, and a demonic, soul-sucking movie that possesses its victims? WOW! I was honestly amazed at how developed everything was, from the setting to the characters, in just a small amount of pa
ges. I loved Kevin and Dani, and especially Dave. These characters were fun to read about, even when they were being attacked by demon zombie thingies, which is how you know a good character from a not-so-good one! (lol)
Sick Pleasure by Francesca Lia Block ☆☆
Sick Pleasure was probably my least favorite story in this collection, and I can't even really put my finger on why. It isn't like I didn't enjoy it, because it wasn't bad, I think it was more just that I was a little confused during it and disappointed by the ending. I was firstly confused by the fact that every single character didn't have a name, just a letter or a nickname, and that threw me off for a couple of pages, and then I felt like the romance was a little insta-lovey, and then the ending was just kind of disappointingly sad for me. I mean, our MC loves Mohawk, or A, but she just gives him up without a fight. I liked the fact that this story was set in the 80's (I believe), and that it took place in a dance club for a lot of the story, I just didn't like the end :(
In Ninety Minutes, Turn North by Stephanie Perkins ☆☆☆☆☆
I have but one initial reaction to this story: *HIGH PITCHED SQUEAL*
Okay, but seriously! How exciting was this one? This is a continuation of Stephanie Perkins' story from the first collection of Christmas-themed short stories, though it can also be read as a standalone, IMO. Marigold and North's story was definitely one of my favorites from the last collection, and I think theirs was my absolute favorite from this one. I loved getting to read about them again, especially because we thought that we would only be getting one short story about them, and then we ended up getting like a bonus scene to their lives. I also liked how it was realistic, that their relationship wasn't just all perfect and lovely, but they had real problems to work out. Nevertheless, they fight for each other, when they both realize that they don't want to live apart, and I just loved it so much! my heart and my smile were exploding the whole time that I was reading this :)
Souvenirs by Tim Federle ☆☆☆
I just recently took my first foray into the words of Tim Federle, in the form of his YA novel, The Great American Whatever. I enjoyed that book a lot, so I was looking forward to seeing something else from him in this novel. And I ended up enjoying his story, so I was happy! For one thing, I loved the setting. There is something timelessly depressing about regional theme park/carnival things. Especially when you have to work the souvenir stand, and not, say, the funnel cake stand, which would at least probably be sparsely populated. (not deserted) Anyways, I was giggling so much that Matty's boyfriend's name is Keith, but he spells it KIETH because he's an actor?? What a touch, I adored that little detail. I also loved that they had a music through the decades show, but it was all just knock-off medleys. All of the little details in here just made me so happy, even though the romance was not my favorite. I liked Matty and Kieth fine, but I didn't feel too emotionally connected. I did really enjoy the ending though.
Inertia by Veronica Roth ☆☆☆☆
This story is sort of futuristic, sort of not, and reminded me a little bit of Eternal Sunshine of the Spotless Mind, but without all of the angst. I thought the idea of sharing a consciousness with a dying person before they pass was a really interesting concept, and the way Veronica Roth played it out made for a great read. It allowed us to see into lots of different parts of Matt and Claire's relationship without overplaying flashbacks. There was also this overlying idea that Matt is on the verge of death, but I never felt like he was really going to die, you know? It was something that I knew but didn't want to believe, and then I loved how the ending took the memories that they shared and tied it into his life and their future together. All in all, super creative story with flawed but lovable characters who I would definitely love to read more about.
Love is the Last Resort by Jon Skovron ☆☆☆☆☆
Aside from Stephanie Perkins' story, I think this one was my favorite. It reminded me a little bit of like, a Jane Austen novel, if a Jane Austen novel was set in a resort in modern times. There were a lot of great characters here with amazing names and well-developed personalities: Lena, Arlo, Isabella, Franklyn, Vito, Brice and Zeke all managed to capture my heart in one way or another. I loved the scene, in the hedge maze, where Lena, Arlo and Zeke are playing matchmaker. It was funny and sort of chaotic, and it made for a great read. The setting was good, the varied personalities and backgrounds of the characters enriched the story, and I do so love a good happy ending, especially when it comes after some high-quality meddling and matchmaking that eventually leads to love. I just got so caught up in the story that I didn't want it to end, and I count that as an essential part of any story, but especially a short one.
Good Luck and Farewell by Brandy Colbert ☆☆☆
This story is just as much about family as it is about love, and I really loved that aspect of it. Rashida is half an orphan, having lost her mother to suicide after a struggle with depression. She feels distant from her father and mostly everyone else in her family, except for her cousin Audrey, who practically raises her after her mother's death. Except now, Audrey is moving from their home in Chicago all the way to San Francisco with her girlfriend Gillian. Of course, this causes Rashida to resent Gillian, and get on the wrong side of Gillian's brother Pierre at a going away party for the couple. I
thought there was a little bit of instalove between Pierre and Rashida, but I didn't end up hating it, because they bonded over family stuff. I could feel their connection, it was that good. And also, I think I didn't hate it because this one was less about romance than the rest, and more about family stuff and working through one's own issues. I loved that part of it.
Brand New Attraction by Cassandra Clare ☆☆☆☆
Magical realism meets carnivals meets demons in this story by Cassandra Clare. It was weird reading something from her that wasn't in the Shadowhunter world, but I loved how inventive this one was. It takes place in a dark carnival, which are apparently things that exist in the world of this story. Dark Carnivals are places steeped with a little bit of magic, and each one has to be powered by a demon, or it isn't a dark carnival at all. It took me a couple pages to figure out what was really going on, but once I got a hold on the rules of this world, I loved every minute of it. Lulu is a great main character, and I love how brave she is and how much she loves the carnival. Lucas is okay, as far as love interests go, better towards the end than the beginning for sure. I liked that there was a very definite external conflict in this one, aside from the romance, Lulu and Lucas were also trying to save the carnival from real Evil.
I really loved all of the different people who populated the carnival, from the mermaids to the strongman, and I would definitely like an entire book in this setting.
A Thousand Ways This Could All Go Wrong by Jennifer E Smith ☆☆☆☆☆
I loved everything about this story! Summer camp, crushes, and competitive pop-a-shot playing are all things that make me fall in love, and this story had all of them :) I also really liked that Jennifer E Smith had one of our main characters have Asperger's, because it is something that you don't see a lot in YA or in books in general, especially in a character that is romantically involved with someone else. I thought that this was a really cute story, I got really into the main characters and their relationship, so I would definitely love to read more about them in the future. (maybe a new book?) The whole camp aspect of it just made it feel so
summery to me.
The Map of Tiny Perfect Things by Lev Grossman ☆☆☆☆
Groundhog day!! This is a story about one day that keeps repeating itself, and two teenagers who are the only ones who seem to realize that its happening. I loved the idea of this story. Though living the same day over and over is something that shows up in pop culture, it is always fun to see how it is executed differently each time. I loved how our main characters took each identical day and decided to find the things that were special and perfect about them. ( I loled at the part with Sean Bean) Then, the ending was bittersweet and just made everything that had come before make sense, so I really liked that as well. This was the equivalent to ending on a high note, and I'm glad that it was the last story of the twelve.
xx
Caroline