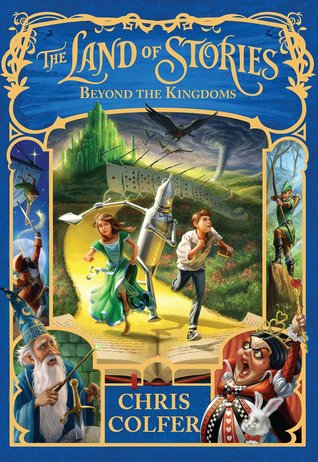 Name: The Land of Stories: Beyond the Kingdoms (#4)
Author: Chris Colfer
goodreads
/
b&n
/
amazon
☼☼☼☼☼
synopsis: (SPOILERS):
Fairy tales are just the beginning.

The Masked Man is on the loose in the Land of Stories, and it's up to Alex and Conner Bailey to stop him...except Alex has been thrown off the Fairy Council, and no one will believe they're in danger.

With only the help of the ragtag group of Goldilocks, Jack, Red Riding Hood, and Mother Goose and her gander, Lester, the Bailey twins discover the Masked Man's secret scheme: He possesses a powerful magic potion that turns every book it touches into a portal, and he is recruiting an army of literature's greatest villains!

So begins a race through the magical Land of Oz, the fantastical world of Neverland, the madness of Wonderland, and beyond. Can Alex and Conner catch up to the Masked Man, or will they be one step behind until it's too late?

Fairy tales and classic stories collide in the fourth adventure in the bestselling Land of Stories series as the twins travel beyond the kingdoms!
Full review under the cut! Contains spoilers for the first three books!
It's so weird that this is my first review of this month! I guess because I spent the first two weeks re-reading this series and another book, I didn't really have anything to review. But I am back on track now with this, the fourth book in the Land of Stories series, an installment that I absolutely adored.
I started my journey with the land of stories over two years ago, when it was recommended to me by two girls that I was babysitting for at the time. They are some of my favorites, and I've been with them for years and years now, so we are all well-acquainted and share a love of reading. At the time, they had read the first book and just adored it, so when they recommended it to me, I felt I had to try it for their sake. To my surprise, I ended up *adoring* the creativity and cleverness in the story, and have spent the following couple of years reading the sequels and falling more and more in love with the world.
Though these books are written for a middle grade audience, which means that the language can be pretty simple at times, I feel that this aspect adds some authenticity to the stories. They are being told from the perspectives of two 12-15 year old kids, and they really read like it. The fact that the language is simple does not mean that the stories are boring, quite the contrary. They take your favorite fairy tales and turn them into stories that are new and fresh and funny, so I think that anyone could find an aspect of these books to love.
I thought the first three books were an amazing lead up to this one, especially in terms of the development of our main characters, the twins Alex and Connor. From children with big dreams to mature young adults, these kids are incredible in the things that they have accomplished. I am honestly inspired by their bravery and resourcefulness every time I crack one of these books open. When we open on this story, Alex has become the Fairy godmother, and her and Connor, along with their friends in the Land of Stories, are searching for the Masked Man, whom Alex is convinced is their father.
I really identified with Alex's struggle to define herself, as she tries to move past the death of her grandmother, her ascension to fairy godmother, the shock of thinking that her father is alive, and the fact that she has been heartbroken and is losing control of her powers. This is a lot to deal with at once, and I really admired the way that she dealt with everything, even when she was "ungodmothered" for losing control of her powers. When she goes into Camelot and really bonds with Arthur, I was so sad for her, but I don't think that their story is over yet.
It was really interesting to learn about the Fairy Godmother and her not one but two sons. Previously, we had thought that the twin's father was her only child, but, as is revealed in this book, she actually had two sons. The other son is named Lloyd, and he is a power-hungry psychopath who will do anything to see the Land of Stories burn.I liked that he went into some of our favorite stories in this book, recruiting the villains from their pages, and that Alex and Connor got to follow him in and make friends in the Tin Man, Peter Pan and the Lost Boys, Robin Hood and Arthur and Merlin. I didn't even really miss the presence of the fairy tale Kings and Queens, who didn't really have a role in this story, because I liked the new characters so much.
Another aspect of this story that I enjoyed was Red's maturity. Red Riding Hood has been a humorous character in the other books, making ridiculous statements and choices, but the constant has been Froggy, or Prince Charlie, by her side. In this story, they approach their wedding with the reader still assuming that Froggy cares for Red more. But when an evil with named Morina (more on her later) crashes their wedding and takes Froggy away, Red comes to realize that she has to fight for him, which shows the reader that she has grown a ton, and that she truly has found her soul mate in Froggy. I will actually cry if he is really trapped in that magic mirror. Not kidding. I love him so much.
also!!! MOTHER GOOSE AND MERLIN! NEW OTP!!!
I felt that there were a lot of loose ends from other stories that finally tied themselves together in this one. Why the Fairy Godmother could open portals, the purpose of Bree and Emmerich from book three, why Ezmia was as evil as she was, etc. etc. Morina and her crystal ball will be a problem, as well as the witch's plan to curse Alex with the same curse of unhappiness that they put on Ezmia centuries ago. The idea that the Land of Stories and the Otherworld are spinning on axes and could potentially merge is so interesting, I can't wait to see a huge battle for the Otherworld in the next book. What a plot twist that Bree is a Grimm and Emmerich is Lloyd's son?? I hope we will see more of the Grimm sisters in the next novel.
I feel that there is going to be a new bromance between Connor, the Tin Man and Peter Pan, because they bonded during their time in Nottingham. I loved the portrayal of Robin Hood, it made me laugh so much, reading it.I also would love to see Connor and Bree reunited, as well as Alex and Merlin. I feel like the twins have done so many mature things and seen so much death and hardship that they should have some romantic happiness at the end of book five, which I believe will be the final installment.
I seriously love these books,
I love the way they bring so many of my favorite stories together in ways that I'd never think of, with humor and sass. Chris Colfer, you are doing so many things right with these books, I will be inordinately sad when this series ends.
xx
Sunny