☆☆☆☆☆☆☆☆☆☆☆☆☆☆☆☆☆☆☆☆☆☆☆☆☆☆☆☆☆☆
Spotlight on is a monthly series here at Stardust Words where each month is a different theme, whether it be a starred review, a list of favorite books or an author, etc. You can see the previous entries in the spotlight series
here!
This month, I decided to do a list of some of my favorite fantasy stories that take place in fairy tale-esque settings. These are usually high fantasy, but are usually cute and whimsical, unlike some other high fantasies that fall into the more "epic" category. Also, though some of these are, they aren't necessarily all retellings. I love these types of stories, and I'd like to make some suggestions, so I hope you guys find some of these to be to your liking!
☆☆☆☆☆☆☆☆☆☆☆☆☆☆☆☆☆☆☆☆☆☆☆☆☆☆☆☆
1. The Potion Diaries – Amy Alward – This book doesn't come out in the US until September, and under a different title:
Madly.
I had the chance to read the British edition when it first came out a couple of weeks ago, and I found the story adorable and engaging. This is a fairytale world that entwines magic and technology, and that was something that I enjoyed reading.
2. The Land of Stories Series – Chris Colfer – This is a series of four books at the moment, with the most recent one being released on July 7th. It is about two children from the real world who get transported and have many adventures in a world where all their favorite fairytale characters are real. These are middle grade, and they have been one of my favorite series for over a year now. I think there is truly something in these for everyone. (covers out of order)
3. The Princess in the Opal Mask – Jenny Lundquist – I read this one about two years ago now, so the details are a little fuzzy, but I do remember loving the world that this took place in. It is a story about twin princesses who grew up separately, one in the palace and one as a commoner, and when they meet for the first time, the story really picks up. There is a sequel to this also, but I haven't gotten to it yet, so I can't attest to the quality of it.
4. Doon – Casey Corp and Lorie Langdon – I am in love with the premise of this story: it is about two best friends who go on vacation to Scotland and end up finding an entrance to a magical world, where they find danger and magic and some truly exquisite boys. Doon is an imaginative story and I got 100% sucked into the world the minute I started.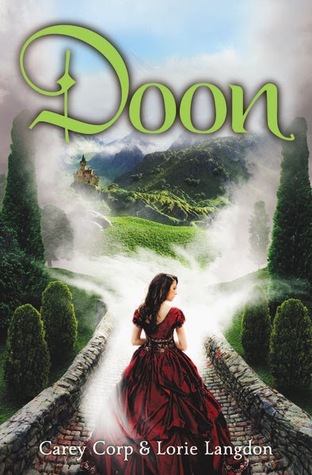 5. Nimona – Noelle Stevenson – This is a graphic novel, for something a little different in this list. I haven't read very many graphic novels, but this one I really enjoyed. It takes place in a world of knights and kings, but also of science and technology, which makes it interesting and something different. The title character is a shapeshifter who is more than she seems, and I really liked learning about her abilities and background throughout the story.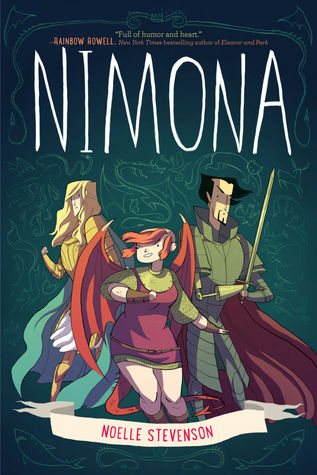 6. The School for Good and Evil – Soman Chainani – As the title would suggest, this one is about a school that trains future fairy tale Heroes and Villains, or The Good and The Evil. When two girls from our world get transported into the fairy tale one, things get turned upside down when blonde, sparkly Sophie gets put into the School for Evil and black-clad, introverted Agatha gets sent to the School for Good.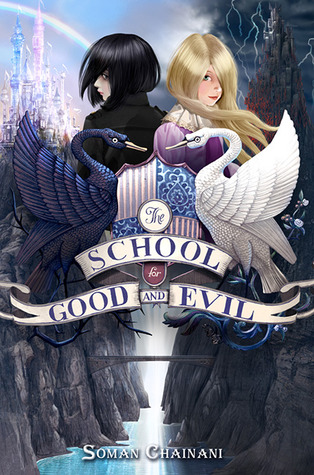 7. The Goose Girl – Shannon Hale – this is one of my favorite novels from the time I was about 11 or 12 years old. I've read it over ten times, and every time I pick it up again I end up loving it even more. I truly think that this is one of the best "fairy tale" stories that I've ever read. I cannot recommend this one enough.
8. Princess of the Midnight Ball – Jessica Day George – The first book in a trilogy, this is a retelling of the 12 Dancing Princesses, and though I've read at least 6 retellings of this fairy tale, I think this one is in my top two. I love the detail that George put into her characters, it made it a lot easier to get into the story that way.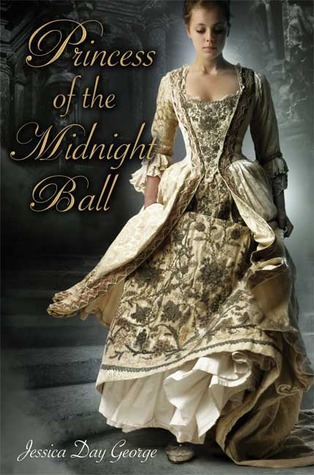 9. Ella Enchanted – Gail Carson Levine – Another one of my favorite books from childhood, Ella Enchanted will always hold a special place in my heart. I wish the movie had done a better job at representing how cute and fun this story is, and you should really read the book if you want to experience a quick and easy read that takes place in a fairy tale land.
hope y'all enjoyed this spotlight!
xx
Sunny