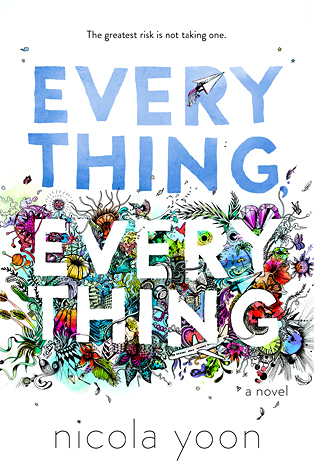 Everything Everything by Nicola Yoon
goodreads
/
b&n
/
amazon
☆☆☆☆(1/2)
synopsis:
My disease is as rare as it is famous. Basically, I'm allergic to the world. I don't leave my house, have not left my house in seventeen years. The only people I ever see are my mom and my nurse, Carla.

But then one day, a moving truck arrives next door. I look out my window, and I see him. He's tall, lean and wearing all black—black T-shirt, black jeans, black sneakers, and a black knit cap that covers his hair completely. He catches me looking and stares at me. I stare right back. His name is Olly.

Maybe we can't predict the future, but we can predict some things. For example, I am certainly going to fall in love with Olly. It's almost certainly going to be a disaster.
full review under the cut!
let's all be honest, the first thing that drew us to this novel was that *amazing* cover.... I mean, seriously, it is incredible! and even better when I was holding it in the bookstore. This was a book that I've been looking forward to for a looong time, and I kept seeing these amazing reviews from people who had arcs, and that just escalated my expectations. Did this book live up to all of my hopes and dreams? no, but to be fair, i had such an unfairly high expectation that anything would've fallen short. (and this book is pretty short, which is the reason this is four stars instead of five) however, did this book have an original story that i loved? yes, of course it did. I think this book was amazing, and I definitely applaud Nicola Yoon for this one, especially because it is her debut! but let's talk about why this book worked.
First of all, I loved the characters. Because this story is such a bubble, there weren't many, and therefore I came to love them so quickly and fiercely. Madeline, despite her illness, is anything but a victim, and I was cheering for her from the very first page. I loved her nurse, Carla, and was so thankful that she was there for Madeline in anything she needed. Then, of course, Olly is incredible and beautiful and everything this story needed. It was such an impossible situation, and I felt for Madeline, but I never felt sorry for her, which I think is important. Also, the relationships between the characters (despite some unavoidable insta-love, which I actually didn't mind at all in the context of this story), flowed really well.
I loved the mixture of story and illustrations, charts, book reviews and small asides. It made it so interesting and different. Also, the chapters weren't numbered, weren't laid out like normal chapters, which I also liked. It was just like reading and seeing one continuous story, instead of having it chopped up. I thought that was a clever way to lay it out, and I think it is so cute that Nicola Yoon's husband did the illustrations!
The plot. I thought it was so sweet in the first three fourths of the book, then it got really really real at the end, and I loved it. I felt like I was falling in love with Madeline, from the very first moment she sees Olly leaping and climbing on the house outside of her window. I felt her pain when she couldn't do anything about her crush on him, and I loved the sections where they were IM-ing. I cheered when Carla was the real MVP, and was breathless throughout their encounters in the sun room, especially when Olly worked up his courage to hold Madeline's hand. When Madeline's mom finds out about this and fires Carla, I teared up for sure, it was such an incredibly sad moment. I can't imagine if I'd only known about three people my entire life and one of them was suddenly ripped away from me. I absolutely adored the trip to Hawaii, definitely the highlight of the entire book. It was such a perfect moment, suspended in between all the nothing of her life before Olly and all the crazy shit that was waiting for her when she got back.
Let's talk about what happens when Madeline gets back from her Hawaii trip. This will contain spoilers so you can skip over this paragraph if you haven't read the book! Though I was sad that Madeline cut Olly out of her life after her near-death experience in Hawaii, I understood that she did what she had to do to survive. She had gotten a taste of the outside world, but she wasn't able to stay there, so she had to forget about it in order to stop herself from going crazy. And speaking of crazy, her mom?? I honestly did not see that coming! There were times when I thought, oh I hope she finds a cure or whatever, but I honestly never expected it to be her mom making up the entire disease!!! That was completely crazy, and I really loved that I was so taken aback by that twist in what was an otherwise nice and steady book. Totally loved the ending as well, although I wanted it to be a little longer!
My one complaint is that the book is pretty short, so I felt like the pacing was a little bit too fast sometimes, and new information would come and go without much description. And I always want contemporaries to be just like two chapters longer anyways. Other than that, though, it was a beautiful story, and I appreciate the originality and uniqueness of the book. Definitely would recommend to anyone looking for a great story!
xx
Sunny