☆☆☆☆☆☆☆☆☆☆☆☆☆☆☆☆☆☆☆☆☆☆☆☆☆☆☆☆☆☆
Spotlight on is a monthly series here at Stardust Words where each month is a different theme, whether it be a starred review, a list of favorite books or an author, etc. You can see the previous entries in the spotlight series
here
! I skipped August, guys. I had a bad, bad blogging month in August, so I was not inspired to do a spotlight post last month. However! We are back with our regularly scheduled programming!
This month, I've decided to write a post about an author that recently became a new favorite of mine. I read both of Emery Lord's books at the end of June/early in July, and I haven't stopped thinking about them since then. So let's talk about why these books, and this author, are so amazing!
☆☆☆☆☆☆☆☆☆☆☆☆☆☆☆☆☆☆☆☆☆☆☆☆☆☆☆☆☆☆
All of the Reasons Why You Should Read & Love Emery Lord
1.
Open Road Summer:
This is her first novel, and it is completely incredible. I actually read it after I had already read her newest release, so I kind of knew what to expect, but it exceeded everything I was hoping for from this book. This is my review from
goodreads
!
Things in This Book:
1. Friendship. The kind of friendship that doesn't make sense, that defies all odds, that, upon first glance, looks more like true love. The friendship in this novel made me really emotional, because the two best friends are complete opposites, but they get each other and have each other's backs in a way that just really got to me. This is the main appeal of this book, for me.
2. Cute Boys!!! Of two varieties. First, the sweet, down home, high school sweetheart that we all want to have. Secondly, the charming, bantery musician who will make you feel *ALL OF THE THINGS* (i'm a matt finch gal, for sure)
3. Music, Chasing Your Dreams, Dealing With Fame. It was really interesting to read a book from the perspective of someone who's best friend is famous. I'd never read something from this POV before, and I really enjoyed it! It was like imagining that you're best friends with Taylor Swift (early days, like Fearless-era), and who wouldn't want that?
4. Dealing With Hard Pasts. Heartbreak. Broken Arms. Bad Habits. Not being able to let your guard down. Daddy issues! All of the above, but in a realistic and lovely way. You're rooting for the characters so intensely throughout the whole story, wanting them to get through their struggles, and when the climax comes, it could not be more beautiful.
5. A Really Hot Scene Involving Fireworks and A Lake (to which I will not say more)
In short, you need this book in your life.
2.
The Start of Me and You:
(AKA one of my most favorite books ever to exist EVER!) I wrote a really squealy something on
Goodreads
about this, then I wrote a
full review
on here about it too, but I don't even know if I can articulate all of the things I love about this book. But let me just say, when I finished this one, I immediately flipped back to the beginning and read it all over again, which is something I've literally never done, so let that speak for itself.
Things In This Book:
1. Starting Over. There are so many elements of new beginnings in this novel, for almost all of the characters. Some of them are easier than others, but I really liked how that theme was woven throughout the book, not just for our main protag.
2. Girl Power!!!! As with Open Road Summer, the friendships in this book made me almost weep with joy. I loved how our main character, Paige, had not just one but three fully developed, fully important friends who play a huge role in this novel and in her life. I talk about this in my review, but I loved that I was able to find a little bit of myself and my friends in all of these characters. THEY ARE SO GOOD! SO GOOD!
3. My Favorite Trope! Which is: friendship turned to something more. The romance in this book was definitely a slow burn, and it was so cute that, at the very end, I cried because it was so adorable. I love the two characters got to know each other as friends, and then, because they're so perfect for each other, realized that they were meant to be something more. (MAX *heart eyes emoji)
4. All of the Nerdiness! From a running Pride and Prejudice joke to an abundance of Firefly references to an honest-to-god quiz bowl team, I absolutely loved all of the nerdy elements in this book!!
5. Characters Learning to Take Control of their Own Lives! ALSO: A really cool bookstore that I wish existed IRL!
This one is at the tippy top of my list of favorite books ever!
3. Emery Lord is writing the most amazing realistic contemporaries around! I'd be hard-pressed to point to books with better friendships, more realistic conflicts, or cuter romances right now. Honestly, if you've felt a hole in your life where a really amazing contemporary should be, you need these books in your life. They're honestly so touching and incredibly paced, and the writing is beautiful. I flew through both of her books in the space of three days, and I am eagerly awaiting her next release, which leads me to my next point....
4. Her next release looks just as incredible as the last two! Different, but still incredible!
This is the cover: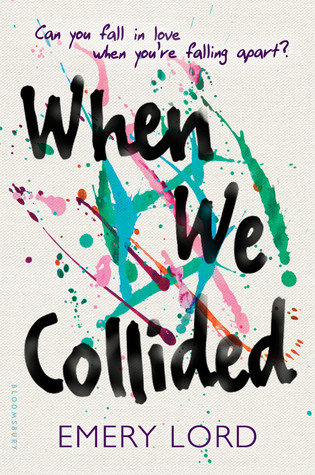 This is the synopsis: Meet Vivi and Jonah: A girl and a boy whose love has the power save or destroy them.
Vivi and Jonah couldn't be more different. Vivi craves anything joyful or beautiful that life can offer. Jonah has been burdened by responsibility for his family ever since his father died. As summer begins, Jonah resigns himself to another season of getting by. Then Vivi arrives, and suddenly life seems brighter and better. Jonah is the perfect project for Vivi, and things finally feel right for Jonah. Their love is the answer to everything. But soon Vivi's zest for life falters, as her adventurousness becomes true danger-seeking. Jonah tries to keep her safe, but there's something important Vivi hasn't told him.
5. Lastly, Emery Lord is the funniest. Following her on twitter was one of the best decisions I've ever made. She regularly cracks me up and makes me wish I was friends with her!
https://twitter.com/emerylord?lang=en
Sometimes she tweets things like this:
In short, Emery Lord is an amazing lady and you should support her! :)
xx
Sunny