Waiting on Wednesday is a weekly feature hosted over at Breaking the Spine, where we post about a highly anticipated new release each week.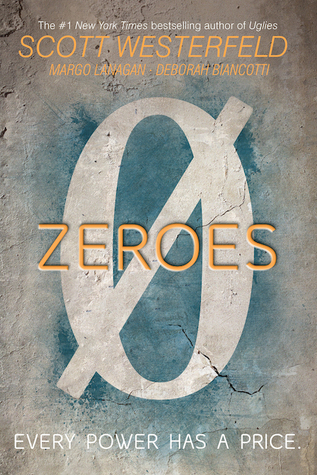 This week's pick– Zeroes by Scott Westerfeld, Margo Lanagan and Deborah Biancotti
goodreads
release date: September 29
synopsis:
Ethan, aka "Scam," has a way with words. When he opens his mouth, whatever he wants you to hear comes out. But Ethan isn't just a smooth talker. He has a unique ability to say things he doesn't consciously even know. Sometimes the voice helps, but sometimes it hurts - like now, when the voice has lied and has landed Ethan in a massive mess. So now Ethan needs help. And he needs to go to the last people who would ever want to help him - his former group of friends, the self-named "zeros" who also all possess similarly double-edged abilities, and who are all angry at Ethan for their own respective reasons. Brought back together by Scam's latest mischief, they find themselves entangled in an epic, whirlwind adventure packed with as much interpersonal drama as mind-bending action.
~~~

This book sounds super interesting, like superpowered teenagers but also they're kind of like antiheroes because their gifts are "double-edged." I really love everything having to do with superheroes, and so I hope that this can be a new one to add to my list of favorite superhero things.
what are you waiting on this week?
xx
Sunny