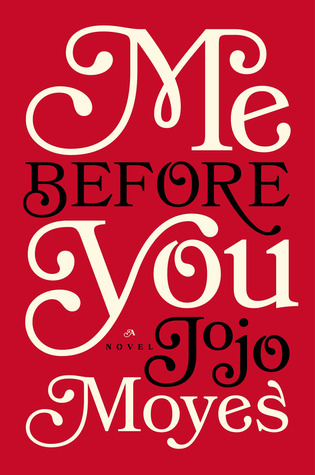 Me Before You by Jojo Moyes
☆☆☆☆☆
goodreads
/
b&n
/
amazon
Lou Clark knows lots of things. She knows how many footsteps there are between the bus stop and home. She knows she likes working in The Buttered Bun tea shop and she knows she might not love her boyfriend Patrick.

What Lou doesn't know is she's about to lose her job or that knowing what's coming is what keeps her sane.

Will Traynor knows his motorcycle accident took away his desire to live. He knows everything feels very small and rather joyless now and he knows exactly how he's going to put a stop to that.

What Will doesn't know is that Lou is about to burst into his world in a riot of colour. And neither of them knows they're going to change the other for all time.
full review under the cut!
Okay, wow guys. What I first have to say about this book is that it is: incredible, melancholy, contemplative, perhaps controversial, thought-provoking, sweet, and expansive, among many other adjectives that I could pile on, one on top of the other, until this book is buried underneath my praise for it. But before I just start throwing random praises at this novel, let me talk about
why
I believe it is all of these things, and more.
I, like, I assume, many of the rest of us, saw the trailer for the movie adaptation of this book a few days ago. Being that it stars two of my favorite young actors right now, Emilia Clarke and Sam Claflin, and also just has a stellar cast in general, my interest was piqued. I had heard of this book, and regarded it with mild interest, but after watching the trailer (which I thought was phenomenal), I was seized with an insatiable need to read this book. So, I picked the paperback up, and from the moment I opened it, I was completely hooked.
Yes, this book is about Will Traynor, a man who had lived a self-professed "big life" for 33 years until, quite unexpectedly, he is involved in an accident that renders him mostly paralyzed from the chest down. Two years later, as he descends into a deeper and deeper depression about his situation, his mother hires Louisa Clark, small town girl with a penchant for vibrancy, to become his caretaker and companion. For Louisa, the job is a last-ditch attempt to save her family from bankruptcy. She has just lost a job in a cafe, and things are not looking good for her father's job either. Her mother is consumed with taking care of her elderly father, who has suffered from multiple strokes, and Louisa's sister, Katrina, works for minimum wage to support herself and her five-year-old son, Thomas, all the while dreaming of going to university. For Louisa, Will is a well-paying savior, but he certainly does not make it easy for her to do much of anything with him. Over the course of the book, Louisa painstakingly pulls Will out of his self-imposed isolation from the world, and Will challenges Louisa to look outside of her small world. The lives of these two characters slowly start to merge, each one making the other better, happier, than they were before.
What I really enjoyed about this novel is the fact that it is so aware of the fact that, though one person can change your life, radically, for the better, one person cannot cure depression, paralysis, or any myriad of other illnesses. Will is disabled, he is depressed, and though he comes to love Louisa (spoiler alert? but i feel like that is gratuitous), she alone cannot cure him, especially his mental illnesses. He is not whole again because of her. Though it may sound harsh, and it hurts Louisa when he tells her this, it is the truth, and I appreciated the fact that this novel did not shy away from that hard truth. Especially not in favor of the "love can heal your mental illness" narrative that is prevalent in the media and other places. It's tough to read about Will's struggles, but I think that this story is so important, for people with all types of illnesses, to let them know that they are not alone. Of course, the ending of this novel is pretty bleak, perhaps not to be emulated, but the general message is one that I personally found comforting, even in its bleakness, for its reality.
I believe that, in its essence, the point of this book is not about Louisa ~saving~ Will, it is about life and death, and what constitutes living, versus just existing. That is where the expansive nature of this book comes in. As I was reading, I felt sort of guilty, because I know that I am guilty of being content with smallness. I like my routines, I'm a bit of a homebody, and I get intimidated by new experiences very easily, which is where I found myself relating to Eliza. But, in seeing what Will went through, and knowing that there are people who exist exactly like him, and that they would give anything to be in my position, made me want to rethink the way I interact with the world. I'm not sure if that was Jojo Moyes exact purpose in penning this novel, though I suspect that it had something to do with it, but I really feel like this novel makes me want to fling myself open, to vulnerability, to adventures, to newness, just because I can. In the end, I think it is Louisa that is changed more for knowing Will than the other way round, even despite her best efforts.
I love that the love story in this is a bit subdued, because obviously there are many other things to focus on, but that you get the feeling that it is slowly building, even without Moyes having to directly address it. When we finally get that lovely scene with Louisa and Will on their last night in Mauritius, it is as if a declaration of love has been coming for a hundred pages, even though neither one of them has mentioned their feelings before. That is one of my favorite scenes, even though it ends a bit sad. That, along with the scene where Will rescues Louisa from the maze, the one where they attend Alicia and Rupert's wedding, and the one where he comes to dinner at her house. This book is bittersweet in the truest sense of the word, because, while these scenes brought a ridiculous smile to my face, there is always that sneaking suspicion that everything is going to go downhill.
Though, of course, I bawled my eyes out at the end of this novel, *especially* at the epilogue and Will's letter to Louisa, I felt that the ending was perfect, and I wouldn't have had it any other way. You should be warned that there are lots of difficult things to read about in this book, and that the ending is sad (in the BEST way), but I feel like, in reading it, you reap so many rewards. I feel like this book should be read widely, and that everyone should let the hope of it wash over them.
I feel quite a bit changed by it.
xx
Sunny