welcome to another episode of "spotlight on," a monthly feature here at stardust and words, where I pick something bookish at random and prattle on about it for quite a while. You can find the rest of the spotlight on posts
here
. This month, instead of doing a themed list or anything of that sort, I decided that I would go back and read a book that I loved pre-blogging, and tell you about it. I've chosen Anna and the French Kiss, which I've read many times but never done a proper review for, so I do hope you enjoy this!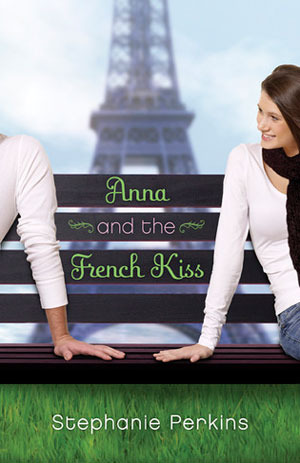 (this is the old school cover that everyone kind of hated but that holds a special, nostalgic place in my heart.)
Anna and the French Kiss by Stephanie Perkins
☆☆☆☆☆
pub date: December 2010
original read date: june 2011
rereads: either 7 or 8 times... I've lost track
Anna is looking forward to her senior year in Atlanta, where she has a great job, a loyal best friend, and a crush on the verge of becoming more. Which is why she is less than thrilled about being shipped off to boarding school in Paris--until she meets Étienne St. Clair. Smart, charming, beautiful, Étienne has it all...including a serious girlfriend.

But in the City of Light, wishes have a way of coming true. Will a year of romantic near-misses end with their long-awaited French kiss?
OKAY! So I'm sure that most of you have at least heard of this novel. It is pretty big in the YA community, and even if you haven't read it, you've probably at least seen it around. Now. I read this at summer camp when I was fifteen years old, before I was on goodreads, tumblr, or twitter, and especially before I started blogging here. I found it on the Teens page of Barnes and Noble dot com, where, in days of yore, I used to troll pages and pages of titles until I found something that interested me. (read: I read a *lot* of very mediocre contemporaries in those days) This book was the one shining paradigm in a sea of mediocrity, and I fell absolutely, head over heels in love with it.
What is the hype about this book? you ask. The title and the cover make me think that it is going to be a stupid, cliche love story, but, like, set in Paris. NO, MY FRIEND! This it is not. Don't let that awful old-school cover fool you! This book has *it.* What is it, you may ask. Well, allow me to tell you. For me, at least, this book is one of those magical ones that has a little spark on every page. Characters that jump off and into your life, situations that feel just real enough that you can picture yourself in them, but just fantastic enough that you wish they were happening to you. Some angst, of course, but not overdone. A slow burn relationship that absolutely sizzles. Coming of age, earning your independence, struggling with family and friend dynamics when you aren't even sure who you are, positive relationships, being lost in a new place, finding your true home. All of these things and more await you in the pages of this novel.
The thing that initially drew me to this book was, duh, the setting. I'm a totally wanderlusty individual, and, for a long time, Paris was on the top of my bucket list. (this summer, I totally, finally got to check it off, and you better believe I stood on point zèro and made a wish, just like Anna and Étienne) When I was fifteen, a freshman in high school, being sent off to a fancy boarding school in France sounded like just about the most ideal thing that I could possibly imagine. And I do love the setting in this book. There's just something about setting a story in Paris that makes it 100x more romantic. With the Seine and the lights and the history, the pâtisseries and the café and the blooms in spring: it's all a bit surreal. I think that the setting plays a huge role in making this book as great as it is, and the best part is, our protag, Anna, is just as new to it as anyone. As she learns to make her way through the unfamiliar city, so do we, and we fall in love with it accordingly, as she does.
Anna is a great protagonist. She feels very real to me, with doubts and fears and quirks that make me feel like I'm friends with her. She's nervous about living in a new city where she doesn't speak the language, angry at her father for pulling her to France for her senior year, homesick and jealous that her best friend is spending more time with her family and friends than she is, curious over her new surroundings, and confused about her feelings for one of her new friends. It was all of these things, as well as her continual growth and attempts to figure out who she is, that made me really invest in her happiness and the end of her story. Étienne St. Clair, who is really our other MC, is also amazing. He's literally such a swoon-worthy book boyfriend: BRITISH ACCENT, thoughtful, good listener, total history nerd, hopeless romantic, great e-mail partner. But not without his faults. I honestly love St. Clair so much, he was one of the first fictional boys that I absolutely fell in love with. He and Anna both deal with family and relationship drama over the course of this book, but when their together, the sparks fly and Stephanie Perkins leaves no doubt that these two are meant to be.
The next thing I love about this book is the positive! female! friendships! (contrasted with some negative ones, bc, ya know, life) Anna is the new kid to a class of 25 people, and she really depends on the people who take her under their wings. The first being Meredith, who ends up being her closest girlfriend in Paris. There's also Rashmi, who is whip smart and sarcastic, and who Anna is scared of at first, but who grows into a confidant and someone who pushes Anna to be better. I love these friendships, and I like how, even though Mer and Anna end up liking the same guy, in the end, it doesn't come between them, and they grow stronger because of it. I like how Anna learns to forgive other girls in this book. She's jealous of Ellie, who is dating the guy that Anna tries to tell herself she isn't falling for, and she goes through a period of intense jealousy when she finds out that her best friend back home is hiding a huge secret from her. Throughout the book, Anna grows in a lot of ways, and one of these is when she learns to forgive.
The family dynamics in this book are tricky and also very realistic. St. Clair's mother is a kind artist whom he absolutely adores, while his dad is a total control-freak asshole who wants to keep a tight grip on both St. Clair and his mother. When his mom gets cancer, things kind of fall apart for St. Clair as he grapples with his worry for his mother and his hatred for his father, who tries to keep him from his mom. Anna is the daughter of a hardworking single mom and a total nicholas-sparks inspired, awful father. He is the reason she's in france for her senior year, and he's just the type of hands-off but hovering dad that everyone loves to hate. Seeing the two of them struggle together with their family drama was hard, but it also made them rely on each other more.
my penultimate point about this novel is this: the relationship will make you swoon until you die from feelings. Anna and St. Clair meet on her first night in Paris, and from then on, there is an undeniable attraction between the two. The only catch? In anna's words, "he has a boyfriend and I'm spoken for." St. Clair is dating Ellie, a year older and in school for photography, but who is never really around, and Anna was on the cusp of something with her coworker, Toph, before she left for France. So the two of them settle into a close friendship. They go through times of being inseparable and being super awkward, because when they find themselves getting too close, they have to recoil away, for the sake of those around them, even though they are obviously meant to be. (YALL. THE THANKSGIVING CHAPTERS. THAT IS ALL I HAVE TO SAY) I love the recurring idea throughout that Anna and Étienne are home to one another. Not Paris, not Atlanta, not San Francisco, but just wherever she is with him. UGH its so CUTE!! And the fact that someone who is petrified of heights scales an incredibly tall monument for a certain someone else to confess their love is pRETTY NICE!!! One of my favorite book relationships, for sure.
lastly: have some of my favorite quotes from this book!
"For the two of us, home isn't a place. It is a person. And we are finally home."
"I'm saying I'm in love with you! I've been in love with you this whole bleeding year!"
"I'm a little distracted by this English French American Boy Masterpiece."
"We both got our Point Zero wishes―each other. He said he wished for me every time."
"Thanks. I forgot how to flip off the English. I'll use the correct hand gesture next time."
"My pleasure. Always happy to educate."
"His eyes lock on mine."Anna,I promise that I will never leave you."
"My heart pounds in response. And Étienne knows it, because he takes my hand and holds it against his chest,to show me how hard his heart is pounding, too."
"And I realize ... it's okay. It's okay if St. Clair and I never become more than friends. His friendship alone has strengthened me in a way that no one
else's ever has. He swept me from my room and showed me independence. In other words, he was exactly what I needed. I won't forget it. And I certainly
don't want to lose it."
"You're the most incredible girl I've ever known. You're gorgeous and smart, and you make me laugh like no one else can. And I can talk to you. And I know after all this I don't deserve you, but what I'm trying to say is that I love you, Anna. Very much"
"Welcome to Paris, Anna. I'm glad you've come."
(spoilers?)
"I trail my fingers across his cheek. He stays perfectly still for me. "Please stop apologizing, Étienne."
"Say my name again," he whispers.
I close my eyes and lean forward. "Étienne."
He takes my hands into his.Those perfect hands, that fit mine just so. "Anna?"
Our foreheads touch. "Yes?"
"Will you please tell me you love me? I'm dying here."
And then we're laughing. And then I'm in his arms, and we're kissing, at first quickly—to make up for lost time—and then slowly, because we have all
the time in the world. And his lips are soft and honey sweet, and the careful, passionate way he moves them against my own says that he savors the way I
taste, too.
And in between kisses, I tell him I love him.
Again and again and again."
In short, I've read this book
so many times that I feel like I could recite it if I had to, and I think that you should read it, love it, as well.
xx
Caroline