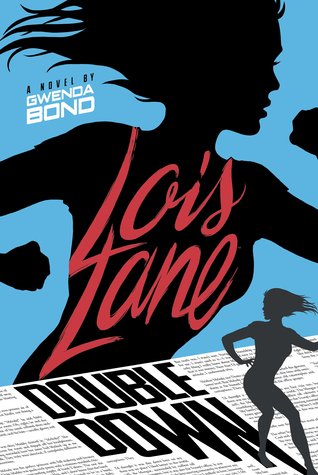 Double Down (Lois Lane #2)
Gwenda Bond
☆☆☆☆
release date: May 1
goodreads
/
b&n
/
amazon
(spoilers for Fallout, book 1)
Lois Lane has settled in to her new school. She has friends, for maybe the first time in her life. She has a job that challenges her. And her friendship is growing with SmallvilleGuy, her online maybe-more-than-a-friend. But when her friend Maddy's twin collapses in a part of town she never should've been in, Lois finds herself embroiled in adangerous mystery that brings her closer to the dirty underbelly of Metropolis."
full review under the cut!!
Lois Lane, how I love thee.
I know that the blog has been very review-heavy recently, but I just keep reading these awesome, interesting books that I must discuss, and this book is no different. I received a copy of it from Netgalley, Capstone and Switch Press, and I want to thank them for letting me read it!
I love this series. I read the first book last summer, and it surprised me by how fun it was. I'm not big into comics, really, but I do love superhero movies, and I just love getting this YA style version of Lois Lane. She's feisty, she's gutsy, and she will stop at nothing to get to the truth, no matter how dangerous. I'm hoping this series just keeps going on forever, because these books are a total blast. From Lois' inner voice, which is as kickass as they come, to the twisty and dark mysteries that haunt Metropolis, everything about these books just causes the pages to fly out from under your fingertips. I read this at warp speed, in one day. Once you get sucked into the mystery, you're along for the ride with Lois, whether you like it or not.
The mysteries in these novels are a little bit creepy, a little bit scary, and a little bit fantastical, which just makes them really awesome. In this book, it has to do with clones and a mob boss, which is just crazy, but it works. I like reading these mysteries because not only do they have to do with weird, impossible things, but also with people in Lois' life, which makes me more invested in them. I honestly can't wait to see what else Gwenda Bond can come up with, case-wise, for Lois and the gang. Though they are a bunch of kid reporters, they also end up being detectives and mystery solvers as well.
Lois and her friends are super fun to read about. Lois is the leader of the little band, leaping before she looks, getting herself into all sorts of scrapes, willing to go anywhere for a good story. Her best friend, Maddy, loves art and music and is loyal and good. But Maddy is also insecure, and I think that is shown in a relatable way in this novel especially. I liked the sibling rivalry between Maddy and her twin sister Melody. Devin is the hacker, which, I mean, come on. Every heisty/newsy/mystery solving team needs a hacker. He's also super nice and doesn't pressure Lois into a relationship when he likes her, and is still her friend when he realizes that she isn't interested. Two thumbs way up from me for that. James is a preppy, rich, popular dude, but underneath this veneer, he has real problems and sorrows. I just really like how different all of these characters are, and even though they are, they still fit together somehow.
I love Lois' relationship with SmallvilleGuy aka Clark Kent aka superman. I just think it's amazing how the two of them have an online relationship, that she doesn't know who he is yet, but that the reader does. I also like how Lois' stories can stand alone, but this relationship adds more to them. I can't wait for them to meet in person holy crap!!!
Anyways, I love this book and this series and I definitely think that more people should read them! They're fun and fast paced and just awesome. I love reading from Lois' POV, and I can't wait for the next one to come out :)
xx
Caroline