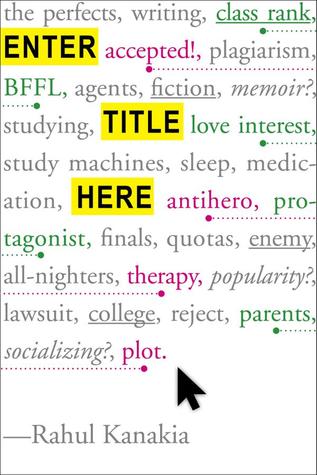 Enter Title Here
Rahul Kanakia
release date: August 2
☆☆☆
goodreads
/
b&n
/
amazon

Reshma is a college counselor's dream. She's the top-ranked senior at her ultra-competitive Silicon Valley high school, with a spotless academic record and a long roster of extracurriculars. But there are plenty of perfect students in the country, and if Reshma wants to get into Stanford, and into med school after that, she needs the hook to beat them all.

What's a habitual over-achiever to do? Land herself a literary agent, of course. Which is exactly what Reshma does after agent Linda Montrose spots an article she wrote for Huffington Post. Linda wants to represent Reshma, and, with her new agent's help scoring a book deal, Reshma knows she'll finally have the key to Stanford.

But she's convinced no one would want to read a novel about a study machine like her. To make herself a more relatable protagonist, she must start doing all the regular American girl stuff she normally ignores. For starters, she has to make a friend, then get a boyfriend. And she's already planned the perfect ending: after struggling for three hundred pages with her own perfectionism, Reshma will learn that meaningful relationships can be more important than success—a character arc librarians and critics alike will enjoy.

Of course, even with a mastermind like Reshma in charge, things can't always go as planned. And when the valedictorian spot begins to slip from her grasp, she'll have to decide just how far she'll go for that satisfying ending. (Note: It's pretty far.)
full review under the cut!
I received a copy of this from Disney-Hyperion and Netgalley in exchange for a review, so thank you to them for allowing me to read this book!

This is one of the hardest books that I've ever had to rate, because I truly do not know how I feel about it. I gave it three because that felt the most true, but it is more complicated than that. This book is meta on like four levels, so every reaction that I had to it, I felt like the book anticipated and addressed, which was cool but kind of strange at first. So, I enjoyed reading this book, especially at the end, but at the same time, the protagonist and the things she does are distinctly unlikable, so I really don't know why I liked it, but I did.
Things you should know before starting this book. One: Reshma is kind of a terrible person. Almost everything she says is something that you would maybe think on your worst days, but never in a million years say aloud. She's callous and often cruel, ambitious and ruthless: even when she is clearly in the wrong. It doesn't make for a very likable person, but it does make for a useful protagonist. She says all the wrong things all the time, and that gets her into situations that are enjoyable to read. There is something satisfying in watching Reshma design her own downfall. Two: everything that I thought was going to happen in this book, didn't happen. I thought it was really going to be something where Reshma really realized that there was more to life than studying by taking part in the high school social experiment, like a rom com or something, but this book is so much more complicated than that. It's ridiculous, the way Reshma plans to do all of these things, like befriend a popular girl and get a boyfriend, then carries out these acts in insane ways. She blackmails a girl into being her friend, seriously, but she still can't stand her, and that is a great scene in this novel. Three: Just when you think it's over and Reshma has gotten her way and is going to settle down? Nope. She does something even more insane than the last thing, and just keeps spiraling down this vortex. It gets more and more crazy as the book goes on!
So basically here's the book: Reshma is a study machine. She always has been, and she is a lock for valedictorian of her super competitive high school. But because the school was considering changing the grading system, which would knock her off the top spot, her family sued, which annoys the teachers and the students under Reshma in the ratings. She doesn't care, though, because though she is valedictorian, her SAT is low, and she needs the top spot to get into Stanford, which is the goal of her life. So when a literary agent sees her work on a Huffington Post column and reaches out, Reshma sees it as her hook for college admissions. She tells the agent that she can write a book in a month, and sets about trying to create this autobiographical memoir that people will want to read, complete with the serious study machine having the real high school experience before going to Stanford. And Reshma is telling you all of this in the narration, while also trying to carry it out in her actual life. Its crazy layered. Then Reshma is involved in a cheating scandal, manages to kiss some boys, find some maybe real friends, sees a therapist that is crazy himself, pisses off her parents and pretty much everyone around her, take a lot of adderall and finally, perhaps, find out who she really is, which is about the only part of the book that isn't super meta.
Like I said earlier, there is something satisfying in seeing Reshma, who is kind of a horrible person, (even though she still is kind of sympathetic?), construct and go through with the events that lead to her downfall. Nothing happens like you think it's going to, and just when she thinks she has it all under control, something slips. She thinks that she can control everything, but the events in this book show the reader otherwise, even when she refuses to see it. I just really liked how fresh this voice was, how the "heroine" wasn't that at all, she was like the worst person in the story, but I still read in her voice and enjoyed myself for 300+ pages. This book is unlike anything I've ever read before. I think the voice might be a little off-putting to people, especially when they first start reading it, but I really think if you give it 50 pages, you'll be sucked in. I felt compelled to keep reading because I had to know if Reshma was going to be rewarded by an acceptance to Stanford, and I didn't quite know if I wanted her to be denied or get in. This book is an interesting look into the darkest thoughts of a girl who will do anything to get what she wants.
So, yeah. I liked this book. I enjoyed myself when I was reading it, but it feels weird to say because I didn't necessarily like Reshma or any of the things that she did. There was a really satisfying ending, though, after all of the insane things that happen during the plot, and when I got done I felt like it was something that I'd recommend, in a weird way. I'd say, give an unlikable protagonist a chance, because it's something that I'd never experienced before and it was fascinating to read. Believe me when I say that you won't read another YA like this. For sure.
xx
Caroline