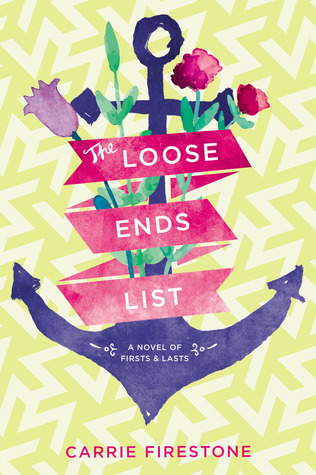 The Loose Ends List
Carrie Firestone
☆☆☆☆☆
goodreads
/
b&n
/
amazon
Seventeen-year-old Maddie O'Neill Levine lives a charmed life, and is primed to spend the perfect pre-college summer with her best friends and young-at-heart socialite grandmother (also Maddie's closest confidante), tying up high school loose ends. Maddie's plans change the instant Gram announces that she is terminally ill and has booked the family on a secret "death with dignity" cruise ship so that she can leave the world in her own unconventional way - and give the O'Neill clan an unforgettable summer of dreams-come-true in the process.

Soon, Maddie is on the trip of a lifetime with her over-the-top family. As they travel the globe, Maddie bonds with other passengers and falls for Enzo, who is processing his own grief. But despite the laughter, headiness of first love, and excitement of glamorous destinations, Maddie knows she is on the brink of losing Gram. She struggles to find the strength to say good-bye in a whirlwind summer shaped by love, loss, and the power of forgiveness.
full review under the cut!
thank you to netgalley and little, brown for providing me with an arc of this amazing novel!
This book is all of these things: bittersweet, lovely, hilarious, crazy, interesting, exotic, happy, and sad. This book is not this thing: fluff. I honestly thought that this was going to be a really cute summer read, even despite the synopsis laying out the groundwork for *death.* You can't help but be swindled by the cover and the summer romance aspect of it. I got sucked in, and then halfway through, I was like: oh. Death is coming. (Game of Thrones style) But even before I got myself to remember that there were sad things down the line, this book was anything but a light summer read that I'd pick up by the pool. Deep down, this book is about family and coping with loss and personal growth and finding out who you really are, and I couldn't help but adore it from start to finish.
Okay, so here's the basics of what you need to know. 1. There are a SHIT ton of characters in this book. It took me a while to get them all straight, but they're all super lovable. I fell head over heels for every one of them, and they all made me happy or broke my heart in different ways. 2. There is also a lot of traveling around in this one. It made it really amazing for me, because I love exotic locations. We span across the world, from New York to Jamaica to Brazil to Iceland to Rome and so on. Really cool settings. 3. If you don't get attached to someone in this book and feel really upset for them at some point, I don't know what to say to you. I was crying for the last 75 pages, solid. But it wasn't just hopeless sadness. It was sad, but also tinged with the "life goes on" hopefulness that makes things that much sadder, if that makes sense. These are the three things that stick out to me right off the bat about this book, so if one of those appeals to you, I encourage you to read on.
This book is told from the perspective of Maddie Levine, who is a recently graduated high school senior from Connecticut, looking forward to a lazy summer before starting college in New York City. This all changes, however, when her grandmother calls her entire family together to tell them that she has pancreatic cancer and wants to have one last hurrah before she dies. She invites her whole family on a "death with dignity" cruise, planning on dying in her own fashion by traveling around the world and having some last adventures. This is the setup for the rest of the novel. Maddie and most of her family load up onto a super nice cruise ship and set off on the adventure of a lifetime.
Maddie's family consists of Maddie, her parents, her brother, her uncle, his husband, her cousin, her grandmother, her great-aunt, and her grandmother's boyfriend. There are other patients on the boat as well, and they have families too. Basically, it is this amazing troupe of colorful characters that wriggle their way into our hearts. Maddie is an imperfect narrator, and I honestly didn't think I was going to like her at first, because she seemed a little snobby. But in coming into contact with all of these characters, the dying and the healthy, Maddie begins to come out of her shell and really start living. I just can't stress how much I fell in love with every single one of the people on the cruise, and I was really impressed with Carrie Firestone's ability to fully characterize them all. Even though, obviously, some were focused on more than others, all of them felt real to me. I don't want to give away too much about them, because I think it would be better to just get to know them yourself. But what I will say is that Maddie's grandmother was my favorite character. I loved her free-spiritedness, her wit and humor, and her abounding love for life. She made me think of my grandmother, and how much I love her, like Maddie. I definitely loved seeing their relationship.
This book also has some of the most amazing settings I've read, and that just makes it even more amazing. The characters and the central conflict of living in the face of death is strong enough on its own, but the fact that they're on a cruise around the world and going through all of this stuff with that as a background made it even more enjoyable for me. I mean, we go from New York to the beaches of Jamaica to the colorful clubs of Rio to the volcanoes of Iceland to the ruins in Rome to a monastery in Taiwan to an island in the Pacific and everywhere in between. Every chapter was bringing me to some new and amazing place, and I couldn't wait to see where I got to go next.
Enzo was a great love interest. I love the idea that Maddie was getting through her first love as she was going through all of these lasts with her grandmother. But traveling around the world with a cute half-British half-Italian boy who falls in love with you would not be the worst thing in the world, minus the "death with dignity" thing... you know? But as much as I loved the romance, it wasn't the most important thing in the book, and I liked that. It was present, but it didn't overshadow the other important things that were going on in here.
Obviously, this book tells you from the get-go that death is on the horizon. I managed to forget for the majority of the time, and was just enjoying how fun and incredible the characters were, but then when it hit me, it was an emotional wallop. Like I said, there were many tears being shed here. Not just Maddie's grandmother's struggle, but also the other patients on the boat that I had just spent 200 pages falling in love with. It's almost worse because the pain is inevitable, but you can't help getting emotionally attached. I wouldn't have had it any other way though, because I absolutely loved every single minute that I spent reading this.
I applaud you, Carrie Firestone. It is difficult for a book to make me cry from a place of real emotion, and you got that out of me. I can't stress enough how much I want everyone I know to read and love this book. It is cute and funny and emotional and so freaking sad, and all of that is mixed together, which I feel is true to life. New favorite right here, I am so thankful that I have had the chance to read it.
xx
Caroline