here
! And to make up for being basically AWOL through the month of February, I'm trying to make this a Spotlight On post worth waiting for :) I decided to compile a list of the books that make my heart go SQUEE every time I think of them. Whether that's an adorable romance, friendship, or just a really cute pet, these books are super cute to me. (Though, just because these books are "cute," that doesn't mean they aren't deep, sad, lovely, or well-written. They are a multitude, each) Enjoy!
Lucy Hansson was ready for a perfect summer with her boyfriend, working at her childhood Bible camp on the lake. But when her mom's cancer reappears, Lucy falters—in faith, in love, and in her ability to cope. When her boyfriend "pauses" their relationship and her summer job switches to a different camp—one for troubled kids—Lucy isn't sure how much more she can handle. Attempting to accept a new normal, Lucy slowly regains footing among her vibrant, diverse coworkers, Sundays with her mom, and a crush on a fellow counselor. But when long-hidden family secrets emerge, can Lucy set aside her problems and discover what grace really means?
2. One Paris Summer – Denise Grover Swank
Most teens dream of visiting the City of Lights, but it feels more like a nightmare for Sophie Brooks. She and her brother are sent to Paris to spend the summer with their father, who left home a year ago without any explanation. As if his sudden abandonment weren't betrayal enough, he's about to remarry, and they're expected to play nice with his soon-to-be wife and stepdaughter. The stepdaughter, Camille, agrees to show them around the city, but she makes it clear that she will do everything in her power to make Sophie miserable.

Sophie could deal with all the pain and humiliation if only she could practice piano. Her dream is to become a pianist, and she was supposed to spend the summer preparing for a scholarship competition. Even though her father moved to Paris to pursue his own dream, he clearly doesn't support hers. His promise to provide her with a piano goes unfulfilled.

Still, no one is immune to Paris's charm. After a few encounters with a gorgeous French boy, Sophie finds herself warming to the city, particularly when she discovers that he can help her practice piano. There's just one hitch—he's a friend of Camille's, and Camille hates Sophie. While the summer Sophie dreaded promises to become best summer of her life, one person could ruin it all.
3. The Loose Ends List – Carrie Firestone
(this was my absolute favorite book of last summer!)
It's a summer for first love, last wishes, and letting go.

Maddie has big plans to spend the last months before college tying up high school "loose ends" alongside her best friends. Then her beloved grandmother drops two bombshells: (1) Gram is dying. (2) She's taking her entire family on a round-the-world cruise of dreams come true—but at the end, Gram won't be returning home.

With a promise to live in the now without regrets, Maddie boards the Wishwell determined to make every moment count. She finds new friends in her fellow Wishwellians, takes advantage of the trip's many luxuries, gets even closer to her quirky family, and falls for painfully gorgeous Enzo. But despite the copious laughter, headiness of first love, and wonder of the glamorous destinations, Maddie knows she is on the brink of losing Gram, and she struggles to find the strength to let go in a whirlwind summer shaped by love, grief, and laughter.
4. My Lady Jane – Brodi Ashton, Jodi Meadows, and Cynthia Hand (the LOL factor is through the roof with this one)
The comical, fantastical, romantical, (not) entirely true story of Lady Jane Grey. In My Lady Jane, coauthors Cynthia Hand, Brodi Ashton, and Jodi Meadows have created a one-of-a-kind fantasy in the tradition of The Princess Bride, featuring a reluctant king, an even more reluctant queen, a noble steed, and only a passing resemblance to actual history—because sometimes history needs a little help.

At sixteen, Lady Jane Grey is about to be married off to a stranger and caught up in a conspiracy to rob her cousin, King Edward, of his throne. But those trifling problems aren't for Jane to worry about. Jane is about to become the Queen of England.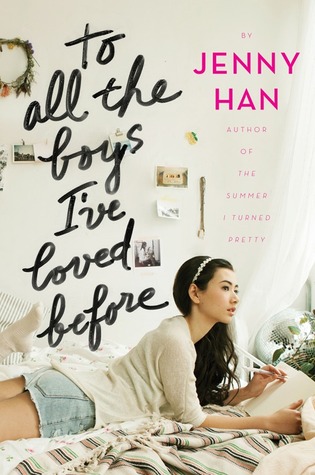 5. To All the Boys I've Loved Before – Jenny Han
To All the Boys I've Loved Before is the story of Lara Jean, who has never openly admitted her crushes, but instead wrote each boy a letter about how she felt, sealed it, and hid it in a box under her bed. But one day Lara Jean discovers that somehow her secret box of letters has been mailed, causing all her crushes from her past to confront her about the letters: her first kiss, the boy from summer camp, even her sister's ex-boyfriend, Josh. As she learns to deal with her past loves face to face, Lara Jean discovers that something good may come out of these letters after all.
6. Simon Vs. The Homo Sapiens Agenda – Becky Albertalli
Sixteen-year-old and not-so-openly gay Simon Spier prefers to save his drama for the school musical. But when an email falls into the wrong hands, his secret is at risk of being thrust into the spotlight. Now Simon is actually being blackmailed: if he doesn't play wingman for class clown Martin, his sexual identity will become everyone's business. Worse, the privacy of Blue, the pen name of the boy he's been emailing, will be compromised.

With some messy dynamics emerging in his once tight-knit group of friends, and his email correspondence with Blue growing more flirtatious every day, Simon's junior year has suddenly gotten all kinds of complicated. Now, change-averse Simon has to find a way to step out of his comfort zone before he's pushed out—without alienating his friends, compromising himself, or fumbling a shot at happiness with the most confusing, adorable guy he's never met.
7. Steering the Stars – Erica Cope and Autumn Doughton
Two girls. Two stories. One journey.

Be careful what you wish for…
Aspiring writer Hannah Vaughn worries that she is doomed to live out the rest of her existence in a sleepy Oklahoma town. For as long as she can remember, she's dreamed of something more – adventure, excitement, intrigue. When her sister invites her to London and she's accepted to a prestigious writing program at The Warriner School, she jumps at the chance. But will it be epic or an epic fail?

You'll never know if you don't try…
Nothing ever happens to straight-A student Caroline McKain and that's exactly the way she likes it. With her best friend in London and junior year looming on the horizon, all she wants is to remain invisible. So when she is suddenly thrust into the spotlight, she must ask herself: Can an invisible girl really take center stage?

Follow Hannah and Caroline as they navigate the complexities of first love, family and growing up. As their bond is tested, the girls will learn that being apart can ultimately bring you together. Steering the Stars is a fresh, heartfelt young adult story about fate, discovery, and the magic of friendship.
8. Love & Gelato – Jenna Evans Welch
"I made the wrong choice."

Lina is spending the summer in Tuscany, but she isn't in the mood for Italy's famous sunshine and fairy-tale landscape. She's only there because it was her mother's dying wish that she get to know her father. But what kind of father isn't around for sixteen years? All Lina wants to do is get back home.

But then she is given a journal that her mom had kept when she lived in Italy. Suddenly Lina's uncovering a magical world of secret romances, art, and hidden bakeries. A world that inspires Lina, along with the ever-so-charming Ren, to follow in her mother's footsteps and unearth a secret that has been kept for far too long. It's a secret that will change everything she knew about her mother, her father—and even herself.

People come to Italy for love and gelato, someone tells her, but sometimes they discover much more.
9. Aristotle and Dante Discover the Secrets of the Universe – Benjamin Alire Sáenz
Aristotle is an angry teen with a brother in prison. Dante is a know-it-all who has an unusual way of looking at the world. When the two meet at the swimming pool, they seem to have nothing in common. But as the loners start spending time together, they discover that they share a special friendship—the kind that changes lives and lasts a lifetime. And it is through this friendship that Ari and Dante will learn the most important truths about themselves and the kind of people they want to be.
10. Amy and Roger's Epic Detour – Morgan Matson
Amy Curry is not looking forward to her summer. Her mother decided to move across the country and now it's Amy's responsibility to get their car from California to Connecticut. The only problem is, since her father died in a car accident, she isn't ready to get behind the wheel. Enter Roger. An old family friend, he also has to make the cross-country trip - and has plenty of baggage of his own. The road home may be unfamiliar - especially with their friendship venturing into uncharted territory - but together, Amy and Roger will figure out how to map their way.