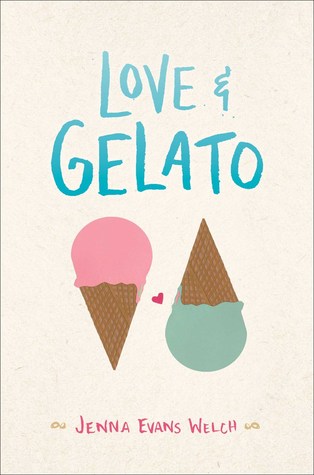 Love & Gelato
Jenna Evans Welch
☆☆☆☆☆
goodreads
/
b&n
/
amazon
Lina is spending the summer in Tuscany, but she isn't in the mood for Italy's famous sunshine and fairy-tale landscape. She's only there because it was her mother's dying wish that she get to know her father. But what kind of father isn't around for sixteen years? All Lina wants to do is get back home.

But then Lina is given a journal that her mom had kept when she lived in Italy. Suddenly Lina's uncovering a magical world of secret romances, art, and hidden bakeries. A world that inspires Lina, along with the ever-so-charming Ren, to follow in her mother's footsteps and unearth a secret that has been kept from Lina for far too long. It's a secret that will change everything she knew about her mother, her father—and even herself.

People come to Italy for love and gelato, someone tells her, but sometimes they discover much more.
full review under the cut!
This book was just like a scoop (or three!) of gelato. Sweet, surprising, and above all, way better than you can imagine it being.
Any of you that have been with me here at Stardust and Words for any amount of time know that I am a sucker for two things in contemporary novels. 1. European Settings, preferably really beautiful ones, and 2. character development. Love and Gelato has both of these things, in droves. I completely fell in love with the story before I had even finished the prologue, and blew through the rest of the book in less than five hours (WITH BREAKS). This might be my new favorite read of the summer, y'all. Just trust me on this one, if you like traveling, cute boys, a little mystery, and some serious feels, then this is just the book for you.
So, we open, with our protagonist Lina, at probably the most difficult thing that anyone can go through. She has just discovered that her mother has endstage cancer. And, with that prologue that is enough to already get the tears going, we jump forward six months. You see, Lina has never known her father, and the only information that she has now is the stories that her mother used to tell about her "dear friend" Howard, who she met while studying photography in Italy. Next thing Lina knows, her grandmother is shipping her off to live in Tuscany with Howard, her new father, and what comes next ends up being the best summer of her life. Though she is hell bent on getting back to the states as soon as possible, Howard ends up being the best thing she could've ever asked for, and a mystery about her mother and a cute new best friend are serious draws as well. Before Lina knows it, she's being sucked into the romance and beauty of the Italian countryside.
Lina was a great main character to me. She was sure of herself and gutsy, certainly not afraid to try new things, while at the same time trying to work through her grief over her mother's death. It was a good balance, and I loved seeing her grow to love her surroundings in Italy. Every time she would get excited about being in and around Florence, just the tiniest bit, I would be so happy for her. I also loved the way she and Howard clicked and ended up having a great relationship. The part where he is trying to help her find the perfect dress was so adorable! Lina is a runner and food addict, so the hills and cuisine of Italy seem to fit her perfectly. She is brave, a quality that I really admire, even when stuck in a not-so-awesome situation. Sure, shes sad and angry and confused, but she has a spark of defiance and courage in her, and she doesn't hide that under her emotions. That was something that I really admired about her throughout my reading of this novel.
The two boys in this novel that matter are Howard, previously-unknown to Lina father, and Ren, short for Lorenzo, who is Lina's neighbor and takes her under his wing when she gets to Italy. And dear GOD did I love these boys! Howard is gentle and sweet and caring right from the beginning, but once he and Lina get over the awkward hump in their relationship, he is downright, huggably adorable. I picture like the sweetest, tallest Dad that I know and make him Howard. And Ren... Ren is everything! I thought he was going to be the love interest from the synopsis, then when he and Lina met, I was like "oh is this more of like a friendy vibe?", and then it got all complicated and romancey... in the best way! I love how he and Lina clicked from the first time they met, I could just tell that they were good for each other. She was comfortable around him, and he did nothing but earn and keep her trust throughout the book. There was a little communication snafu between them, which y'all know I hate, but it didn't last long and it was resolved really well at the end, so I didn't even mind it. I loved the scenes where Ren was showing Lina around Florence on his scooter, it was just so cute and picturesque in my mind. So A+ boys in this one!
The other big part of this book, other than Lina's grief and the whole Italy thing, was a mystery surrounding Lina's mother. When Lina first gets to Florence, she is given one of her mom's journals, which was written during her mother's time in Italy. Lina reads through it, trying to figure out what happened between her mother and Howard, to break them up, but the journal doesn't have the whole story, and it turns into a mystery that Lina and Ren try to solve. I loved when Lina went to all the places that her mother mentioned in the journal, it was bittersweet and really well done. It also gave me as a reader a chance to explore the city through Lina's eyes. As for the resolution of the mystery, I won't spoil anything here, but I'll say that I sort of saw it coming and sort of didn't, and I really was satisfied with the way it all wrapped up!
Gosh, I loved this story! I thought it was sweet and simple (in the best way), while also exploring themes of coping with loss, grief, and healthy ways to move on from tragedy. I could really feel what Lina was feeling, and I chock that up to great writing! And the setting felt so real to me, so A+ research too! :)
xx
Caroline