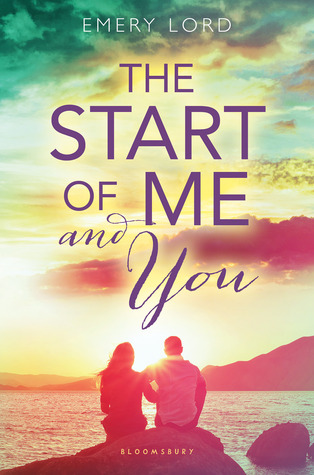 The Start of Me and You – Emery Lord
goodreads
/
b&n
/
amazon
☆☆☆☆☆+
synopsis:
F
ollowing her pitch-perfect debut Open Road Summer, Emery Lord pens another gorgeous story of best friends, new love, & second chances.

Brimming with heartfelt relationships and authentic high-school dynamics The Start of Me and You proves that it's never too late for second chances.

It's been a year since it happened—when Paige Hancock's first boyfriend died in an accident. After shutting out the world for two years, Paige is finally ready for a second chance at high school . . . and she has a plan. First: Get her old crush, Ryan Chase, to date her—the perfect way to convince everyone she's back to normal. Next: Join a club—simple, it's high school after all. But when Ryan's sweet, nerdy cousin, Max, moves to town and recruits Paige for the Quiz Bowl team (of all things!) her perfect plan is thrown for a serious loop. Will Paige be able to face her fears and finally open herself up to the life she was meant to live?
full review under the cut!
ALL of the stars to this book!!! 5, 50, 500.... that is how good it is. I'd heard nothing but good things about Emery Lord before I started this one, but I honestly was not expecting to love it as much as I did. That seems to be a theme in my book choice lately... really amazing stories sneaking up on me and forcing me to love them.
Even 50 pages into this one, though I was definitely enjoying it, I wasn't expecting it give me all the emotions that it did. I absolutely flew through the last half in a matter of hours, and it actually made my cry twice (once, tears of sadness, the second time, tears of adorableness). Then, once I finished, I almost immediately flipped back to the beginning and read it all over again which, you have to understand, I have NEVER done. I've had the urge, and I might've flipped back to a couple favorite passages of other books, but never have I ever read a book cover to cover, twice in a row. I feel like I could just end this review right there, that should tell you how good this book is... But I won't, because I have many emotions and many things to say about this one.
This story follows the main protag, Paige, over the course of her junior year. Her first boyfriend, Aaron, had died before her sophomore year, so when she gets back to school a year after his death, we follow her as she really tries to take back control of her life, having let it fall apart a little in the wake of his death. One of the most enjoyable things about the book was seeing Paige take back control, little by little, and come into herself. She hasn't had an easy go of it, but during the novel, she decides not to let her experiences define her, but for her to define them, and become someone different, and hopefully better, because of them. I was cheering for her so hard, and when she finally got to the point where she decided "Ok. This is my life and I'm going to live it no matter what" I was seriously so emotional.
Ok, now let's talk about my favorite part of the book. (not the romance, though that is a close second) The friendships. I honestly don't know how Emery Lord did it, but she somehow managed to capture some of the most realistic friendships I've ever seen. I often say how I get bothered when characters in books have one friend that is super important, and the rest of the people in their life are one dimensional caricatures of people. This book is the exact opposite of that problem. Paige has three best friends: Tessa, Morgan and Kayleigh, and each of these girls is a fully characterized, fully important force in Paige's life, and their relationships felt so authentic, down to their music preferences and their occasional bickering. I was so happy to find a little bit of myself and my best friends in all of them, and I think Lord did an amazing job of portraying healthy and amazing girl friendships. If you have amazing friends, which I hope you all do, you'll know that what Paige says in this book is true: that we are all debtors in friendship, but that with best friends, there's no keeping track, there's just the endless cycle of happily giving and taking. I could honestly go on and on about all of the times that I got emotional over these friendships, but I've already talked about them enough to bore you. But honestly, I'd be hard pressed to find a book with friendships that I loved as much as I loved these.
The romance was completely adorable and something that I can only pray will one day happen to me. (I guess this is a lil spoilery but honestly, look at the synopsis and tell me who you think Paige is really going to end up with...) I liked that, though Paige thought she was completely in love with Ryan, it didn't take him being a jerk or her embarrassing herself for her to realize that she wasn't. They just weren't right for each other, and she realized it on her own terms, which I think is very true to life.
But yeah, c
an we just talk about Max for a second?? One of my favorite tropes in romance is a friendship that turns into something more, because I think there's something to sharing your secrets with someone in a non-romantic way, something that brings you close, and then when it does turn romantic, there's no awkward fumbling because you already know everything about each other. This is very much what happens with Max and Paige. They are able to bond quickly, and because they're so compatible, they become amazingly close in a short amount of time. It isn't until Paige's grandmother plants the idea of romance in her mind that Paige even starts to think about Max in that way, but when she does, she can't stop thinking about him in this way. I thought the ending, the long running Pride and Prejudice joke, the admitting of long-held feelings, the jump from friendship to romance, was so perfectly done, I couldn't even keep the smile off my face or the tears from my eyes. I am absolutely living for how sweet and adorable Max is, and the way that he and Paige light each other up. (or, in Morgan's words, "are a little bit obsessed with each other")
The family dynamic in this novel was interesting, and I felt for Paige as she tried to navigate her lingering grief over Aaron, her staggering crush on Ryan, and her messed up family life, with her two divorced parents starting to date each other and her grandmother (who she is really close to) in deteriorating health. I identified with her relationship with her sister, because I too have one that is three years younger than me. It took us until we were about 13 and 16 to become close too. As for Paige's parents, I think their getting back together really served to show Paige that you have to fight for someone, even if it doesn't seem to work out the first time (which came in handy with Max). I loved her grandmother, loved that she was always pushing Paige to be everything that she could be, whether it was with her screenwriting or friends or Max.
The theme of new beginnings was one that was prevalent throughout this book. Paige's plan to start over with a clean slate junior year, Ryan's breakup with his longtime girlfriend that leads to finding new friends, Max's moving schools and starting off as the new kid, Paige's parents starting over with each other, etc etc. It takes Paige a long time to get over Aaron's death, and even when she isn't crippled by grief, it still takes time for her to take back control of her life. In the small moments where she does something new, something that scares her, she gets a little closer, but it isn't until the end, when she really lets go, that she is able to fully come into her own.
I sincerely adored every second of this story, and I would highly recommend it to anyone who is looking for something to read this summer.
xx
Sunny