Waiting on Wednesday is a weekly feature hosted over at Breaking the Spine, where each week everyone talks about a highly anticipated upcoming release!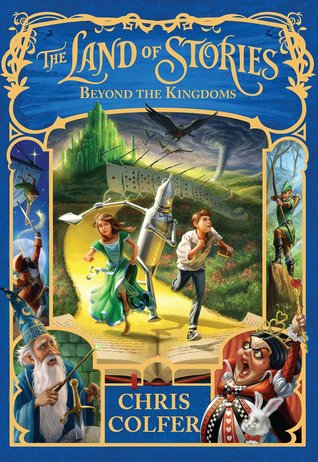 This week's pick: Beyond The Kingdoms (Land of Stories #4) by Chris Colfer
goodreads
release date: July 7
(obviously, since this is the fourth book in a series, there will be
spoilers
in this description!)
synopsis:
Fairy tales are just the beginning.

The Masked Man is on the loose in the Land of Stories, and it's up to Alex and Conner Bailey to stop him...except Alex has been thrown off the Fairy Council, and no one will believe they're in danger.

With only the help of the ragtag group of Goldilocks, Jack, Red Riding Hood, and Mother Goose and her gander, Lester, the Bailey twins discover the Masked Man's secret scheme: He possesses a powerful magic potion that turns every book it touches into a portal, and he is recruiting an army of literature's greatest villains!

So begins a race through the magical Land of Oz, the fantastical world of Neverland, the madness of Wonderland, and beyond. Can Alex and Conner catch up to the Masked Man, or will they be one step behind until it's too late?

Fairy tales and classic stories collide in the fourth adventure in the bestselling Land of Stories series as the twins travel beyond the kingdoms!
~~~
I absolutely love this series, I think it is so clever and nicely crafted to appeal to small kids but also to be enjoyable for older people. I've been waiting since last summer for the fourth installment to come out, so I am super excited because it is so soon! If you haven't read this series I would highly recommend that you give it a try!
What are your picks this week?
xx
Sunny