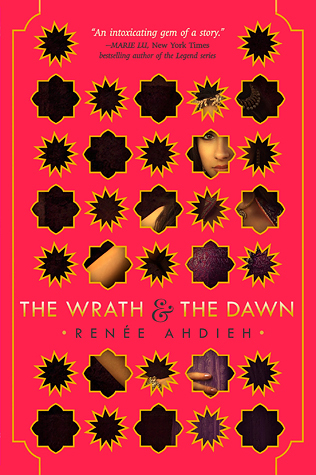 The Wrath and the Dawn – Renée Ahdieh
goodreads
/
b&n
/
amazon
☆☆☆☆☆
synopsis:
A sumptuous and epically told love story inspired by A Thousand and One Nights

Every dawn brings horror to a different family in a land ruled by a killer. Khalid, the eighteen-year-old Caliph of Khorasan, takes a new bride each night only to have her executed at sunrise. So it is a suspicious surprise when sixteen-year-old Shahrzad volunteers to marry Khalid. But she does so with a clever plan to stay alive and exact revenge on the Caliph for the murder of her best friend and countless other girls. Shazi's wit and will, indeed, get her through to the dawn that no others have seen, but with a catch . . . she's falling in love with the very boy who killed her dearest friend.

She discovers that the murderous boy-king is not all that he seems and neither are the deaths of so many girls. Shazi is determined to uncover the reason for the murders and to break the cycle once and for all.
full review under the cut!
This book is probably one of the most hyped books that I've seen this year. Nearly everyone that I trust when it comes to book recommendations was positively raving about it, so even though I wasn't too sure about it upon its release, I very quickly succumbed to the 15 or so people demanding that I read it and read it immediately. And let me just say, I was not disappointed in the slightest.
At first, I didn't really see what all of the hype was about. I was about fifty pages in and really enjoying myself, but I honestly did not understand what had people all in a tizzy. However. I strongly maintain that this is a book that sneaks up on you, where you're just leisurely reading along and before you know it hours have passed and you physically cannot put it down. I guess it was about when I hit the halfway point that I was like "alright I just need to power through and finish this NOW." Some books you're absolutely hooked from page one, some books it takes awhile, but the build up is sweet.
Now let's see: why did I love this book? For a few reasons. ONE! The setting. I am half Syrian (the more you know!), and I really enjoyed reading about the Arabic culture in this novel, because a lot of it was familiar to me. The food especially, and this isn't just for this book, but I love it when authors go into detail about food, because it makes me feel like they've done their research and they know what their talking about. But yeah, the way that Ahdieh described the food in this novel made me want to call my grandma, my sitti, and ask for all of the recipes. Also, the clothes that everyone wore were really interesting and beautiful to read about and imagine. I just really liked reading about this culture that was somewhat familiar but at the same time foreign to me.
TWO! The characters. Of course. If I rate a book five stars, it is pretty much a given that I loved the characters. It is very rare that I rate a book this highly without connecting to at least two of the main characters. But yeah,
Shahrzad. Girl gets shit done. I would be afraid of her if I was on the wrong side of her anger, and I have a ton of respect for her strength throughout the book. From the loss of her best friend to the nightly killing of the brides to putting on a brave face as Khalid's wife to choosing what was right but altogether most difficult at the end of the novel. Shazi is one tough cookie, especially in the version of herself that she shows to people.
I liked how, in Shazi and Khalid's relationship, it was her that held the reins. He was the one that fell, head over heels, and she was the one who had the upper hand, the one that seemed more powerful. Even though he was supposed to be this great king, all of his burdens held him down so much, and his love for
Shahrzad caught him so unawares, that he was able to be unguardedly infatuated with her earlier on in the novel. It took me a while to connect to Khalid, but when I finally did, I ended up loving him. I loved how much he loved Shazi, I loved how he found his strength and was able to forgive himself for past mistakes, and I loved that he was able to find an equal who could support him when he had been on his own for so long.
I also adored the burgeoning friendship between Shahrzad and Despina. Two difficult and prideful girls, thrown together, somehow coming out with a bond like sisterhood. This is the kind of friendship that I love reading about. They are constantly bickering, challenging each other, and generally making life difficult for the other, but somewhere along the line it changes from real spite to joking friendship, and I really appreciated that both of them were extremely strong in different ways. Jalal was another character that I loved, for it was he who challenged Khalid in the way that Despina challenges Shahrzad.
THREE! The quotes! Let me just drop a few here. "She was drowning in sandalwood and sunlight. Time ceased to be more than a notion. Her lips were hers one moment. And then they were his. The taste of him on her tongue was like sun-warmed honey." "(Despina) 'We women are a sad lot, aren't we?' (Shazi) 'What do you mean?' (Despina) "Strong enough to take on the world with our bare hands, yet we permit ridiculous boys to make fools of us." "Despina sighed. 'On pain of death... you are as important to him as his own life." "'How right you are. You are not mine.' Khalid dropped his palm from the door. 'I am yours.'" "'My soul sees its equal in you.'" and SO many more!!! it was just a gorgeous novel from a prose standpoint.
I absolutely cannot wait for the second book. I love how Shazi and Khalid's love grew from hatred to a burning passion that cannot be doubted, how there was hints of magic in Shazi, allusions to a magic carpet, but nothing explicitly stated yet, and the fact that there is a war brewing. All of this is going to make for an extremely interesting second installment, and mostly I'm just insanely upset that we have to wait until 2016 to read it.
If you're looking for something a little different than your average read, something steeped in a different culture and wrapped up in an unstoppable romance, I definitely think you should give this one a try. It will surprise you by how amazing it is.
xx
Sunny