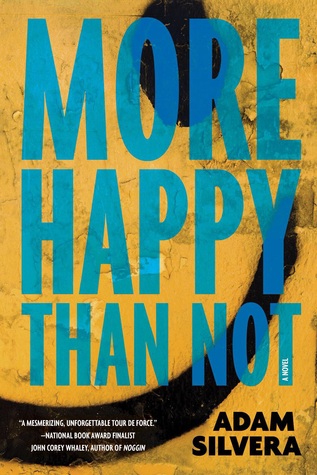 More Happy Than Not
by Adam Silvera
☆☆☆☆
goodreads
/
b&n
/
amazon
In his twisty, gritty, profoundly moving debut—called "mandatory reading" by the New York Times—Adam Silvera brings to life a charged, dangerous near-future summer in the Bronx.

In the months after his father's suicide, it's been tough for 16-year-old Aaron Soto to find happiness again--but he's still gunning for it. With the support of his girlfriend Genevieve and his overworked mom, he's slowly remembering what that might feel like. But grief and the smile-shaped scar on his wrist prevent him from forgetting completely.

When Genevieve leaves for a couple of weeks, Aaron spends all his time hanging out with this new guy, Thomas. Aaron's crew notices, and they're not exactly thrilled. But Aaron can't deny the happiness Thomas brings or how Thomas makes him feel safe from himself, despite the tensions their friendship is stirring with his girlfriend and friends. Since Aaron can't stay away from Thomas or turn off his newfound feelings for him, he considers turning to the Leteo Institute's revolutionary memory-alteration procedure to straighten himself out, even if it means forgetting who he truly is.

Why does happiness have to be so hard?
full review under the cut!
WOW GUYS!!! I honestly don't know how I hadn't read this one until now. I heard so much about it when it first came out, but didn't end up picking it up until recently, and it ended up totally blowing me away. Also, let me be the first to say that I read all of the reviews, I saw countless times people saying that this book was going to be sad. But me, in my infinite arrogance, did not believe them. And now, here I am, 24 hours after finishing this book, still thinking about how freaking sad it is. This book is raw and real and uncomfortable in the best way. I absolutely loved it.
More Happy Than Not centers around Aaron Soto, who is 16 years old and grieving. He's grieving the loss of his father, who killed himself in their home. He is grieving the loss of his childhood, his innocence, and also his will to live, all of which are due to the attempt he made on his life after his father's death. He's also grieving the fact that his friends aren't as great as he always thought they were, his brother has basically nothing to do with him, and the fact that his mother works too hard for basically nothing. His life is hard, and let me stress that. It is a difficult existence. But the thing about Aaron is that he has the ability to find happiness in little things, and that really shines through, even though he is going through the worst circumstances.
The book is set in a near-future world, similar to the movie Eternal Sunshine of the Spotless Mind, if that helps any of you ground yourselves. Aaron lives in the Bronx of this world, which is a tough neighborhood, one that is absolutely brutal towards anything it perceives as weakness. Aaron has known how to fight his way through for his entire life, and he considers this a reality, until he meets a boy named Thomas and everything changes. The other thing about this world is that there exists a procedure that can alter and suppress memories in people. Aaron's friend Kyle gets the procedure done after his twin brother is shot, and it threads its way through the entire story.
(this paragraph will contain spoilers, so don't read if you haven't read the book!) LET'S TALK ABOUT THAT PLOT TWIST!!!! Holy shit I thought I had everything figured out. I though Aaron was going to figure out that he was gay, then tell Thomas, then Thomas would reject him and then Aaron would get the memory procedure. but WOW WAS I WRONG. When Aaron's friends are beating him up and he is like "that's when all the memories I forgot begin to unwind," I was like HOLY S*** I literally couldn't believe it. I didn't see it coming at all, and I especially didn't even pay attention to Collin when he was introduced earlier, but WOW that was such a great twist. I loved the way that all played out. I think also because it was totally unexpected, it packed such a powerful punch. I also really liked the way the memories were laid out in chronological order, showing that, for Aaron's whole life, gay has been what he is, not something he can choose. GOD that was so good wow I just still have a lot of emotions about it. And then basically everything that went down after Aaron remembers that he had the procedure just made me SO SAD!!! He can't see a happy ending for himself because he is the way he is. both of the dudes that he's liked aren't good for him, just unhealthy relationships all around. then, he finally actually does decide that he likes himself and he's okay with being gay, he reconciles with his brother and his mom as his real self for the first time, and THEN LOSES HIS ABILITY TO MAKE NEW MEMORIES??? WHAT kind of bull is that. I was crying so so much during that whole part. Especially when he goes and says goodbye to Brendan, Collin, Genevieve and Thomas, because he knows that he can't have normal relationships with them now because of his condition. But the thing is, he was still so hopeful, hanging on to the little bits of happiness, all the way to the end!! Which just made me even sadder. I'm still really messed up thinking about it.
I basically just was really impressed by this novel. I think it was daring and gutsy to write, and just as much to publish it, and I loved how it tackled some sensitive issues head on, no sugar coating. I think it is a great look at the things that make us who we are. There are some things that you don't choose to be, just like Aaron didn't choose to be gay, and even if we try to forget them, they find a way to creep out because they are a part of who we are. I really applaud Adam Silvera for writing this book, beautiful and raw as it is. I would def recommend to those of you looking for LGBT+ books!
xx
Caroline