All in all, I read eleven books in May and posted seven reviews, which was pretty good for me, review wise! Here's the list :)
1.
The Start of Me and You – Emery Lord ☆☆☆☆☆ (reread)
It's been a year since it happened—when Paige Hancock's first boyfriend died in an accident. After shutting out the world for two years, Paige is finally ready for a second chance at high school . . . and she has a plan. First: Get her old crush, Ryan Chase, to date her—the perfect way to convince everyone she's back to normal. Next: Join a club—simple, it's high school after all. But when Ryan's sweet, nerdy cousin, Max, moves to town and recruits Paige for the Quiz Bowl team (of all things!) her perfect plan is thrown for a serious loop. Will Paige be able to face her fears and finally open herself up to the life she was meant to live?
2. The Wrath and the Dawn – Renée Ahdieh
☆☆☆☆☆ (reread)
One Life to One Dawn.

In a land ruled by a murderous boy-king, each dawn brings heartache to a new family. Khalid, the eighteen-year-old Caliph of Khorasan, is a monster. Each night he takes a new bride only to have a silk cord wrapped around her throat come morning. When sixteen-year-old Shahrzad's dearest friend falls victim to Khalid, Shahrzad vows vengeance and volunteers to be his next bride. Shahrzad is determined not only to stay alive, but to end the caliph's reign of terror once and for all.

Night after night, Shahrzad beguiles Khalid, weaving stories that enchant, ensuring her survival, though she knows each dawn could be her last. But something she never expected begins to happen: Khalid is nothing like what she'd imagined him to be. This monster is a boy with a tormented heart. Incredibly, Shahrzad finds herself falling in love. How is this possible? It's an unforgivable betrayal. Still, Shahrzad has come to understand all is not as it seems in this palace of marble and stone. She resolves to uncover whatever secrets lurk and, despite her love, be ready to take Khalid's life as retribution for the many lives he's stolen. Can their love survive this world of stories and secrets?

Inspired by A Thousand and One Nights, The Wrath and the Dawn is a sumptuous and enthralling read from beginning to end.
3. The Rose and the Dagger – Renée Ahdieh
☆☆☆☆☆
The darker the sky, the brighter the stars.

In a land on the brink of war, Shahrzad is forced from the arms of her beloved husband, the Caliph of Khorasan. She once thought Khalid a monster—a merciless killer of wives, responsible for immeasurable heartache and pain—but as she unraveled his secrets, she found instead an extraordinary man and a love she could not deny. Still, a curse threatens to keep Shazi and Khalid apart forever.

Now she's reunited with her family, who have found refuge in the desert, where a deadly force is gathering against Khalid—a force set on destroying his empire and commanded by Shazi's spurned childhood sweetheart. Trapped between loyalties to those she loves, the only thing Shazi can do is act. Using the burgeoning magic within her as a guide, she strikes out on her own to end both this terrible curse and the brewing war once and for all. But to do it, she must evade enemies of her own to stay alive.

The saga that began with The Wrath and the Dawn takes its final turn as Shahrzad risks everything to find her way back to her one true love again.
4. And I Darken – Kiersten White
☆☆☆☆☆
NO ONE EXPECTS A PRINCESS TO BE BRUTAL.

And Lada Dragwlya likes it that way. Ever since she and her gentle younger brother, Radu, were wrenched from their homeland of Wallachia and abandoned by their father to be raised in the Ottoman courts, Lada has known that being ruthless is the key to survival. She and Radu are doomed to act as pawns in a vicious game, an unseen sword hovering over their every move. For the lineage that makes them special also makes them targets.

Lada despises the Ottomans and bides her time, planning her vengeance for the day when she can return to Wallachia and claim her birthright. Radu longs only for a place where he feels safe. And when they meet Mehmed, the defiant and lonely son of the sultan, who's expected to rule a nation, Radu feels that he's made a true friend—and Lada wonders if she's finally found someone worthy of her passion.

But Mehmed is heir to the very empire that Lada has sworn to fight against—and that Radu now considers home. Together, Lada, Radu, and Mehmed form a toxic triangle that strains the bonds of love and loyalty to the breaking point.

From New York Times bestselling author Kiersten White comes the first book in a dark, sweeping new series in which heads will roll, bodies will be impaled . . . and hearts will be broken.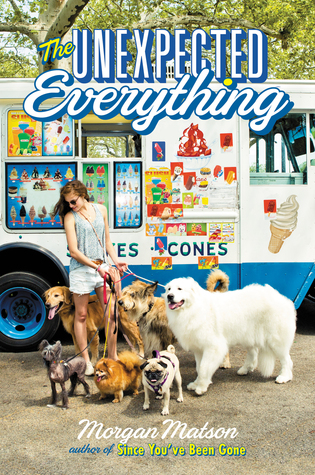 5. The Unexpected Everything – Morgan Matson
☆☆☆☆☆
Andie had it all planned out.

When you are a politician's daughter who's pretty much raised yourself, you learn everything can be planned or spun, or both. Especially your future.

Important internship? Check.

Amazing friends? Check.

Guys? Check (as long as we're talking no more than three weeks).

But that was before the scandal. Before having to be in the same house with her dad. Before walking an insane number of dogs. That was before Clark and those few months that might change her whole life.

Because here's the thing—if everything's planned out, you can never find the unexpected.

And where's the fun in that?
6. Since You've Been Gone – Morgan Matson
☆☆☆☆☆

(reread)
It was Sloane who yanked Emily out of her shell and made life 100% interesting. But right before what should have been the most epic summer, Sloane just…disappears. All she leaves behind is a to-do list.

On it, thirteen Sloane-inspired tasks that Emily would normally never try. But what if they could bring her best friend back?

Apple picking at night? Okay, easy enough.

Dance until dawn? Sure. Why not?

Kiss a stranger? Um...

Emily now has this unexpected summer, and the help of Frank Porter (totally unexpected), to check things off Sloane's list. Who knows what she'll find?

Go skinny-dipping? Wait...what?
7. The Heir (The Selection #4) – Kiera Cass
☆☆☆☆

(
reread
)
Princess Eadlyn has grown up hearing endless stories about how her mother and father met. Twenty years ago, America Singer entered the Selection and won the heart of Prince Maxon—and they lived happily ever after. Eadlyn has always found their fairy-tale story romantic, but she has no interest in trying to repeat it. If it were up to her, she'd put off marriage for as long as possible.

But a princess's life is never entirely her own, and Eadlyn can't escape her very own Selection—no matter how fervently she protests.

Eadlyn doesn't expect her story to end in romance. But as the competition begins, one entry may just capture Eadlyn's heart, showing her all the possibilities that lie in front of her . . . and proving that finding her own happily ever after isn't as impossible as she's always thought.
8. The Crown (The Selection #5) – Kiera Cass
☆☆☆☆☆
When Eadlyn became the first princess of Illéa to hold her own Selection, she didn't think she would fall in love with any of her thirty-five suitors. She spent the first few weeks of the competition counting down the days until she could send them all home. But as events at the palace force Eadlyn even further into the spotlight, she realizes that she might not be content remaining alone.

Eadlyn still isn't sure she'll find the fairytale ending her parents did twenty years ago. But sometimes the heart has a way of surprising you…and soon Eadlyn must make a choice that feels more impossible—and more important—than she ever imagined.
9. The Hidden Oracle (The Trials of Apollo #1) – Rick Riordan
☆☆☆☆
How do you punish an immortal?

By making him human.

After angering his father Zeus, the god Apollo is cast down from Olympus. Weak and disorientated, he lands in New York City as a regular teenage boy. Now, without his godly powers, the four-thousand-year-old deity must learn to survive in the modern world until he can somehow find a way to regain Zeus's favour.

But Apollo has many enemies - gods, monsters and mortals who would love to see the former Olympian permanently destroyed. Apollo needs help, and he can think of only one place to go . . . an enclave of modern demigods known as Camp Half-Blood.
10. Summer Days and Summer Nights – edited by Stephanie Perkins
☆☆☆☆
Maybe it's the long, lazy days, or maybe it's the heat making everyone a little bit crazy. Whatever the reason, summer is the perfect time for love to bloom. Summer Days & Summer Nights: Twelve Love Stories, written by twelve bestselling young adult writers and edited by the international bestselling author Stephanie Perkins, will have you dreaming of sunset strolls by the lake. So set out your beach chair and grab your sunglasses. You have twelve reasons this summer to soak up the sun and fall in love.

Featuring stories by Leigh Bardugo, Francesca Lia Block, Libba Bray, Cassandra Clare, Brandy Colbert, Tim Federle, Lev Grossman, Nina LaCour, Stephanie Perkins, Veronica Roth, Jon Skovron, and Jennifer E. Smith.
11. The Museum of Heartbreak – Meg Leder
☆☆☆☆
In this ode to all the things we gain and lose and gain again, seventeen-year-old Penelope Marx curates her own mini-museum to deal with all the heartbreaks of love, friendship, and growing up.

Welcome to the Museum of Heartbreak.

Well, actually, to Penelope Marx's personal museum. The one she creates after coming face to face with the devastating, lonely-making butt-kicking phenomenon known as heartbreak.

Heartbreak comes in all forms: There's Keats, the charmingly handsome new guy who couldn't be more perfect for her. There's possibly the worst person in the world, Cherisse, whose mission in life is to make Penelope miserable. There's Penelope's increasingly distant best friend Audrey. And then there's Penelope's other best friend, the equal-parts-infuriating-and-yet-somehow-amazing Eph, who has been all kinds of confusing lately.

But sometimes the biggest heartbreak of all is learning to let go of that wondrous time before you ever knew things could be broken.
~~
what have y'all read and loved this month?
xx
Caroline