Top Ten Tuesday is a weekly feature hosted over at
The Broke and the Bookish!
This week's theme is:
"June 7:
Ten Reasons I Love X
--
could be a certain book, character, author, your indie bookstore, a fandom, a tv show, reading, a hobby, a genre. Honestly anything you want to gush about."
So, for this week, I wanted to talk about a book that is near and dear to my heart. Recently, I read The Loose Ends List by Carrie Firestone, and it was absolutely one of my favorite things ever. Since it is releasing today(!!!!!), I figured I would tell you ten reasons why I absolutely loved it. And if you think that it sounds like something you'd like, I would definitely encourage you to BUY IT!!! Because it truly is incredible.
Find my review of THE LOOSE ENDS LIST here!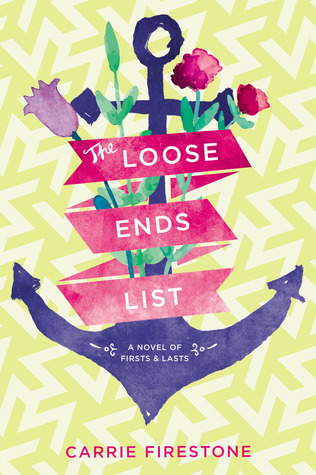 1. The Cover!!
It is literally so adorable, I can't take it. And though it doesn't have anything to do with the plot other than that it takes place on a ship, I think it captures the spirit of this novel :)
2. *Character Development!* *throws confetti at you*
This story revolves around Maddie Levine, who is looking forward to a normal summer between her senior year of high school and her freshman year of college. This all changes when her young-at-heart grandmother tells her family that she has terminal cancer, and invites them all on a fabulous "death with dignity" cruise around the world. Maddie starts off anxious, a little stuck-up, and unwilling to try new things. By the end, she is a completely different girl. I loved how she blossomed when she was forced out of her comfort zone, and I thought that it is definitely something realistic, especially if you are someone who is moving or going off to college or experiencing a life change. Maddie's story will tell you that change is good, is healthy, even if it comes out of circumstances that are tough.
3. Amazing Locations!
You probably already guessed this if you just read "cruise around the world," but I really really loved reading about the different places in this novel. And not just your typical places, like London or Rome or Paris, but really cool and obviously well researched places, from New York to Jamaica to Brazil to Iceland to Taiwan. I just had such a blast reading about what the O'Neill-Levine family got up to all across the globe, and it was especially exciting, because I had no idea where the story could go to next. This book is armchair traveling at its best!
4. Cute Italian Boy!
Enzo, the love interest, could have fallen so easily into a million different tropes. Instead, he ends up being well characterized and realistic, and I ended up really liking the way that he and Maddie's relationship progressed. It also doesn't hurt that he is a beautiful soccer-loving Italian... you know?
5. All Types of Relationships!
Basically any relationship that you can think of, it is present in this novel. Parent-child (when the child is a child and when the child is an adult), sibling (when the siblings are children and when the siblings are adults), romantic (straight and not), friendships (between family members and non-relations), grandparent-grandchild, step-grandparent-step-grandchild, etc, etc. I loved seeing the way these characters interact with each other. Maddie is part of a big, crazy family, and there is a lot of complicated things going on there, but at the end of the day, they all love each other. Then, throw in the secondary characters and it is just one big party of mixed up relationships. And I loved it.
6. Different Ways of Dealing with Grief!
So, you know pretty much from the get-go that everyone present in the story is going to be impacted by grief in some way. They're on a freaking death with dignity cruise, you know? I was able to kind of forget about the impending death for most of the story, but when it hits, there is a lot of sadness going around. And there are a lot of characters, all dealing with this sadness in their own ways. Some are handling it okay, some are completely debilitated, but they're all in the same boat. (literally... okay that was bad but I couldn't help it!) I love how Carrie Firestone showed all different types of grief, without showing one as more "healthy" than another.
7. Zany Cast of Characters!
So so many characters in this novel, it took me awhile to get them all straight. I ended up being emotionally attached to every single one of them, though, so bravo to Carrie Firestone for her awesome characterizations of every single one of these characters. It may seem a little daunting at first, but in the end, you will know all of the people in this book like the back of your hand, no problem.
8. SO MANY EMOTIONS!
like I said.... death with dignity. This book made me cry from a place of real emotion. Instead of just being sad for the characters, this book made the sadness personal, which was totally amazing even if it did hurt my emotions.
9. Strong Voice and So Many Quotable Moments!
I had an egalley of this and my physical copy has not come in yet, so I can't give specific examples of how beautiful the writing in this one was, but you're just going to have to trust me on this one. There were so many moments where I just sat back and wanted to bask in the amazing writing in this novel. I was so impressed by the strength of Maddie's voice, as well. I loved how it got stronger as she grew as a person.
10. A Kickass Grandma!
I am really close with my own grandmother, and she reminds me a lot of Maddie's grandma in this book. So I loved reading about Grandmother O'Neill and all of her adventures. I think that the relationship between our protag and her grandma (and really her family in general), is what makes this book so special.
so basically, that was ten reasons why you should DEFINITELY get the loose ends list!! :)
x
Caroline