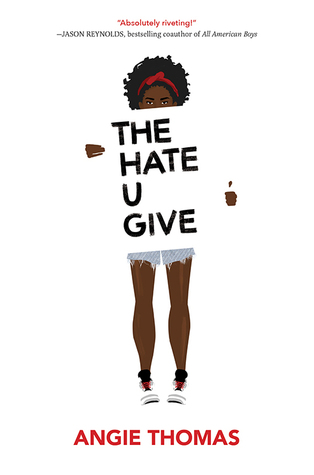 The Hate U Give
by Angie Thomas
☆☆☆☆☆
goodreads
/
b&n
/
amazon
Sixteen-year-old Starr Carter moves between two worlds: the poor neighborhood where she lives and the fancy suburban prep school she attends. The uneasy balance between these worlds is shattered when Starr witnesses the fatal shooting of her childhood best friend Khalil at the hands of a police officer. Khalil was unarmed.
Soon afterward, his death is a national headline. Some are calling him a thug, maybe even a drug dealer and a gangbanger. Protesters are taking to the streets in Khalil's name. Some cops and the local drug lord try to intimidate Starr and her family. What everyone wants to know is: what
really
went down that night? And the only person alive who can answer that is Starr.
But what Starr does or does not say could upend her community. It could also endanger her life.
full review under the cut!
Okay, I know by now you've either read and adored this book OR seen about 87 reviews telling you that you should read and adore this book. Seriously, I've rarely seen a YA book with such positive reviews, across the board, from goodreads and beyond. But, I did just finish this one, and though I know my review is going to become a little bit redundant in the grand scheme of things, I did just want to really quickly spell out the reasons why I loved this book a lot. And if this is the review that pushes you over the edge and convinces you to read this one, then I'll be happy.
So, basically this book is about the Black Lives Matter movement, and it centers around a 16 year old girl named Starr who saw her friend, an unarmed black teenager, get shot by a police officer. If you think that sounds heavy, you're right. It is. This horrible thing happens within the first couple pages of the book, so right off the bat we're thrown into the "After" part of a before and after look at Starr's life. But this book isn't sad. I mean, it is sad. But I wouldn't call this a Sad Book (capital S, capital B). I think that there are tons of sad things in this book, and there are tons of things that made me angry as well, but I also think that this book does an amazing job of highlighting the little glimmers of happiness that have to be found in the midst of tragedy, in order for people to stay sane. I absolutely loved getting to know Starr and her family, and I laughed and cried along with them when they went through things that brought joy and things that brought sorrow. If anything, this book feels raw and fresh and real in a way that nothing else ever has. It's current but it is also timeless, if that makes sense. It explains the way bodies get politicized in the same breath as it talks about teenagers getting crushes. It walks the fine line between talking about an issue that affects tons of people and losing a story while talking about that. Because I loved the things that this book talked about, the real life issues, but I also loved that, at the same time, it was a novel and it had a plot that was engrossing and moved itself forward, intertwined with the issues.
Starr is an amazing main character. I thought it was so so clever that Angie Thomas had Starr and her brothers, Seven and Sekani, attend a majority white school while living in a majority black neighborhood. The contrasts that can be so easily seen and drawn from this dichotomy were really dramatic on the page. I'm not black, so I felt like I was being educated while also being pulled into the story, so I could relate to these characters that aren't like me, but like me all the same. (If that makes sense) I absolutely loved that this is as much the story of Starr finding her strength and being proud of who she is as it is about her friend Khalil getting shot. Through this horrible tragedy, Starr has to figure out a way to stand up for herself, her friends, and her community, in a way that means she is still being true to herself. It was amazing to be on that ride with her, and I was cheering so hard for her the whole time. I also really REALLY loved her family. I loved her Dad, a local businessman who will do anything to keep himself and his family off of the streets and out of the mess of gang rivalries that cover it. I loved her mom, who was SASSY and so in charge, but also super caring and there for all of her kids, even Seven, who is not even her biological son. I love Seven, the way he was so freaking smart that everyone brought their computers to him to fix and that he was super protective of his family. Sekani was hilarious and provided some really great moments as well. I just loved how tight knit and supportive this family was of each other. I also loved how many adults were present and involved, even outside of Starr's parents. Her Uncle Carlos and his wife, her grandmother, her neighbors, the people who owned businesses around her father's store, her lawyer... there were just a lot of adults that were there and involved in Starr's life, and I think that played a big role in her finding her voice. I liked that Starr found it in herself to stand up to the racism that she faced at school, and I liked that she realized that even when it wasn't intended, it is still racism and still shouldn't be left alone. I liked her friends Maya and Kenya and her boyfriend Chris. I wasn't expecting to like Chris, I thought he was going to turn out to be shitty, but he actually was really awesome and stood by Starr through everything.
Gosh, there's just so many amazing things in this book. There's the fact that Starr takes a long time to come to terms with the fact that she has to stand up and tell the truth about what happened to Khalil. I thought her fear and reluctance at first was really believable. I loved that, though her family was behind her, there were disagreements to how much she should be involved. I thought it was so interesting that her uncle was a police officer!!! That made it so much more dramatic when she finally did start to stand up. I also liked how he stood with her eventually as well. Their relationship was really cute to me. I liked how Thomas set up the neighborhood, with the violence and gang fights and danger, but also with the old ladies tending to their gardens and the support that comes from a community that goes through all this shit together. I liked that Starr was able to see the place that she grew up from the outside as well as the inside, because that allowed me to see it through her eyes. I loved all of the relationships between the characters, aside from Hailey and King, there was no one that I didn't like. I loved how Thomas portrayed the realities of growing up in a neighborhood like this, the good and the bad, equally. I just felt really wrapped up in this world, and I so much enjoyed seeing Starr grow from a scared girl into a full-blown activist, fighting for what's right. I felt like I went on that journey with her, and this book definitely inspired me to want to do more in my community with groups that continue to fight for equality and justice. This book made me laugh, cry, and gave me goosebumps, and I think it is one of the most important things I've ever read.
xx
Caroline