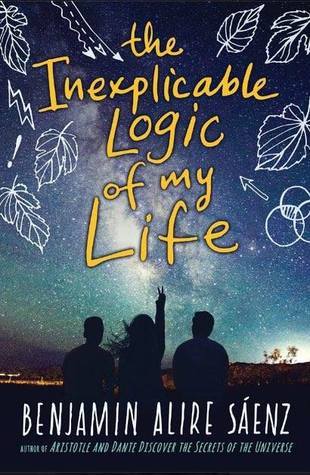 The Inexplicable Logic of My Life
by Benjamin Alire Sáenz
☆☆☆☆
goodreads
/
b&n
/
amazon
From the multi-award-winning author of Aristotle and Dante Discover the Secrets of the Universe comes a gorgeous new story about love, identity, and families lost and found.

Sal used to know his place with his adoptive gay father, their loving Mexican-American family, and his best friend, Samantha. But it's senior year, and suddenly Sal is throwing punches, questioning everything, and realizing he no longer knows himself. If Sal's not who he thought he was, who is he?

This humor-infused, warmly humane look at universal questions of belonging is a triumph.
full review under the cut!
I absolutely love Bejamin Alire Sáenz,
Aristotle and Dante Discover the Secrets of the Universe
is absolutely one of my favorite books ever, so I was super excited to be approved for this on Netgalley! This is a really introspective book about growing up, and there are no love interests or romantic dramas or even really friendship dramas. So if you're looking for a contemporary that feels mature and flows really nicely, with not a lot of high school drama involved, this would definitely be one that I would recommend to you! I still love Ari and Dante more, I really wasn't expecting this one to top it and it didn't for me, but I definitely still enjoyed this and I loved to get a different perspective from Benjamin Alire Sáenz!
This story revolves around Sal and his life over the course of his senior year, during which time a lot of changes are taking place in his life and the lives of the people who are closest to him. Sal is a normal kid: he's seventeen, as is his best friend Samantha, living in El Paso with his adoptive father Vicente. Sal is extremely close to his little family of his father, dog, and Samantha, as well as his larger extended family, especially his grandmother. Sal feels like everyone around him is getting their life together and figuring out who they are, but he is having a little bit of trouble in that department. When he starts getting into fights and feeling angry for reasons that are beyond his control, he feels like his life isn't under his control anymore. And it just gets worse when he finds out that his grandmother, Mima, has an advanced form of cancer.
I really liked that this book didn't solely concern itself with Sal's issues. I like that it really explored what happens when people close to you are going through things as well. I've seen some reviews that say they felt like nothing happened in this book, but I don't feel that way at all. There wasn't a lot of like, in your face action, because I don't think that's Sáenz' style, but goddamn a lot of things happened in this book. Sal's fights, the whole storyline with his grandmother and her cancer, his father having an old boyfriend show up and try to insert himself back into their lives, Sam having family drama and eventually having to move in with Sal, Sal's friend Fito and his drug-addicted mother causing problems, Sal feeling mad at his mother because he never got to know her, etc. I felt like there were a ton of things going on all at once, and I felt like this book did a really good job of showing how different struggles affected people in different ways. Sal dealt with things differently than Sam, and differently than his father. There's different types of joy and grief, and I think that one of the main points of this book was to show that.
I thought Sal was a good main character. He was pretty quiet, and there was always a lot going on in his head. I loved that he had a really present family, even past his dad, and I loved how he commented on the fact that his extended Mexican-American family just accepted him and never treated him like he was adopted. I thought that was really cute. I absolutely loved Sal's dad. He was so understanding and generous, and I loved how he just seemed to be collecting teenagers that needed a father figure. Samantha was hilarious to me, super precocious and always pushing the envelope, but super loyal at the same time. Fito, their other friend, was so adorable, he made me want to cry practically every time he showed up in the story. I also loved Sal's grandmother, Mima. She reminded me a lot of my maternal grandmother, and it was bittersweet to see a character like that on the page. I feel like there aren't a lot of grandparents in YA, even though a lot of people I know have grandparents that are super present in their lives, so I was happy to see that.
I don't want to say too much more about this because there are a lot of things that happen that I don't want to spoil, but I just want to impress upon you how much I liked this book. It is a different sort of read, one that you sort of have to sink into and let surround you, and though I thought the beginning was a little bit slow, I ended up loving the ending. There's a lot that goes on in here, having to do with families and relationships and friendships, all with the backdrop of senior year and the end of childhood. It's definitely a coming of age story, in which an adopted boy has to come to terms with the fact that there's parts of his life that he doesn't know about. Sal realizes, throughout the story, what things he wants to know and what things he can live without. He learns how amazingly thankful he is for the people that are in his life, and I think we, as readers, will look at our own lives after reading this one and be grateful for what we have. Lots of love for this one.
xx
Caroline