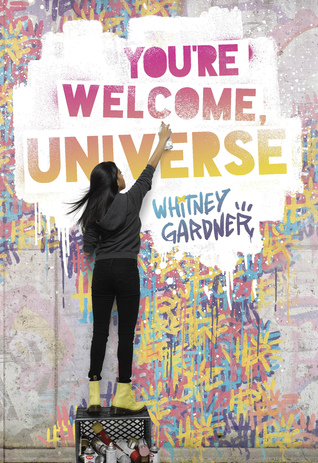 You're Welcome, Universe
by Whitney Gardner
☆☆☆☆
goodreads
/
b&n
/
amazon
A vibrant, edgy, fresh new YA voice for fans of More Happy Than Not and Simon vs. the Homo Sapiens Agenda, packed with interior graffiti.

When Julia finds a slur about her best friend scrawled across the back of the Kingston School for the Deaf, she covers it up with a beautiful (albeit illegal) graffiti mural.

Her supposed best friend snitches, the principal expels her, and her two mothers set Julia up with a one-way ticket to a "mainstream" school in the suburbs, where she's treated like an outcast as the only deaf student. The last thing she has left is her art, and not even Banksy himself could convince her to give that up.

Out in the 'burbs, Julia paints anywhere she can, eager to claim some turf of her own. But Julia soon learns that she might not be the only vandal in town. Someone is adding to her tags, making them better, showing off—and showing Julia up in the process. She expected her art might get painted over by cops. But she never imagined getting dragged into a full-blown graffiti war.

Told with wit and grit by debut author Whitney Gardner, who also provides gorgeous interior illustrations of Julia's graffiti tags, You're Welcome, Universe introduces audiences to a one-of-a-kind protagonist who is unabashedly herself no matter what life throws in her way.
full review under the cut!
Thanks to Knopf for allowing me to read this one a scooch early! I had a really great time with this one, it only took me a couple of hours to finish it because I was just turning pages at super rapid speeds! Also, I really love this cover, all the way down to Julia's yellow doc martens! This book is a really great look at a Deaf Indian girl, her passion for street art and graffiti, her troubles fitting into a mainstream school environment, and the process of finally letting her walls down to allow a super great friendship in. Not only did I really enjoy the plot of this book, I also felt like I learned so much while reading it, about being Deaf in a world that isn't kind to people who are different, about street art and everything dangerous and wonderful that goes along with it, and about this main character, who is spunky and imperfect and talented and lovely. I would definitely recommend this to those of you who favor the more friendy side of contemporary, not the romance (because this book doesn't have one). And to anyone who is interested in diverse rep and street art!
Basically, everything begins when Julia covers up the worlds "Jordyn is a slut" with an amazing mural at her high school, Kingston school for the Deaf. Jordyn is Julia's best friend, and there was no way she was going to let a slur like that stay on the walls of the school, visible for everyone. Except when Julia finishes her amazing mural, Jordyn rats her out, and Julia gets expelled. So not only is Julia having to deal with the fact that her supposed best friend is a lying backstabber, she also is dealing with her moms forbidding her from tagging as well as fitting in and navigating a mainstream school as the only Deaf person, the only person who has a translator constantly. Basically, it's a shitty situation for Julia, and she does her fair share of lashing out, especially at her ex-friend Jordyn, who she still sees because they both work at McDonald's. But when Julia's interpreter Casey gets on her back about making friends, Julia pulls in YP (short for Yoga Pants), an ex-cheerleader who is struggling with weight and body image issues, to be her friend. Thus is the beginning of the rest of the story. Julia begins tagging places with huge, amazing murals, and she's super proud of her work. Until! Soon after she tags something, someone comes along behind her and adds to her murals, twisting them, making them better. Julia's pissed that someone's trying to show her up, and she jumps right into the middle of a graffiti war that is soon attracting the attention of her art teacher, the press, and the cops, though no one knows it's her.
Gosh, I loved Julia. I've never read a book with a Deaf protag before, I'm sorry to say, and I thought that Whitney Gardner did an amazing job of describing the frustrations that Julia had with trying to communicate with hearing people, or "hearies." Julia is irritable and impatient, and I loved that about her, because I'd definitely be 100% angry all the time if I had to interact with people who didn't even try to communicate with me. I had never thought about the fact that ASL is a totally separate language from English, and now that I think about it, I feel stupid for never considering that. This is what I mean when I say that this book taught me things. It made me check myself and my thinking about people who are Deaf or hard of hearing, all while telling a really awesome and relatable story. I liked how Julia was proud of who she was, Deaf, Indian, daughter of two amazing moms, street artist, all of it rolled into one. She is super different from me, personality-wise, but I felt so attached to her and I was rooting for her the whole time. I also LOVED that Whitney Gardner included art in the book that showed what Julia's murals would have looked like. The art was amazing, and that really helped me picture what was going on in the book.
I also really loved YP. She was such a good friend to Julia, and she was the one of the only people who sincerely tried to communicate with Julia, even eventually becoming really good at communicating in ASL. I thought she was a great foil to Julia, bright and bubbly and blonde where Julia was anything but, and I thought their interactions were just really funny and endearing. There is a lot of miscommunication, but you can tell that they're both really trying, and it makes it super fun to read. I also liked Julia's interpreter Casey, even though she was annoying at times, I liked that she was another person who was genuinely on Julia's side.
I have to admit that I definitely did not see the huge plot twist coming. The mystery throughout this book is "who is the other artist that is messing with Julia?" And I had SOO many guesses and none of them were right. And I loved that! I was so shocked to discover who it was. I just really loved that part and then from there to the ending was really great as well. The ending warmed my heart. I thought this book was a lot of fun and really well written, I liked that the use of technology and texting was really seamlessly integrated, because it made Julia's life so much easier. Like I said, the art was amazing, I can't wait to get my hands on the real book (not the e-book) and see it actually spread out on the page. I definitely recommend this one, it taught me so much and I had a blast reading it!
xx
Caroline