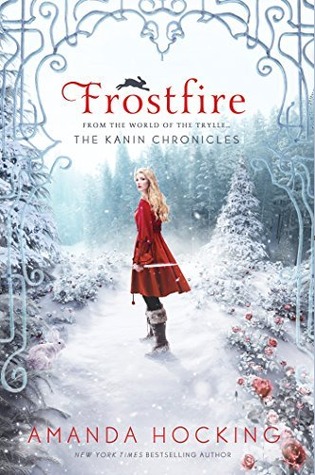 Name: Frostfire (Kanin Chronicles #1)
Author: Amanda Hocking
☆☆☆½
find it on goodreads
barnes and noble
amazon
synopsis:
Bryn Aven is an outcast among the Kanin, the most powerful of the troll tribes.

Set apart by her heritage and her past, Bryn is a tracker who's determined to become a respected part of her world. She has just one goal: become a member of the elite King's Guard to protect the royal family. She's not going to let anything stand in her way, not even a forbidden romance with her boss Ridley Dresden.

But all her plans for the future are put on hold when Konstantin– a fallen hero she once loved – begins kidnapping changelings. Bryn is sent in to help stop him, but will she lose her heart in the process?
This book was part of a readalong that I did with my friend Violet over at
Paper Worlds and Swirls of Ink
. Also, this was one of my most anticipated books of this year, and I have to say that it didn't disappoint me!
This book takes place in the same world as Amanda Hocking's earlier series, the Trylle trilogy, but you do not have to have read those books in order to follow this new series. The world of Trylle and of the Kanin chronicles is a different one than most any other I've encountered in YA fiction. Instead of witches or dragons or fairies, the main paranormal characters in these series are trolls. But they aren't trolls as you think of them, they're super private, rich and powerful, ruled by kings and nearly identical to humans, aside from certain powers only they posses.
Frostfire focuses on a girl named Bryn, who is the best tracker of her age in Kanin society. Trackers are in charge of keeping Kanin changelings safe. The changelings are Kanin children that are switched out with human children at birth, mostly being placed into rich families so the Kanin can reap the benefits of trust funds when the changelings turn 18.
Bryn is an outsider, because her mother is not Kanin, instead being of a different race of trolls. She has had to work harder than everyone else to attain her premiere tracker status, and she has worked even harder because she one day dreams of taking down the man who once tried to kill her father, Konstatin Black. But things get complicated, and when Konstantin starts going after changelings without discernible motive, when Bryn starts having feelings for her cute boss Ridley, when a queen goes missing and everything seems to be out of whack, Bryn can't just rely on her training like she always has.
I really really enjoyed this book, and I was so happy to be back in the world of Trylle. I especially liked the cameos that some of the characters from the Trylle trilogy made in Frostfire. As I said, this world is so different and therefore just fun to read about. I ended up loving the new cast of characters as well, even when Bryn was so stubborn I wanted to shake her, she was a great heroine and I liked her POV a lot. I also loved how solid her relationships with her best friends, Ember and Tilda were. And Ridley– ohhh I love a man with curly hair and the ability to knock someone out in 27 different ways.
That being said, this definitely felt like an exposition novel. There was a lot of back story and explaining to do, which I didn't mind, but that made the ending feel a bit abrupt. I liked the way the romance in the story developed, but I also got left in the end feeling like there was so much that needed to be said there. The one thing I did think was perfectly done was the antagonist storyline, which had a twist that I did not see coming.
Overall, a very solid book. I would've given it four stars if it had maybe one more chapter on the end, but other than that I have very few complaints. These stories are always fun, and I feel like you can just fly through them. Of course, with the other two installments in this trilogy coming out in May and August respectively, you could just wait the eight months and marathon them all! I am very excited for the next two books in this series.
xx
Sunny